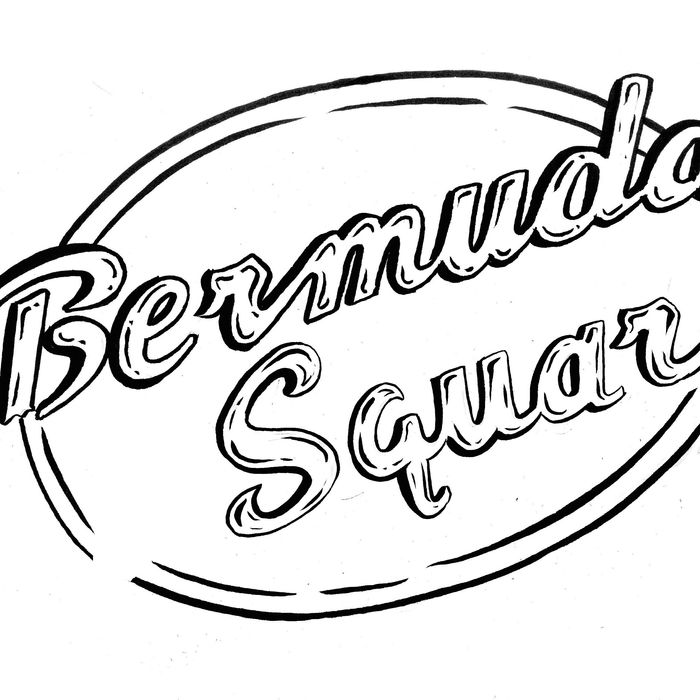 Photo: Ali Fitzgerald/The Cut
Welcome to "Bermuda Square," a new weekly comic strip by writer-artist Ali Fitzgerald, who calls her fantasy world a "feminist enclave where everyone can coexist" with "matriarchal vibes." Starring a mermaid couple, sex-positive octopus, fratty seals, and various mythical creatures, "Bermuda Square" will host a rotating cast of explorers, missionaries, and colonists who discover the tropical locale while lost at sea. Naturally, the Sirens lure these visitors in while mermaid couple Rea and Margox and their friends engage, educate, and deter them.
There will be first-wave feminism puns, dynamic male and female characters, and various topics of discussion: mansplaining, politics (Hillary Clinton as a sea witch), class, aging, gentrification, and dating (read: meeting mer-bros online).
The first installment of "Bermuda Square" stars Rea and Margox's best friend, Iris, an unabashedly sexual octopus and aspiring actress who loves the theater and Japanese tentacle porn. Here, Iris faces off with the slut-shaming squids, a Reagan-era moral police that patrols the waters ejecting scrolls from their mouths and spraying ink. Scroll down for the debut strip, followed by Fitzgerald's thoughts on creating "Bermuda Square."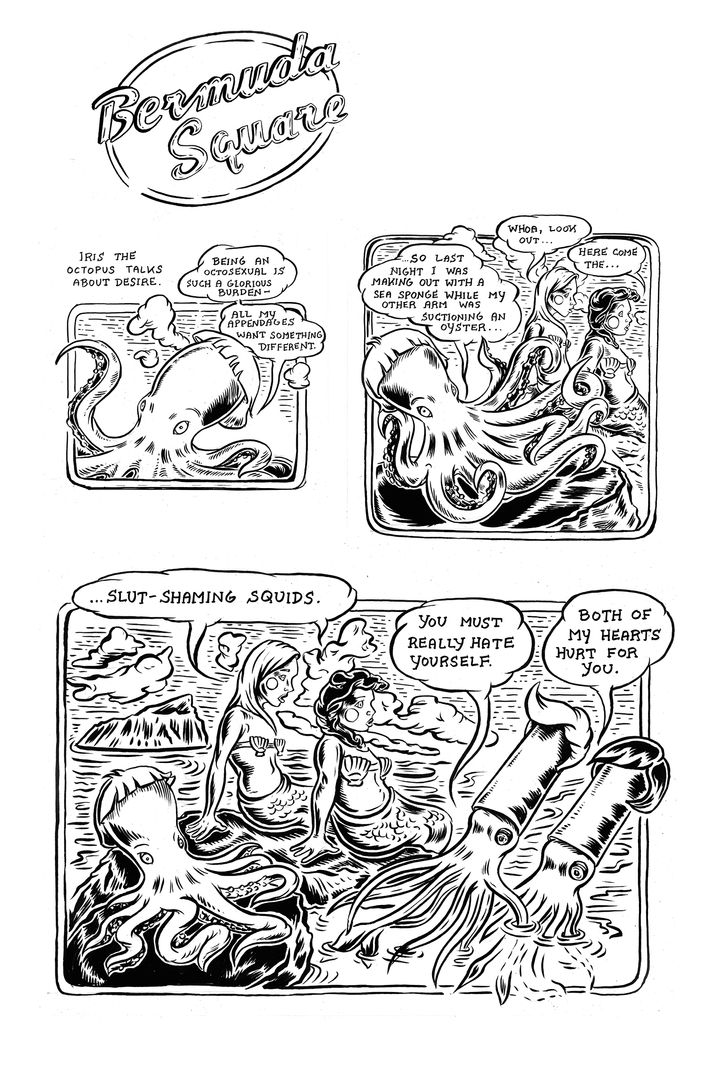 Where are we? Fitzgerald calls Bermuda Square "a delicate ecosystem." It's segmented like New York: There is Astora, a Manhattanite underwater mer-city where Margox imagines building a life, and Orchid Island, which resembles a not entirely gentrified Brooklyn or Queens. Solanas Village is a '70s-style, separatist female commune on a rocky shore, while the social, watery Tidelands are like a club where everyone mingles. If a sailor stays too long in Bermuda Square, he goes to (and dies in) the Ghost Vortex.
Who is this mermaid couple? Rea and Margox, deeply in love most of the time, live together in a sunken ship. Rea is an aspiring writer with impostor syndrome who gives "anti-tours" of the island to sailors and explorers, hoping to discourage them from colonizing. "She wants to write mystery novels with sprawling noir scenes à la Agatha Christie," Fitzgerald says. "She comes from a small stream and is afraid of being provincial. She once dated Jeff of the Mer-bros. She wishes sometimes that Margox had more passion. She hates being still and is very sensual. She lets Margox decorate while she philosophizes."
Margox comes from a richer background: "She was raised in an underwater castle and her father works in government. She went to boarding school. She works in an antiques gallery specializing in treasure found from sunken ships. Although she is mostly the 'straight man' she occasionally explodes into fits of anger. She has a lot of dietary restrictions and has to eat kelp. She's neater than Rea, and sometimes gets upset at Rea's decadence."
This is not a man-hating comic. "There will be male characters too. Some of the male characters I've done already are the Mer-bros — they're mermen but they're also bros, they're, like, developing apps. I went to San Francisco a few weeks ago and a lot of these people are based on the people I met there, men in the tech industry." Other characters to look out for: a Freudian elephant, Shy '90s Whale, who is very into the '90s and very shy. Amelia Earhart will make an appearance.
Her inspirations: "I watched a ton of fantasy-ish movies. The Princess Bride, Pan's Labyrinth, people whose visions of fantasies I trust, Terry Gillian's movies. I watched The Adventures of Baron Munchausen, which helped my aesthetic. Uma Thurman is like a Venus in the half shell and that's a character in the comic that I want to play with, this Venus: an ideal, impossibly perfect woman."
On being a female comic artist: "There are so many dicks in comics, and even in the alternative comics scene it's really so much about maleness and male sexuality. I feel like I'm living in an exciting time — there are female creators [like] … Alison Bechdel, who did Fun Home, Marjane Satrapi, who did Persepolis. In New York there's Gabrielle Bell, she does these really interesting autobiographical comics. Kate Beaton. This really just happened in the last five to ten years — suddenly there's a lot of female voices, and I think prior to that there were literally none."
What she hopes for with "Bermuda Square": "I want it to be this world that you actually want to live in. It's an interesting world that can mimic and reflect the real world in ways that I find more interesting than drawing a political cartoon of Donald Trump."
About Fitzgerald: She grew up drawing comics in leather-bound sketchbooks while moving a lot as a kid, from Oakland to Virginia Beach and other places, living near naval bases where her mom worked. She graduated with an MFA from the University of Texas at Austin, lives in Berlin, where she teaches Syrian refugees comic-drawing at an emergency shelter, and draws a McSweeney's strip about a lovable hung-over bear.