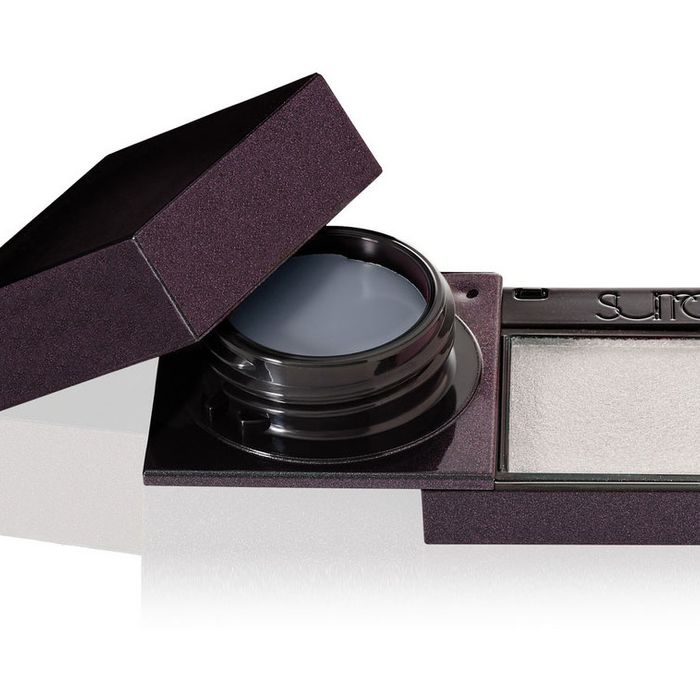 It's actually easy to use.
Photo: Courtesy of Surratt Beauty
Two years ago, Kevyn Aucoin protégée Troy Surratt was nervously launching his first-ever makeup line Surratt Beauty at Barneys. It had taken him four years to conceive the line, and he and his partner, Nathaniel Hawkins, had accumulated thousands of frequent-flier miles visiting dozens of Japanese factories to secure the right sourcing for his dream makeup line — without speaking Japanese. They'd even somehow sourced out the best production factory to create their own new and improved version of an eyelash curler, and debuted it to a sold-out waiting list.
Now Surratt Beauty has grown from what some might call an indie line to a collection you can find at Sephora, Liberty, and Net-a-Porter. Their products have graced the faces of Kim Kardashian and Cate Blanchett. True makeup-obsessive bloggers — the type who swatch a entire arm with a brand's shade range — praise the brand's high-quality pigments and functionality. I don't think I've met a celebrity makeup artist yet who doesn't have the eyelash curler in their kit.
By virtue of still being small-ish, Surratt doesn't follow the normal seasonal production schedule of the big brands, but releases new products once they're ready. Here's how it went testing out their two newest products: a cream eye shadow and their long-awaited first foundation.
Prismatique Eyes ($38): I feel the same way about eye shadow as I do raisins at Halloween. It's fine and all, but there are so many more exciting options out there (like chocolate, or lipstick). Eye shadow, like a raisin in a cookie, is not a necessity. Whereas I can defend another red lipstick being birthed into the world, I'd find it hard to defend yet another dull-brown eye palette.
I explained my complicated eye-shadow feelings to Troy, who gently tried to convince me that his were different. And they are! Encased in each elegant-looking Prismatique cube is a cleverly concealed swivel that rotates out to reveal a pot of cream eye shadow and a pan of pressed shimmer powder. Use one, or both together — neither are dull. Alone, the cream shadow easily blends to become a pretty, sophisticated wash of color that won't make you look like the woman who got caught shoplifting at Sephora. The shimmer pats easily on top and gives the shadow some three-dimensional pow, so your eyes subtly catch the light (or filters or Lumees).
I've now tried every color and each one is delightfully fun and makes your eye color look more vibrant. I think the secret lies in the texture and color. There's no shadow fallout from the cream or the shimmer powder. They're long-lasting, and they don't smudge, but they're easy to manipulate and blend. The colors are dramatic, and even the black has some dimension to it (a hint of blue, a touch of green) so that the colors are alive, not flat. The whole appeal of smokey eyes is they look smoldering yet effortless (although the plethora of 12-step smokey-eye tutorials indicate otherwise). This product actually makes the effortless, smokey eye a reality. I like these so much that I haven't even shared them with the rest of the beauty team yet (shhh).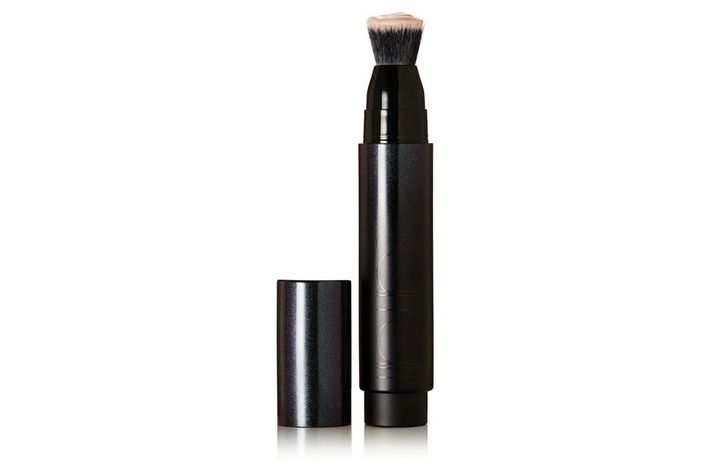 Surreal Skin Foundation Wand ($65): Think of this product as a giant Touche Eclat–like click pen for foundation. The top clicks to push out foundation through the brush at the bottom. This foundation is smooth — smooth enough Barry White could sing a song about it. The texture is somewhere between BB cream and foundation, with a silkiness that means you can use half the amount of foundation you normally need. It glides over pores so easily that sometimes I skip the brush altogether and apply it with my hands. Best of all, putting it on makes you look like you have nothing at all, and that, to me, is the whole point. It also comes in 15 shades (I'm somewhere between a 5 and a 6). 
A few caveats: I actually prefer to use the foundation with a brush since I think it applies more evenly over my face. Goopy sunscreens don't work particularly well under this product, since the brush drags and pills all the foundation. Calling it a wand may be a slight misnomer, since it really has the heft of a light, small baton. But it's easy and quick to use on-the-go, and way better than a compact. Some beauty bloggers have even given up the Tom Ford Traceless Foundation for this one.
As Aucoin himself once said, "Makeup should be fun, not fascist." And these two products are democratically fun.