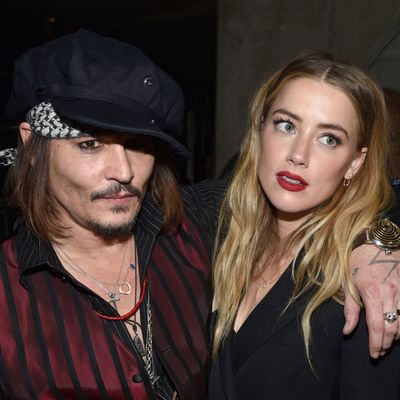 The way they were.
Photo: John Shearer/2016 John Shearer
On Monday, Amber Heard, 30, filed for divorce from her husband of 15 months, Johnny Depp, 52. She did so just three days after Johnny's mother died, likely prompting his rep to release this ice-cold statement about the divorce last night:
"Given the brevity of this marriage and the most recent and tragic loss of his mother, Johnny will not respond to any of the salacious false stories, gossip, misinformation and lies about his personal life. Hopefully the dissolution of this short marriage will be resolved quickly."
The proceedings have already been acrimonious, which means we'll probably be talking about the salacious false stories, gossip, misinformation, and lies for a long time. (Sorry.) Yesterday, Johnny asked the judge in the case to reject Amber's request for spousal support, and he also requested that she pay her own legal fees. The couple did not have a prenup, amazingly.
How did everything blow up so badly? Here are the best theories the tabloids have spit up, so far.
Johnny Depp's family hated Amber
So far, Johnny's camp has been winning the PR war. This was the first theory to surface, via TMZ, and it's become the dominant narrative of the divorce. TMZ reported yesterday that, according to multiple sources, "Johnny's 2 teenage kids, his 2 sisters and his mom 'hated' Amber, and openly discussed it." His late mother "thought Amber was using Johnny for his money and fame, and to boost her own career."
"Sources connected to Amber," meanwhile, spoke to TMZ yesterday to refute this claim. "Our Amber sources say she actually has pictures of her snuggling with Johnny's son, Jack," TMZ reported.
A source also told E! News that Amber and Johnny's daughter, Lily-Rose, will "likely stay close" after the divorce. "Amber and Lily-Rose spent many days together without Johnny; going shopping, going out to eat, the movies," the source said. "They had their 'girl' time. It was more of a 'cool older sister' than a mom figure for Lily-Rose and Amber was totally okay with that."
Note that Amber shows up nowhere in Lily-Rose's extremely active Instagram account.
Johnny's looks faded
The Daily Mail has blamed the divorce on Johnny's transformation into … what he is today, but, to be fair, that was already on the horizon when he and Amber got together.
Amber was like, "What is this scene?"
A source told People that Amber had cold feet at the couple's engagement party, and that she didn't adjust well to Johnny's "scene."
"Before Amber met Johnny she was just a regular super-cool hipster chick living with roommates who dated girls," the source said. "At their engagement party she kind of got cold feet … she was just like what is this scene and what am I doing here? She kind of couldn't believe it was her life now."
What is this scene? We may never know.
Amber maybe was seen with … Ben Affleck?
Earlier this week, we posted a story about how Ben Affleck was maybe spotted with a mystery blonde in Miami two weekends ago. Now, some gossip theorists are suggesting that mystery blonde could have been Amber, because Amber and Ben are scheduled to work together on the Justice League movie. Lainey Gossip, the expert on celebrity divorces, explains the theory this way:
"[Amber's] working on Justice League and…you know who else is? Ben Affleck. Remember that story I posted the other day about Ben and some Uber driver claiming he was in Miami with an unidentified blonde last week? Some people are now wondering if that could have been Amber. It's pure, pure, pure speculation. But it's amazing on so many levels because … if it was Amber, and she wasn't identified, well, point made. Let's operate right now on the assumption that there was no Ben and Amber in Miami because none of that is coming from reliable sources. Still … those two on a set. Think about that."
Think about that. Why do you think Johnny Depp and Amber Heard are getting divorced?