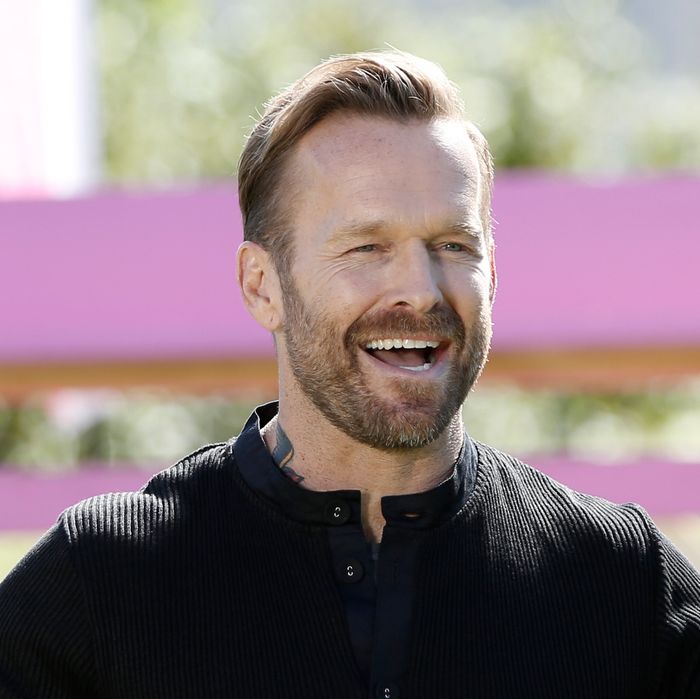 The Biggest Loser host Bob Harper would like to yell at you now.
Photo: NBC/2015 NBCUniversal Media, LLC
A recent study by the National Institute of Health revealed why some contestants on The Biggest Loser gained back the weight they lost on the show, and shockingly enough, it's not just because celebrity trainers aren't screaming in their faces 12 hours a day. Now former contestants themselves are coming forward with details that more fully illustrate the sort of long-term havoc the show wreaks on participants.
Season two's Suzanne Mendonca, who has spoken out before about the show's tactics, told the New York Post that she was told she had to gain weight before being considered for the show. Once she got there, the real hell began. "People would take amphetamines, water pills, diuretics, and throw up in the bathroom. They would take their spin bikes into the steam room to work up a sweat. I vomited every single day. Bob Harper tells people to throw up: 'Good,' he says. 'You'll lose more calories,'" the former police officer said.
Another season two alum, Mark Yesitis, had his gall bladder removed after the show wrapped. "I'd never had issues with my gall bladder before the rapid weight loss," he said, adding, "The day after my surgery, I ran five miles. My doctor was very angry. But that's how brainwashed I was."
One anonymous source shared details with the Post about Bob Harper providing contestants with stimulants like Adderall and energy pills with Ephedra, a supplement that was banned by the FDA over a decade ago. (Harper worked as a trainer on the show for 16 seasons before taking over hosting duties on season 17.) 2008 contestant Joelle Gwynn, who trained with Bob Harper, said that the trainer's assistant gave her "this brown paper bag that's bundled up. He says, 'Take this drug, it'll really help you.' It was yellow and black. I was like, 'What the f- -k is this?'" Gwynn also said that Harper encouraged her to lie about her daily caloric intake, and instead try to eat as little as possible while continuing to report a daily intake of 1,500 calories.
While Mendonca and season three winner Kai Hibbard have been outspoken in the press about the experiences they had on the show, this is the first time other contestants have talked about their experiences. Lezlye Donahue said, "I read that [NIH] study, and there's so much more that people don't know. There are nurses sitting there [filling people] with IV packs. I took away an eating disorder. I have nightmares about it." She also described horrible conditions behind the scenes, like all 12 contestants living together in one bedroom and forced to use Port-a-Potties.
Will the NIH study, in addition to these damning details, finally force NBC to put the kibosh on this fat-shaming show? We can only hope.
Update:
Bob Harper's representative reached out to The Cut with the following statement.
"These allegations are absolutely false and are in direct conflict with my lifelong devotion to health and fitness. Safety is paramount in my training regimen and, while demanding, my approach has always focused on the overall well-being of contestants as they lose significant weight and educate themselves, for the first time, on living a healthy lifestyle."
Bob Harper
Trainer and Author