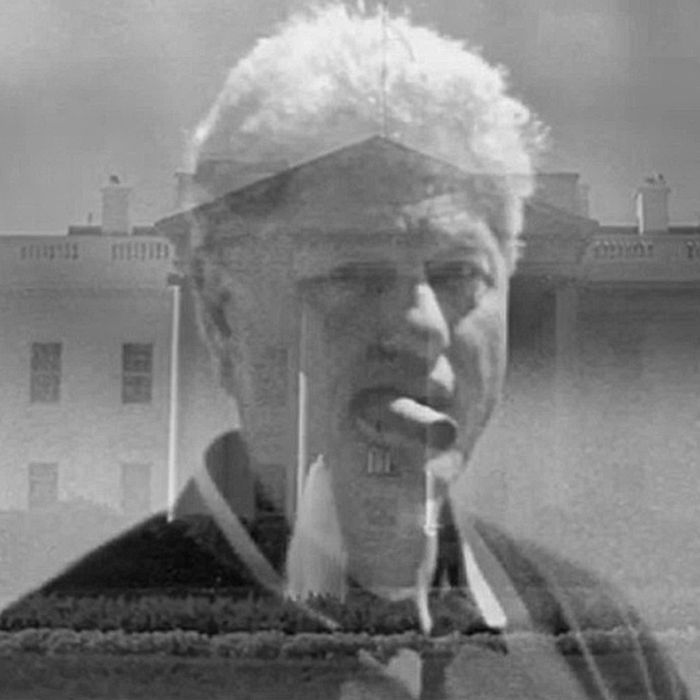 A still of Bill Clinton from the ad.
Donald Trump is now entrenched in his campaign against Hillary Clinton, and his grand plan to undermine her support with women is to remind them that her husband has been accused of sexual assault. On Tuesday he released a 15-second Instagram ad that featured Bill Clinton sucking on a cigar while recordings of interviews with his alleged victims played in the background.
Among the clips featured is a 1999 interview with Juanita Broaddrick, a former nursing-home administrator who claims Bill raped her in Arkansas in 1978 while he was the state's attorney general. According toBuzzfeed, Broaddrick had no idea her voice would be used in Trump's ad — but she's totally fine with it.
"I was extremely surprised about it," Broaddrick, who added she's had "no contact" with Trump, said of hearing herself in the ad. "I was surprised, but I have to say I'm not unhappy about it. It's painful to hear my voice say those words again, but I think it's important."
She went on, "When people ask, I try assist as best I can to explain about Hillary." Broaddrick said she's definitely not voting for Hillary Clinton, which leaves Trump as the only viable option — although she stopped short of saying she'd like to get involved in his campaign.
"I'm very appreciative to him for bringing [this] out about Clinton," she said.
Trump's line of attack is unlikely to have any real influence on female voters, especially because Trump himself isn't exactly known for treating women well. In fact, he once described Bill Clinton's alleged victims as "a really unattractive group. And I'm not just talking about the physical, but I am also talking about the physical." If the accusers had been supermodels, he said, they "would be more pleasant to watch."