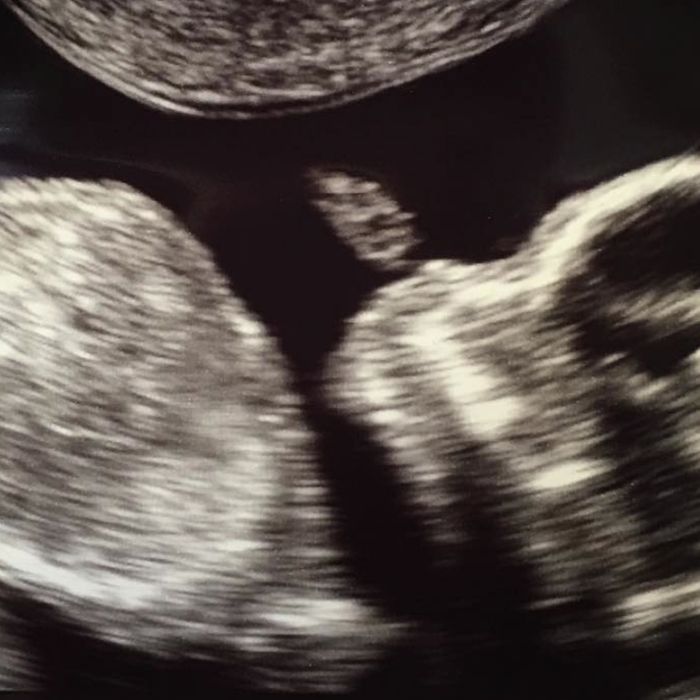 One photo down, one trillion to go. Blac Chyna/Instagram
Blac Chyna, or Angela Kardashian, as we are soon to call her, has just debuted the first image of the newest baby Kardashian. It's difficult to tell whether the little one's already mastered the art of contouring in utero — sorry to report it's a smudgy image just like any other of its kind.
Chyna, who posted the image to her Instagram account Monday, is in full mom-gush mode over the clan's newest offspring and big bro, King:
"For a long time I felt like King was going to be an only child. That he was my greatest blessing and we were gonna live happily ever after together Just the 2 of us, I was no longer looking for love because I thought I had all that I needed. We needed. But look at God ! Here I am Engaged to be married to one of the greatest men I know who loves King & I unconditionally AND having another bundle of joy! I just want to say Never give up & ALWAYS have faith because fairytales DO come True #LookAtOurLittleNugget #KingsGoingToBeABigBrother"
Here you go, kid. You still look firmly like an alien, and people are scrambling to share the news of your squiggly little outline. Welcome to the family.