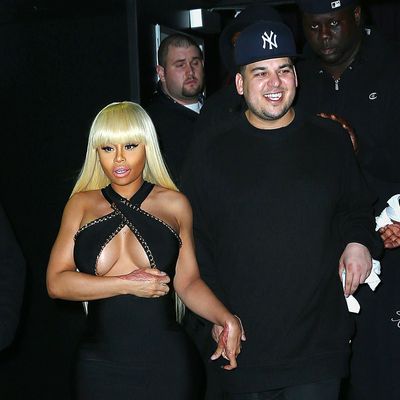 Angela and Rob Kardashian.
Photo: XPX/Star Max/Getty Images
Blac Chyna, the current fiancée of Rob Kardashian and the ex-fiancée of Rob's sister's boyfriend, has officially filed a trademark claim for the name "Angela Renee Kardashian." Chyna (real name: Angela Renee White) will assume the new moniker when she legally becomes part of the family (sometime soon, probably, because … she's pregnant!). According to TMZ, she plans to use the Kardashian brand for television and movie appearances, party hosting, and personal appearances as a "social media celebrity."
There's no guarantee the existing Kardashian machine will work with her, however. This weekend, Chyna's rep claimed to People that the Kardashians leaked Chyna's pregnancy news early to promote last night's episode of Keeping Up With the Kardashians. It's all business, baby!