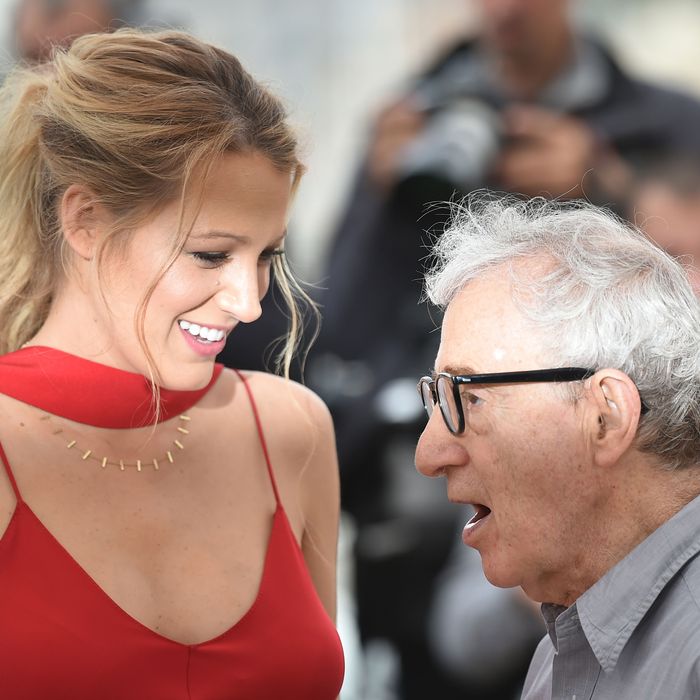 Sure.
Photo: ALBERTO PIZZOLI/Getty Images
In an interview with Variety at Cannes this morning, Blake Lively criticized the film festival's master of ceremonies for making a joke about her Café Society director Woody Allen's alleged history of sexual abuse. "I think any jokes about rape, homophobia, or Hitler is not a joke," she said, adding, "I can't imagine Fred Astaire and Bing Crosby going out and doing that." She also claimed not to have read Ronan Farrow's recent Hollywood Reporter piece about Allen's alleged crimes. That's not all Lively had to say in defense of Allen, however. 
In another interview with the Los Angeles Times, she claimed the 80-year-old director is "empowering to women." Here's the relevant passage:
"It's amazing what Woody has written for women," said Blake Lively … noting a series of complicated female characters dating back to the 1970s.

Lively said any news coverage of Allen's personal life did not register as she was making the movie.

"It's very dangerous to factor in things you don't know anything about," she said. "I could [only] know my experience. And my experience with Woody is he's empowering to women."
Interesting use of the word dangerous, there. For what it's worth, Lively's co-star Kristen Stewart made similar comments to Variety earlier this week, explaining that she and co-star Jesse Eisenberg discussed the allegations against Allen and decided they didn't know enough about them to judge:
"I was like, 'What do you think? We don't know any of these people involved. I can personalize situations, which would be very wrong.' At the end of the day, Jesse and I talked about this. If we were persecuted for the amount of shit that's been said about us that's not true, our lives would be over. The experience of making the movie was so outside of that, it was fruitful for the two of us to go on with it."
Eisenberg told Variety he didn't recall the conversation.