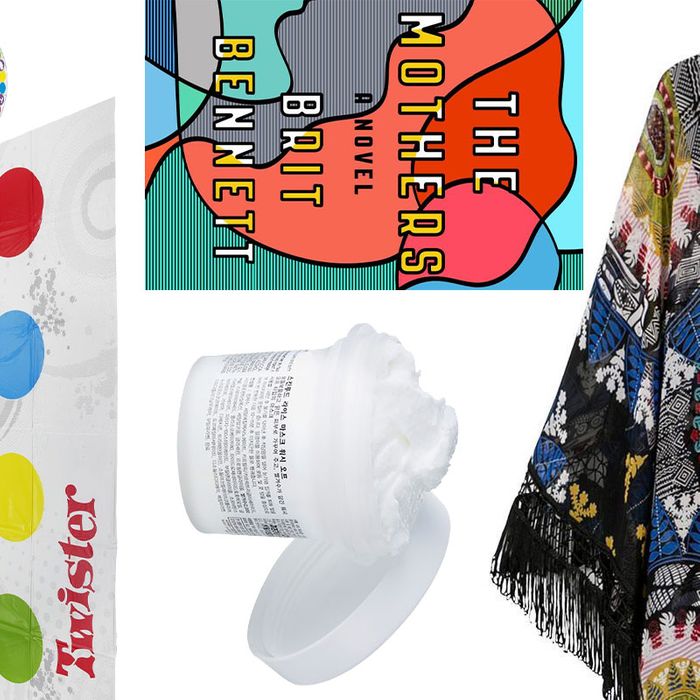 Bloop is a joint venture between Aminatou Sow and Jenna Wortham. Bloop is a combination of "black" and "Goop" —  basically, what it would be like if Gwyneth Paltrow's Goop were written exclusively by and for black women.  
Bloop babes love summer. To us, summer means bare legs, swimming in clear blue water, looking hella cute, and getting as close to the vibage on Solange's Snapchat as possible. Just kidding — that's not even close to possible. Anyway, we've been texting about our picks for song of the summer (literally any track from Anti or Lemonade), outfit strategies (basically whatever North or Blue wears, but in adult sizes), and our summer party plans. We love parties — hosting them and attending them; the more the better. We rounded up some of our tips, including what to wear, what to bring, and what to serve. It's time to get in formation for summer. Here's the best of the best of our recommendations, condensed and distilled and made easy for your perusal.
How to Flex:
In the words of our beloved Chi Chi DeVayne, don't just get ready, STAY READY. The best way to do that is face first: Bloop babes swear by sheet masks, especially the Benton's snail gel masks or, if you're feeling particularly luxurious, the 'Snowise EX' Brightening Mask. We also sweat the wash-off rice mask from Skin Food — IT IS THE BUSINESS. We can't say for sure that Pharrell uses it, but he probably does. How else can he look like he traveled through time from the 1800s?! If you're someone who has access to a clean tub — i.e., not our New York or S.F. readers — have a soak using these incredible bath bags from House of Intuition. The Clarity one is made with invigorating herbs like peppermint to boost energy, and it's divine. For the tubless among us, try a coffee scrub — the caffeine will absorb in through your skin, while the oils in the mixture soften and moisturize. It's a fantastic way to get hyphy for a party.
Dewy skin is the best accessory for summer, TBH. You can get fancy and make your own whipped body butter or try this over-the-counter gel oil — it works wonders and costs less than $5. In terms of makeup, we're very minimalist over at Bloop. When you got that good good skin glow, you can choose to wear very little else. Get your brow games in order with an angled mechanical brow pencil, which is life, and add a bright pop to your nails, eyes, or lips, and you're ready to go.
Whether having people over or going out, it's a good idea to have a plan for your scentscape for your body and your home. Summer weather calls for light scents, which can be something as simple as adding a few drops of organic grapefruit or lemongrass essential oil to your regular body lotion for something fresh but not overpowering. And: Do you know about the Countess Elizabeth Báltory de Ecsed? She was Hungarian royalty and a serial killer who bathed in the blood of virgins to reverse the aging process. But you don't have to go that far to slay like the royals do — the incense named after her by BlackBird, a Seattle design studio turned grooming boutique, is simply divine. It suffuses any space with a glowing vibrance that smells rich as fuck.
What to Wear:
What to Bring:
There are very few rules in life: Be kind to everyone, recycle, and never show up empty-handed to a party. You can always bring booze, sure, but if you have a little more time and want to show off your home-training, pick up a cute little gift as a thanks for dinner, brunch, or whatever else you were invited to. If nothing else, it's a surefire guarantee to snag that repeat invite.
What to Drink:
Clearly, CLEARLY, this summer calls for invoking Beyonc

é

in all forms and flavors, so serve some kind of boozy lemonade punch: Here are two to try, and if you need something to serve it in, these bitty bite cups from Crate & Barrel are great for cocktails and prosecco and even desserts, if you trying to get fancy with it.
What to Make:
Wendy and Jess of Food Heaven Made Easy are dreamboats in every sense of the word — and their recipes look so delicious and easy. Their dishes work for at-home hosting, or for bringing a dish. Grilled plantains, caramelized-onion pizzas, jalapeño chickpea burgers, blackberry-coconut ice cream, and basil Popsicles are all on point. Lately, we've also been obsessing over Candace Kumai's clean recipes, including these chili-lime shrimp tostadas, which would be perfect to serve at an intimate dinner party. For dessert, poundcake, berries, and freshly whipped cream are the staple of the season — anyone who doesn't like this is uninvited to 2017's summer soiree, stat. This recipe from Food52 is pretty foolproof. And if you're pressed for time, DIY ice-cream sandwiches are an excellent plan B.
How to Decorate:
We are high-key obsessed with this DIY pineapple centerpiece by Martha Stewart. Lights — whether string or just candles in jars clumped on a table — are a necessary; plus, we're feeling these multicolored tassel things you can easily procure via Etsy. Drape them on a mirror, on your stoop, or from a tree in a backyard to make a festive moment.
What to Play:
Music: Our current faves include the new Chance mixtape, and Bryson Tiller, who has figured out how to make R. Kelly–like sex music that you can listen to guilt-free. We haven't stopped bumping Rihanna — Anti will still be playing on every block this summer, and she also has a new song out that is killer. But ya bloop babes did the dirty work for you and assembled a playlist on Spotify with all our current faves. Hit shuffle, and enjoy.
Games: Not too shy to admit that even though we grown, we still love Twister; it's dumb fun but a party favorite, and after some boozy Lemonade, who can resist? Want to get rowdier and laugh for days? Cards for All People is the other thing we're playing all summer.