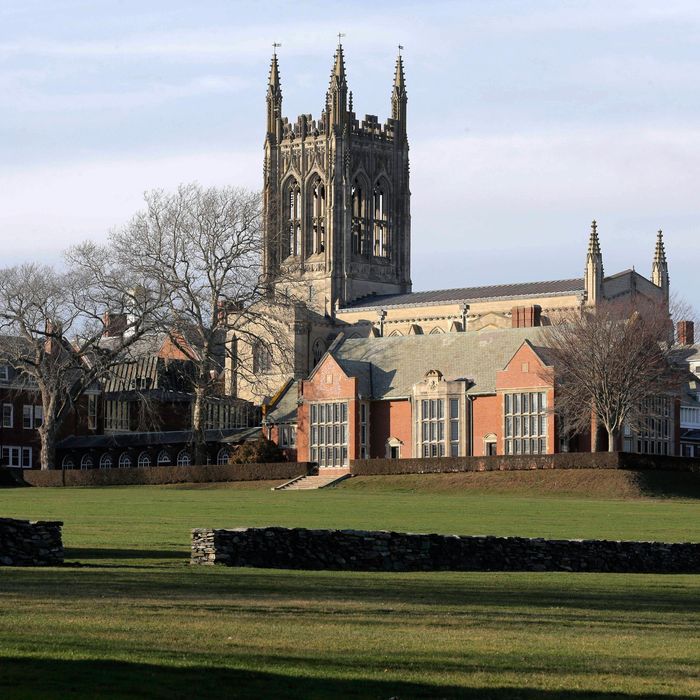 St. George's School in Rhode Island is one of at least eight New England private schools currently investigating alleged sexual misconduct.
Photo: Steven Senne/AP Photo
In a new report, the Boston Globe's Spotlight Team paints a horrifying portrait of the reality of sexual abuse in New England private schools. The report itself is an important read, providing a 25-year history of the issue and prompting a breakdown of the most sobering statistics here. It's worth noting that besides these findings, there is currently no database of allegations against private-school employees (and limited research on sex abuse in public schools).
Among 67 New England private schools, over the past 25 years, more than 200 students have accused private-school authorities of sexual abuse or sexual harassment — teachers, administrators, staff members, and (in one case) an admissions officer.
Their claims: rape, fondling, molestation, and oral sex.
At least 90 students or their families have filed lawsuits.
At least 37 school employees were fired or forced to resign because of the claims.
Nearly two dozen employees ultimately pleaded guilty or were convicted on criminal charges of abusing children or related crimes.
Of at least eight New England private schools that have started investigations of alleged sexual misconduct this year, five schools have fired or placed staff members on administrative leave: at St. George's School in Rhode Island, the Taft School in Connecticut, Phillips Exeter Academy in New Hampshire, and Thayer Academy and Concord Academy in Massachusetts.
Eleven private-school employees who were accused of sexual misconduct found jobs at other schools. The Boston Globe called this cyclical effect "an echo of the Catholic Church scandal, in which abusive priests were often moved to other parishes."
Finally, and perhaps most important, the report is a stunning but incomplete portrait of sex abuse in New England private schools: Of the 224 private schools surveyed for the Spotlight report, only 23 (about 10 percent of them) responded.
Asked about the Boston Globe's findings, Peter Upham, executive director of the Association of Boarding Schools, told the New York Times: "I don't think it's the quantification of the problem that moves most administrators: It's the heartbreaking stories." You can listen to those stories here.