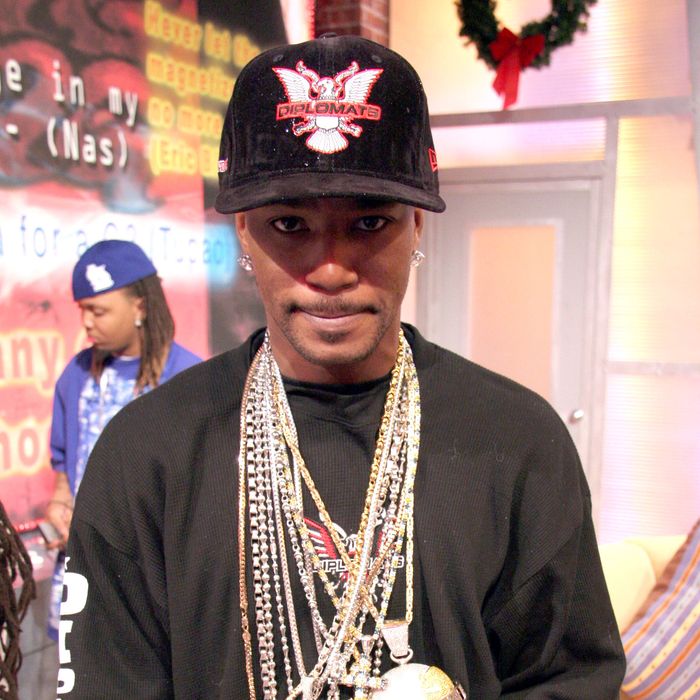 Cam'ron.
Photo: Johnny Nunez/This content is subject to copyright.
On Thursday, rapper Cam'ron took to a Reddit AMA, and when someone asked him questions that were slightly sexual in nature, he ignored them and said nothing at all. Yeah, no. Not true. He gave some answers that were pretty uncomfortable.
Especially about this photo of rapper Dame, Monica Lewinsky, and Cam'ron from 2002, at the opening of NYC club Flow:
"How did you, Dame and Monica Lewinsky end up in the same room?"

"I don't get my dick sucked and tell."
Yeah, there are about 1 million unsettling things about this comment, and not enough space here to get into it. Then it starts sounding like a frat-house conversation you so wish you hadn't overheard:
"Killa there's this girl I'm trying to get with we're going on a date tonight for frozen yogurt what should I do to hit that?"

"Put the yogurt on her lips and tell her thats how i wanna see you later"
And this one — just nope:
"If you could domesticate one aquatic animal what would it be?"

"I'm not into beastiality."
At least here's some helpful dating advice, via emoji?
How can I get a girl with a fatty like juju?

Just 🙏
Why is this conversation a thing?