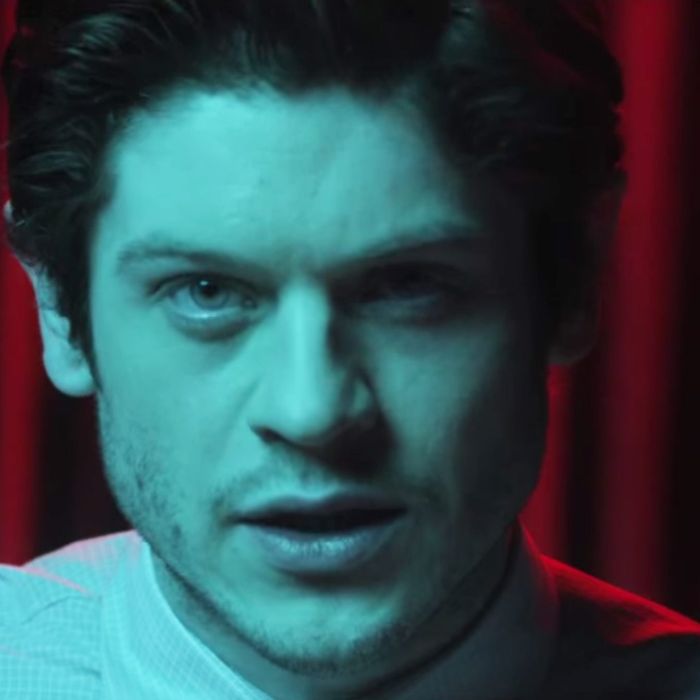 Photo: Courtesy of YouTube/Iwan Rheon
Game of Thrones is always objectifying its female characters. Here is where we objectify the men right back. For the rest of the season, we'll be celebrating some of the show's most under-the-radar hotties, because Jon Snow isn't the only man in the Seven Kingdoms worth lusting after.
Of all the despicable men on Game of Thrones, Ramsay Bolton is by far the foulest. He's a villain, but not a cartoonishly evil one like Joffrey, nor a charismatic evil one like Tywin. Ramsay Bolton is a joyless sadist, who murders babies and rapes women and flays people indiscriminately. I hate him so much that whenever I see his face – that heart-shaped jawline, those heartless blue eyes — I feel angry, and must go look at photos of Jon Hamm grocery shopping in order to calm down.
Which makes him a great case study for a hotness paradox that has plagued womankind for eons. Namely: Would you feel differently if you knew he was in a band? As I discovered recently, Iwan Rheon, the 31-year-old Welsh actor who plays Ramsay on Game of Thrones, has an indie-music career. And I have to say, even though these are romantic trigger words for me, I was not prepared for the emotional thawing that occurred when I watched the video for his 2013 track "Bang! Bang!"
To prepare you: "Bang! Bang!" is a love song. I am no music critic, but I would put Rheon's music in the John Mayer–James Blunt category: soulful, guitar-forward, suitable for a yoga playlist. When Rheon gets really into the song, he closes his eyes and shakes his head sweetly, as if incapacitated by the depth of his own feelings. By the final third of the song, I am so charmed that when he makes a gun with his fingers, I read the gesture as an endearing flirtation, instead of foreshadowing his plan to murder this woman at the end of the evening.