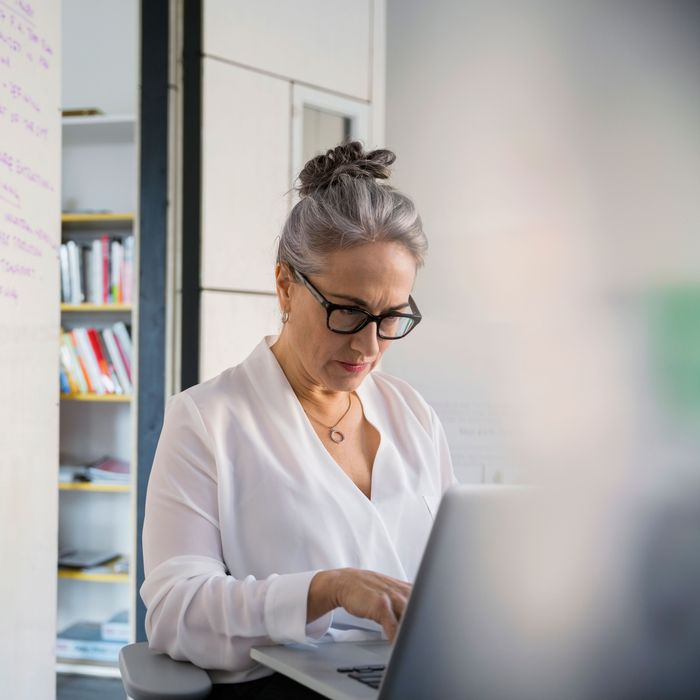 One way to combat the "motherhood penalty."
Photo: Hero Images Inc./Getty Images
If we lived in a dream world, women would get the chance to advance in their careers, have children, and then return to the workplace and a steady and fair paycheck. But this ain't a dream world, so work is still hell for many women — especially older women who have decided at some point to take a career break. The "motherhood penalty" means that when women return to work after childbirth, they are likely to have their pay docked four percent for every child they have. That is, if they can find full-time, stable work at all.
How to combat discrimination against women who are ready to get back to the office after an extended leave? Enter a new community-meets-recruiting tool called Après. Après, which is being positioned by Fast Company as a "LinkedIn for women who have taken a career break," attempts to help women who have taken time away to raise children (or for any other reason!) by connecting them with the people and resources they need to get back to work.
Part of the challenge of returning to work after a career break is having lost touch with one's professional network, which is where Après comes in. Launching on May 4, the site will be "a marketplace for both full- and part-time positions, consulting projects, maternity fill-in positions, and pro-bono opportunities across a wide range of industries." Joining the site is free, while a $250 per year fee buys the ability for employers to be able to find one's portfolio.
One of the site's founders, Jennifer Gefsky, estimates that roughly three million educated women would like to re-enter the workforce later in their careers. A 2010 survey by the Center for Talent Innovation found that nearly 75 percent of women attributed leaving their jobs to child-care issues, but nearly nine out of ten women who left those jobs said they wanted to return to work. Of the women surveyed, though, only 40 percent found full-time, mainstream work after taking time off. A site like Après, whose initial members average around 35 years old (though Gefsky says, "We don't discriminate, anyone is welcome to join") is one way to put qualified women back into the workplace. Could this be the beginning of the end of the motherhood penalty?