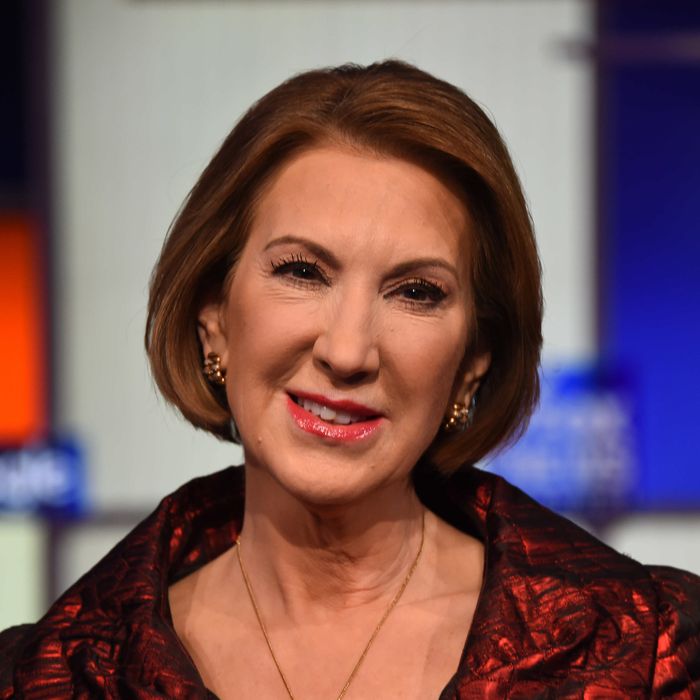 Take that, Hillary.
Photo: JIM WATSON/This content is subject to copyright.
Remember Carly Fiorina? She was Ted Cruz's vice-presidential candidate for about a week before he dropped out of the race? During which time she managed to alienate a majority of voters by breaking into song? Fiorina briefly disappeared from the spotlight after Cruz's collapse, but she reemerged late Thursday to attack Hillary Clinton on Twitter.
She started with a link to a Facebook post in which she slammed Clinton for the State Department's report on her use of a private email server. "You and I have been saying this for months: Hillary is unfit to be President," she wrote. "And the evidence keeps piling up. If anyone can stop her, it has to be you and me — conservatives like us who aren't afraid of a fight."
Then she sent a few more tweets for good measure.
Far be it from a presidential candidate — and a female one, at that! — to "lust for power." And, yes, Carly, Bill Clinton's legacy has sure given Hillary a leg up in this race.
What's that, Carly? Not all women vote based on a politician's gender, but instead take into consideration the complex web of issues and policies that will directly affect their lives? What a shocking revelation.
As for Hillary Clinton being denied your vote, well, we're sure she's devastated.