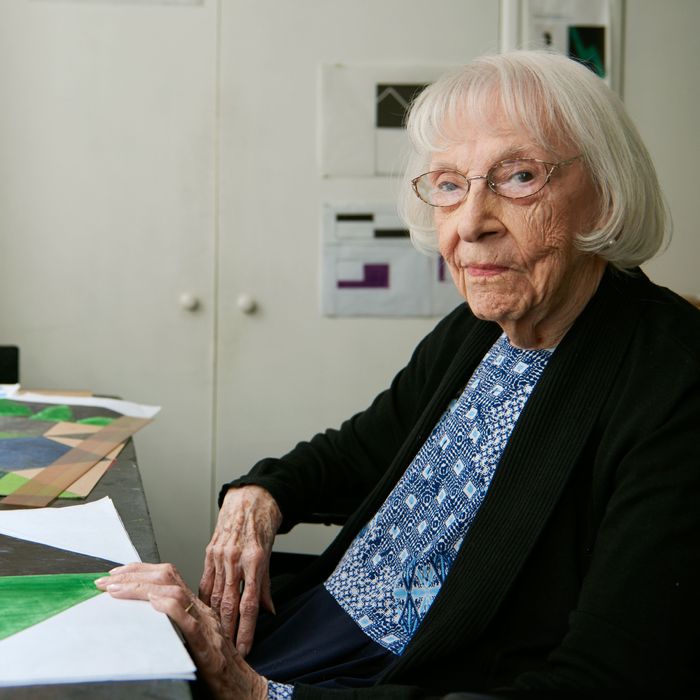 Photo: Jason Schmidt/Lisson Gallery
One-hundred-and-one years old is an unlikely age for any debut, let alone the solo debut of an art star at a major New York City gallery. But Cuban-born Carmen Herrera has always done things her own way.
Yesterday, Herrera opened the inaugural show at London-based Lisson Gallery's brand-new space under the High Line. As if that wasn't enough, she's also having a solo show of early work this fall at the Whitney, where she officially entered the canon last spring, when the museum launched its new building and hung her work side-by-side with that of Ellsworth Kelly, Frank Stella, Agnes Martin, and Jasper Johns.
Not bad for a painter whose work was virtually unknown for more than half a century. Herrera, who will turn 101 on May 31, still works every day at the long desk in the window of her Gramercy loft, despite being wheelchair-bound. In fact, the 13 vibrant paintings on display at the Lisson Gallery were all produced between 2012 and now.
As Alex Logsdail, Lisson Gallery's international director, says, "Her practice continues to evolve, and in some ways, has gotten better at this stage in her life." Dana Miller, curator of the upcoming Whitney show, says, "She was right there dealing with the same issues that Stella and Kelly played with, using the structure of the painting and the canvas edge as a formal element to riff off. But Carmen is her own genre. That's what makes her unique. She has her own language. What she does is distinctly her own voice."
Herrera's sophisticated style of hard-edged geometric abstraction was already ahead of its time when she first began developing it in the late 1940s, in Paris, where she showed at the Salon des Realites Nouvelles. But in 1954, she and her American husband moved back to New York, then at the height of Abstract Expressionism.

Despite knowing such Ab-Ex art stars as Willem de Kooning and gallerist and collector Peggy Guggenheim, and being close friends with Mark Rothko and Barnett Newman, she was instantly plunged into oblivion. Her elegantly spare style had nothing in common with Ab-Ex art's bravado and gesturalism.

The gallerist Rose Fried dashed Herrera's hopes when she visited her studio, invited her to the gallery, and then announced, "You can paint circles around my men artists, but I'm not going to show you because you are a woman."
"I walked out of there and felt like I had been slapped in the face," Herrera recalled.
Born in 1915 in Havana to an affluent family — her father was founder of the newspaper El Mundo, and her mother was one of Cuba's first feminist journalists — Herrera originally studied architecture. She moved to New York after marrying Jesse Loewenthal, a schoolteacher, in 1939. In 1948, they relocated to Paris, where she joined a group of abstract artists who showed at the Salon. Until he died in 2000, Lowenthal was her staunchest supporter. "Actually, it was wonderful," she said. "Nobody bothered me. I was doing what I had to do. Fortunately, my husband liked what I did, and he was by me all the time."
As a female Hispanic artist more interested in making than marketing her work, Herrera's talent was a well-kept secret until 1998, when she had a show at the Museo Del Barrio, thanks to her longtime friend and supporter Tony Bechara, then the museum's chair. In 2004, Bechara helped get a few canvases into the Latin Collector Gallery. It was there that the Miami-based collector Ella Cisneros saw the work and fell in love with it. She bought several paintings, as did Agnes Gund, president emerita of the Museum of Modern Art.
"She amazes me," says Bechara, who sees Herrera daily. "I always think one of these days I am going to have to tell her, 'Carmen, it's time for you to concentrate on your reading.' But she constantly surprises me with new ideas and new angles."
What keeps her going? Herrera puts it simply: "It's a passion. Every morning, I get up, I have breakfast, I go to the table and I begin drawing."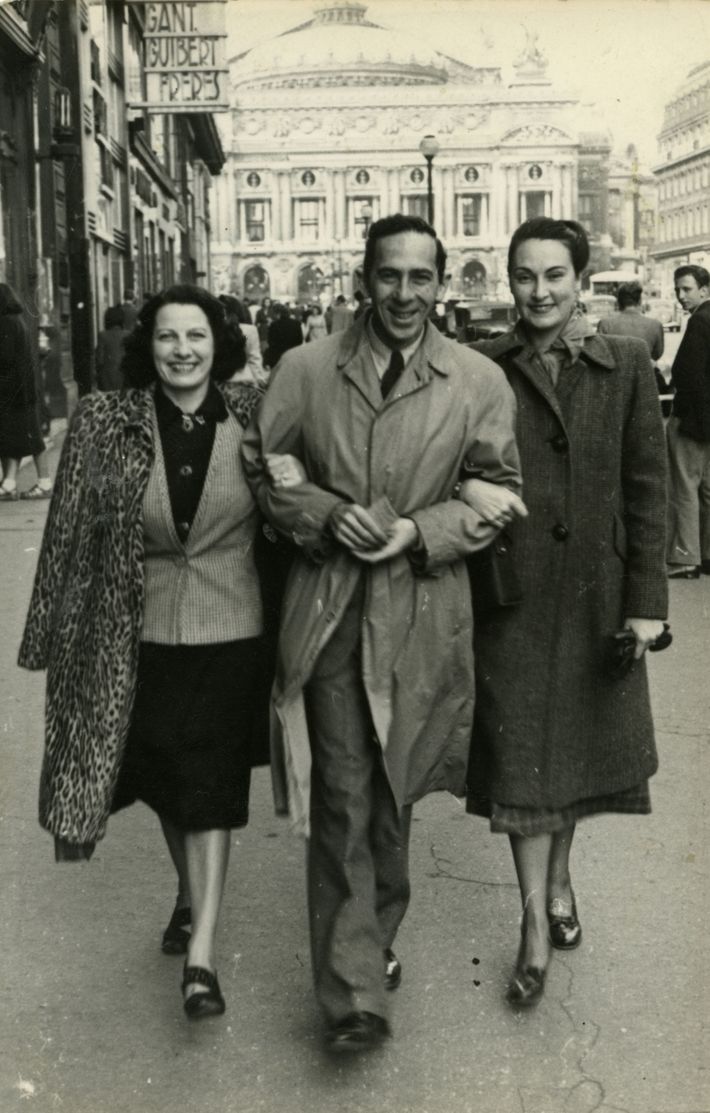 Carmen (right) with her husband and a friend, Mme. Rollin, in 1949.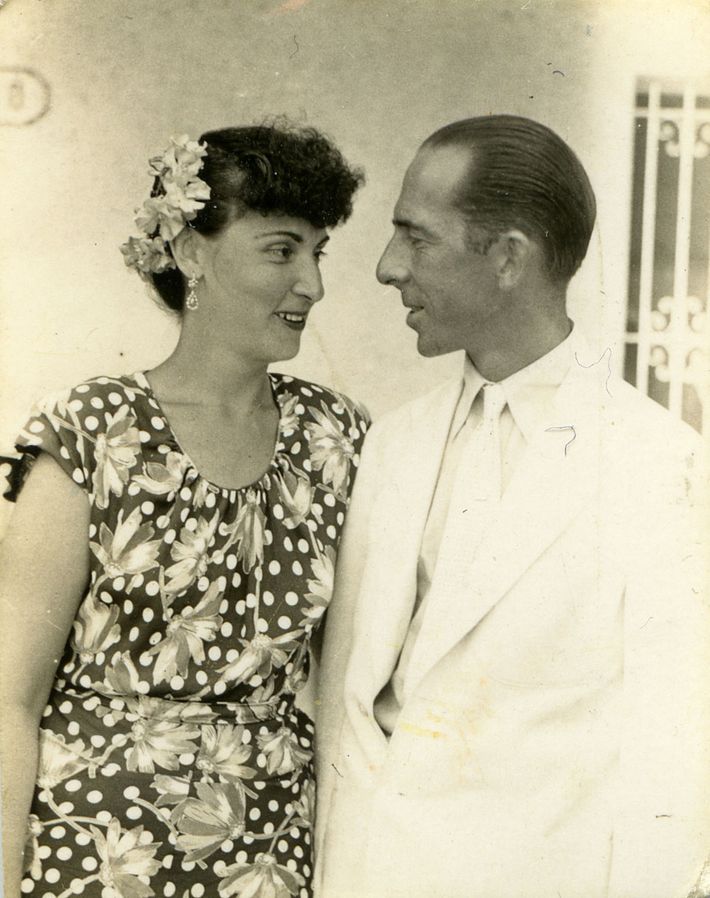 Carmen and Jesse.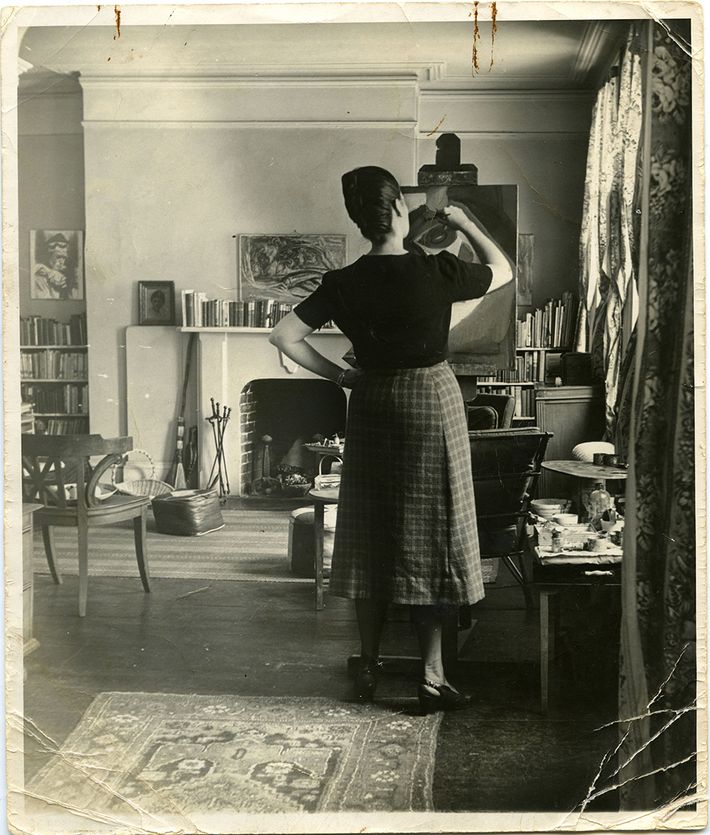 50 King street, pre-Paris, 1947.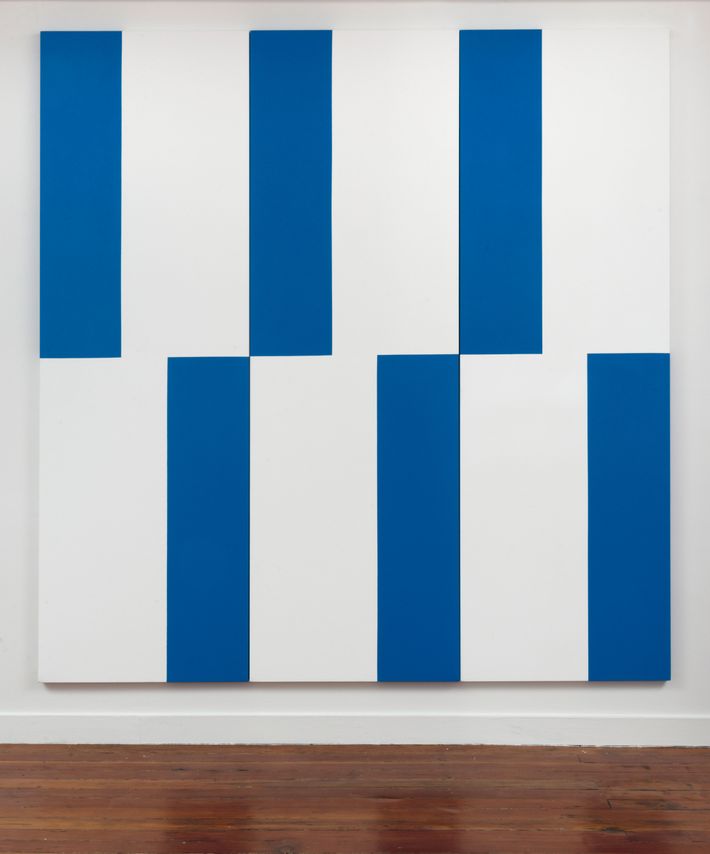 Blue and White (triptych) 2014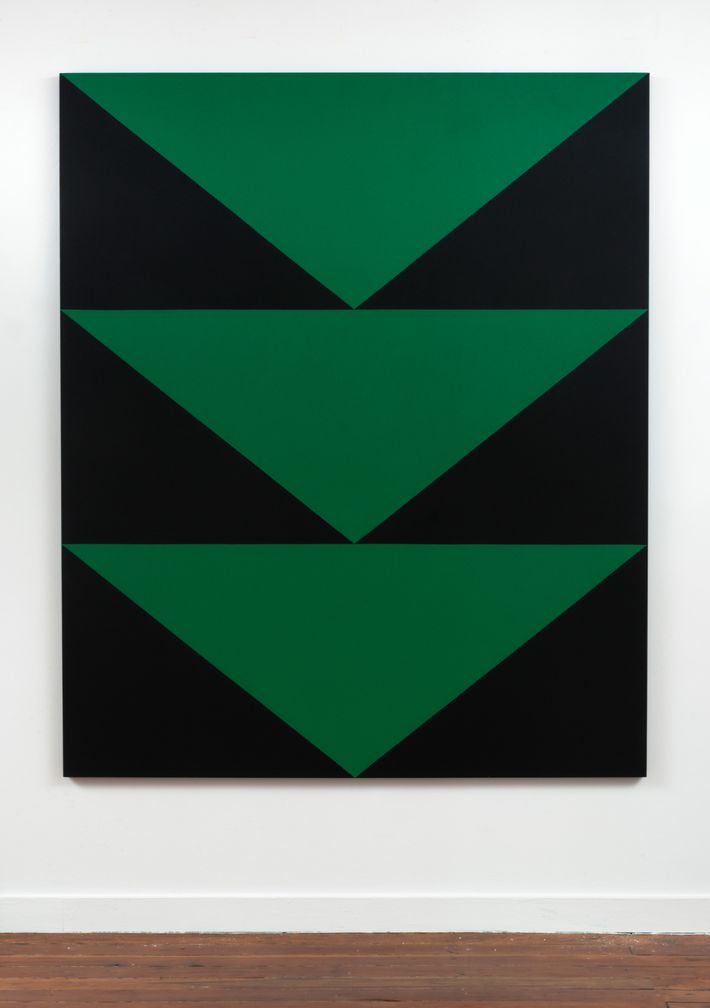 Noche Verde, 2014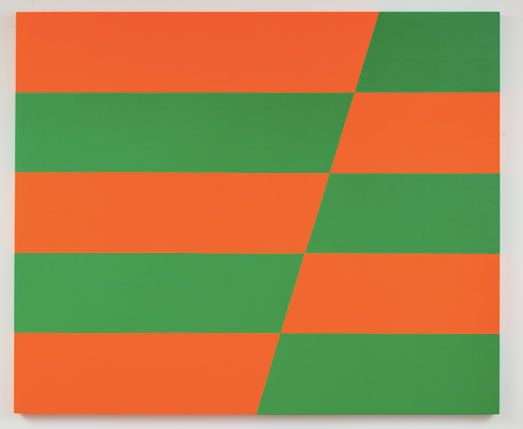 Aquila Verde, 2015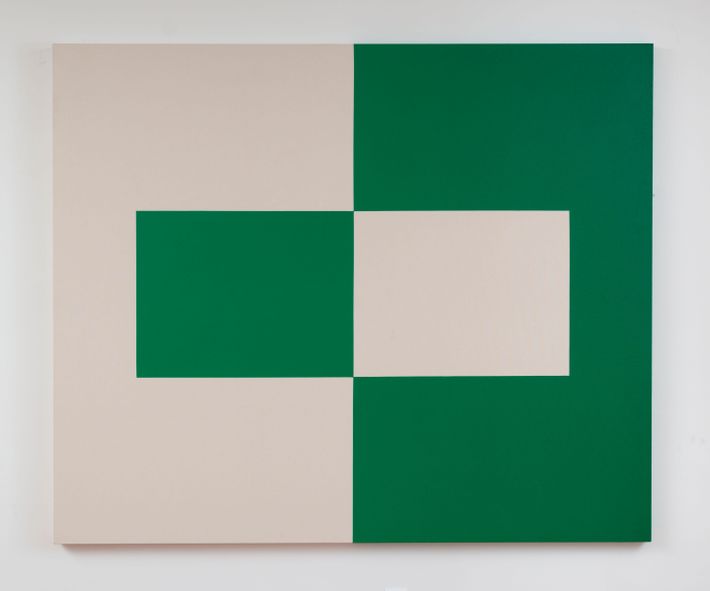 Red Wall, 2015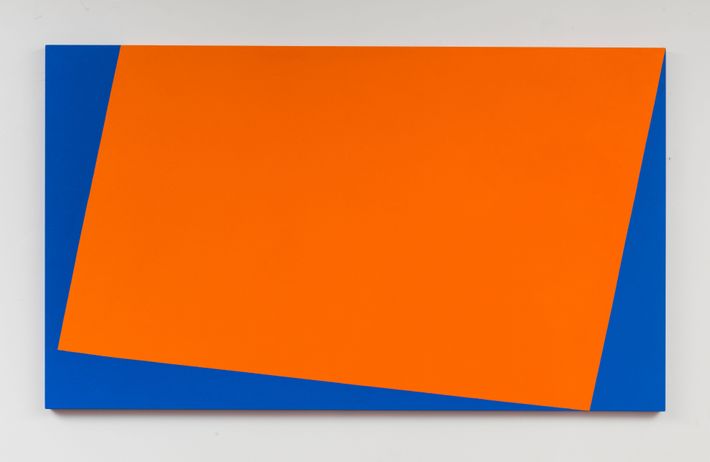 Alba, 2014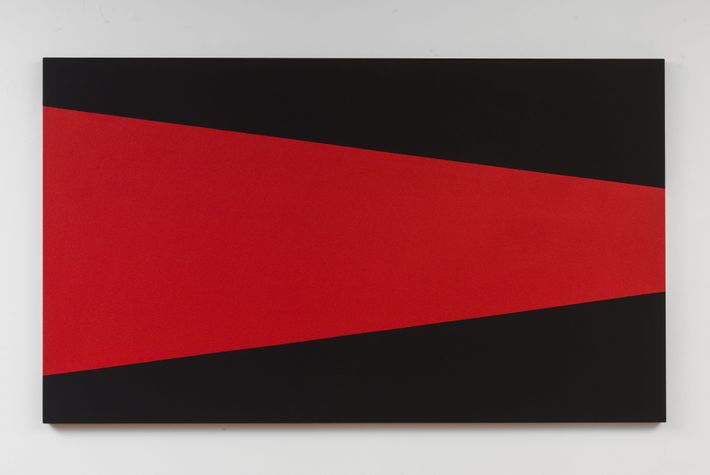 Costa del Sol, 2015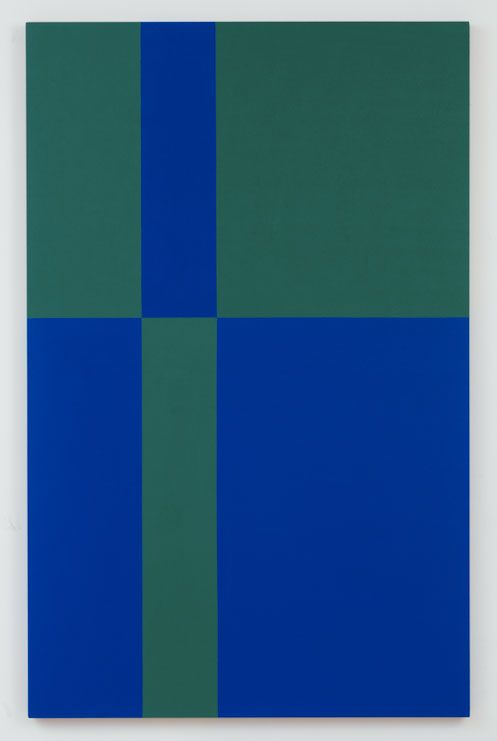 Night Forest, 2016