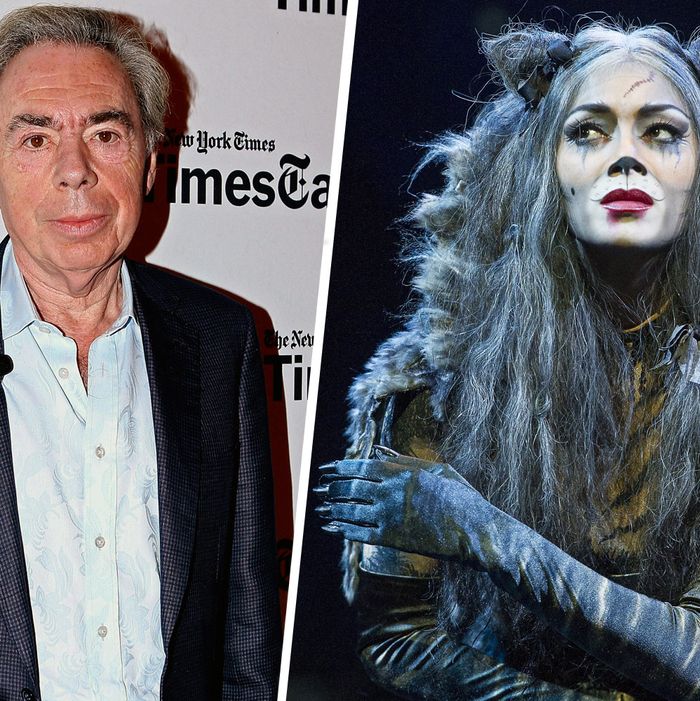 Andrew Lloyd Webber; Grizabella.
Photo: Getty Images; RexUSA
If you woke up this morning and gingerly stepped out of bed to cross off yet another day on your calendar until the Cats August 2 Broadway revival, then gather round for some delightful news: Andrew Lloyd Webber is getting real bitchy about Nicole Scherzinger.
The former Pussycat Doll, who played aging cat Grizabella (there's a joke in there, all right) in the 2014–2015 London revival of the musical, was set to reprise her role for the Broadway show dates. But then she dropped out, leaving Webber none too pleased. Here's what he told Economist Radio on Friday morning:
"A week before we were due to go into rehearsal for Cats on Broadway, which luckily I'm not producing, she calls me and says she's decided she wants to do X Factor, having agreed everything.

I mean, she's crazy. But the American producers just took a view, 'Well, fine, we'll get somebody else', because she's actually not very well known in America, amazingly. She's much better known here."
Creator of Cats calls Pussycat Doll crazy — what a time! But he had more to say:
"I'm furious because I really believe she's the most fantastically talented girl and I went out on a limb to get her for the London Palladium here, and it makes me look like an absolute twot with them all. But never mind, there'll be another girl on Broadway and Nicole will not get her Tony award."
Hear that, Nicole? Andrew says no Tony for you! Now shoo!