Inside Bottega Veneta's New Beverly Hills Maison
Photo: Courtesy of Bottega Veneta
Last night in Beverly Hills, celebrities decked out head-to-toe in the latest Bottega Veneta goods (and each holding the brand's signature Intrecciato weave clutch) swanned around the grounds of 320 North Rodeo Drive to celebrate the opening of the world's second Bottega Veneta maison. Guests, including Maggie Gyllenhaal, January Jones, Natasha Lyonne, Selma Blair, and Gillian Jacobs, explored the new store and chatted over Champagne and hors d'oeuvres before dining at the Sunset Tower Hotel.
The Beverly Hills maison, the brainchild of Bottega Veneta's creative director Tomas Maier, is a two-story beauty inspired by the early Mediterranean Revival, the Southern California architecture from early last century, and the Mexican-Colonial Spanish Revival style. The uniting factor: an emphasis on lightness and openness.
The store features neutral, cream-colored walls, and ceilings in bleached-oak wood. The second floor has skylights through which a flood of natural light highlights the items on display: ready-to-wear apparel, shoes, bags, sunglasses, fine jewelry, fragrances, and more.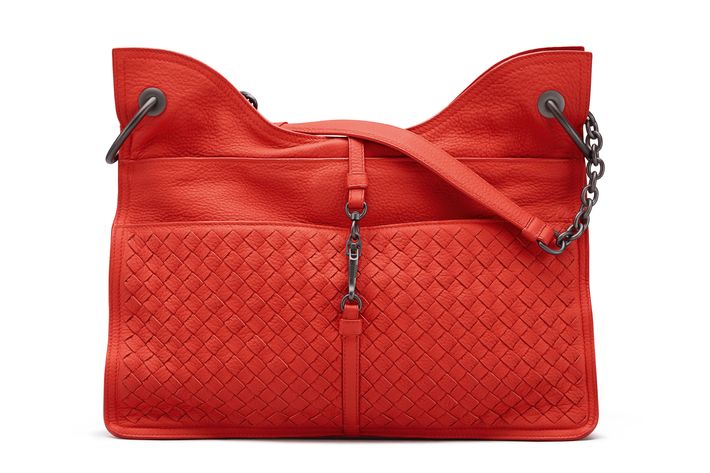 In honor of the new maison, Bottega Veneta revived a bag from its archives and named it the Beverly 71/16. The store is exclusively carrying Parco Palladiano, a unisex six-fragrance family of scents, in the United States, for two weeks.
With Mother's Day just around the corner, the Cut chatted with the guests on lessons they learned from their mothers, inspiring female role models, and the joys and challenges of parenthood. Click through the slideshow for photos from the fête.
Gillian Jacobs
Did your mother pass on any of her qualities to you?
I'm very punctual because my mother is always late. [Laughs] I spent my whole childhood waiting for my mom to finally get ready and get out the door, so now I'm obsessively on time. I think I can hopefully laugh at myself, and I think I got that quality from my mother. And working hard — she's got a strong, strong work ethic and she's learning how to loosen up. I'll say this: She's always working on herself, and so I can take inspiration from that. She's always trying to improve and be a better version of herself.
Who are your female role models?
I made a short documentary about this woman named Grace Hopper, who's a computer scientist. I don't have anything in common with her career-wise, but she never took no for an answer, was incredibly collaborative and very innovative, and basically helped invent programming languages for computers in the 1950s. So, she's my role model.
Andie MacDowell
What are some lessons you learned from motherhood?
Oh, so many things! They are my most important relationships. It's a relationship you don't quit, so you have to work things out. So they've taught me how to resolve problems because I'm never going to give up on them. You know, I'm never going to stop loving them, and I love them unconditionally. So if there's a problem, you work through it — and they taught me how to do that.
Selma Blair
What has your mom taught you? What lessons have you learned from being a mother?
I wish I learned more from my mom because she's someone that always kept working, and for her, it was really important to show her kids that she had a life above and beyond her children — and I do not live by that example at all. [Laughs] Like, my kid is my life! It's a total mess. It's just a different generation, you know? But I'm just going to be with my kid on Mother's Day, and we're going to go on a little road trip.
Minnie Driver
Who are your female role models?
My mother, because she still rides a bicycle around London and she has her own business and she's 79. She's a phenomenal inspiration.
Robbie Rogers
What's a quality of your mother's that you love?
Well, I'm a soccer player, I play for the L.A. Galaxy, and my mom is at every single one of my games. So I think just the thing that is most special about my mom is that she's always 100 percent supportive. So, it's Mother's Day, but she's going to be at my game this weekend.
You're a new dad — how's fatherhood been so far?
Actually, my sister texted me and said, "It's your first Father's Day!" It's been amazing — overwhelming positive. I don't know, I guess you hear from your co-workers and friends about how you're up all night and this and that, but it's been really amazing. I'm really lucky.
Maggie Gyllenhaal
Who are your female role models?
I admire so many women. I just watched Kate Winslet in Jobs — really way too late — but I just had so much admiration for her and what she did in that, and I often feel that way watching her work. I admire Diane Keaton. I admire Louise Bourgeois. I admire so many women for so many different reasons — especially when they fail. I admire Elena Ferrante. The older I get, the easier it is for me to admire other women. And there are so many people. We could talk about it all night.
Natasha Lyonne
With Mother's Day just around the corner, what lessons has your mom taught you?
Well now that you're bringing it up, I'm very curious what Root Beer, my 4-year-old Maltipoo, is planning on getting me for Mother's Day. I'm hoping that she makes me sort of a breakfast in bed, you know, maybe some flowers she picks, or maybe a spa day she'll have bought for me, a nice gift certificate. But anyway, it's a good day for Root Beer to give back to me. I mean, all year round, 364 days a year, it's me taking care of Root Beer. And this Mother's Day, all I can hope is that she gives back … I don't care if she doesn't have opposable thumbs!
Who are your female role models?
I've got a bunch. There's a bunch of ladies that I like. I like Gertrude Stein, Fran Lebowitz, Simone de Beauvoir. And then I like Kim Gordon — throw her up there with them. I think all of those women really stand for doing your own thing, independence of mind and person, and just being the real deal and everything will shake out just fine.
Odeya Rush
What have you learned from your mom?
My mom is originally from Russia, and she moved to Israel — it's where I was born. She's very upfront and she never apologizes for being herself. I think a lot of women were told to suppress that side of ourselves, so I like how honest and blunt my mom is, and people appreciate that, so I love that.
Any other female role models who you look up to?
I just did a film with Julie Delpy, and she's been my hero for so long. She's also very nonapologetic — you know, just directs her own films, writes her own stuff — she just does what she wants and doesn't really wait for somebody else to do it for her, so I really respect that.
Rosemarie DeWitt
Who are your female role models?
I love Lupita right now. I love so many people. I love Pema Chodron. They're all over the board.
Any lessons from your own mother or motherhood?
On a real level, my mother was always like, Be kind to everybody — literally everybody. And she also said, "Moisturize your neck," which I started doing when I was 20, so hopefully that worked out. And then on my babies at home, I feel like it's like just, I mean I'm learning as I go, but flexibility and following their lead is everything.
Alison Brie
Any lessons you learned from your mom?
I think the biggest lesson that I've learned from my mom is being able to laugh at myself. I think she has a great sense of humor and just a buoyancy to the way she lives life, and so does [my fiancé] Dave's mom as well. I mean, just light and easy and fun. And being able to laugh at yourself in situations can get you through almost anything.