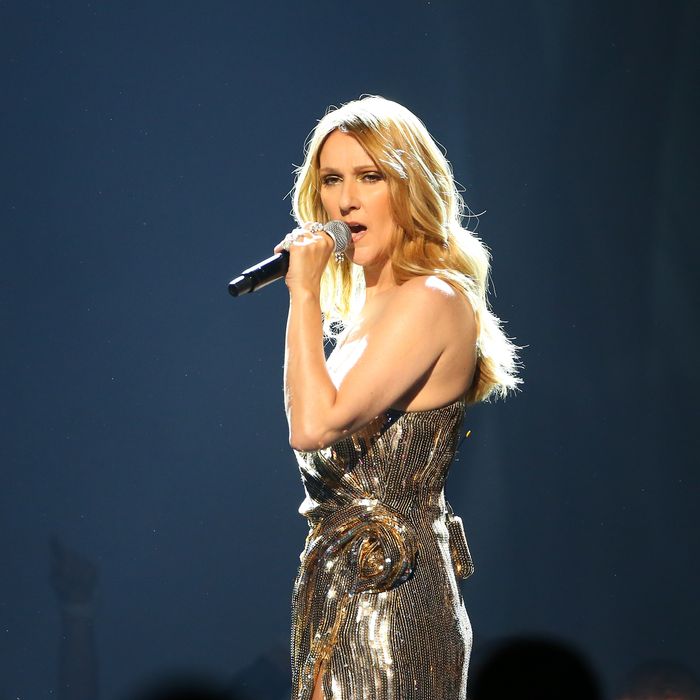 Celine Dion at the 2016 Billboard Awards, performing Queen's "The Show Must Go On," a favorite of her late husband's. Photo: JB Lacroix/WireImage
Not long after Celine Dion accepted the Icon Award for Life Achievement from her son René Charles at the Billboard Music Awards Sunday night, she started fighting back the tears. The singer, whose husband René Angélil died from cancer earlier this year, apologized for crying, saying, "I'm so sorry; I'm sorry for crying. I want to be so strong for my family and kids. I'm so sorry; I don't want to cry in front of you."
Because awards shows are a place for harsh criticism, even in raw moments like this, Celine followed up about the tears in an interview with Access Hollywood:
"I hope mothers don't get me all wrong … you know how sometimes you feel things, and it doesn't come out the right way. I'm not saying that crying is wrong. It's not what I want to say. It's just that not crying I feel for myself more powerful, that I can be in charge and say, 'You know what? This is not an end of anything. This is just a new beginning.'"
Tears or no tears, strength comes in many forms. Sometimes it comes in the form of a good old-fashioned Celine Dion power ballad — hairbrush microphone and all.