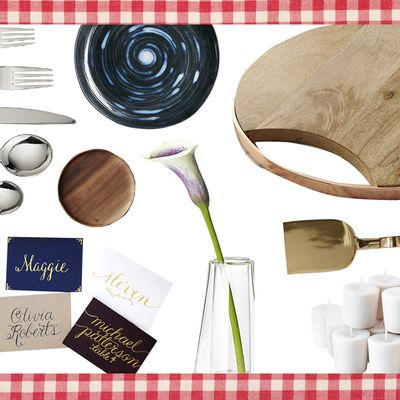 A weeklong series on the art of entertaining, for women who are too busy for Pinterest.
So you're hosting a few friends for a proper dinner party. You've got the food and booze sorted out, plus your place is about as clean as it can be. Now, it's time to decorate. That doesn't mean you have to spend a ton — all it takes is a few cheap purchases to transform a space.

If your goal is to look impressive on Instagram (and let's be real: That's probably your goal), then the trick is to mix-and-match based on your budget. Don't want to spend too much? Grab some inexpensive vases and fake flowers. Have more flexibility? Add in some mood lighting. Whether you're supremely crafty or a total novice, click ahead for ten ways to fake an expensive dinner party.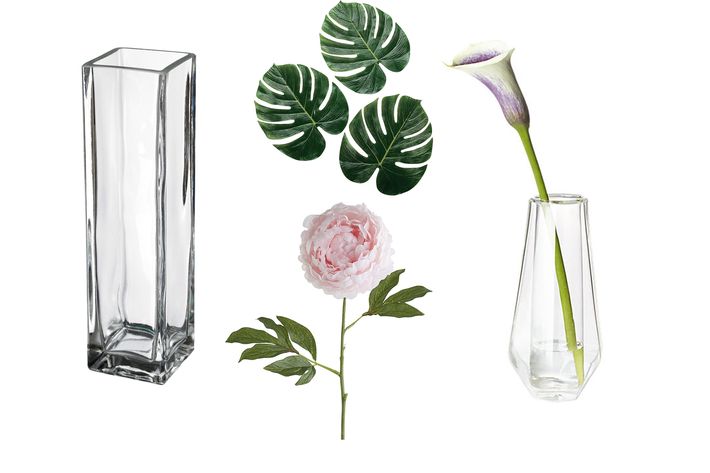 Fresh peonies cost a lot and are only in season for a few weeks a year — but fake ones are good year-round. Really, no one can tell they're fake if you have mood lighting, so grab a few and place them in vases with water. However, if you have a bigger budget and want the real stuff, look for blooms with a strong stand-alone impact. You can place singular stems of calla lilies, hydrangea, or fringe tulips in bud vases and scatter them down a table. Or you can skip it all and lay down some faux greenery in lieu of flowers.
Rektangle vase, $2.99, Ikea; faux-peony stem, $6.25, Pier 1; palm leaves, $8.75 per dozen, Oriental Trading; SAIC glacier vase, $9.95, CB2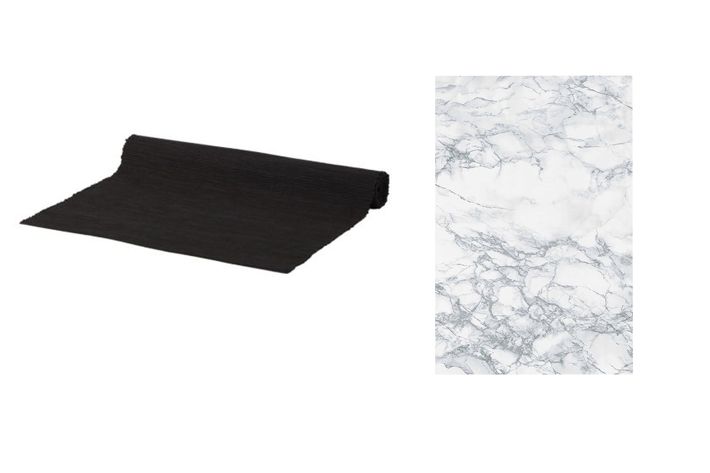 So you don't have a perfect wooden farm table straight out of a Crate & Barrel catalogue? That's okay. You can create a marble top that looks just as good. Grab some marbleized contact paper and lay it over your table. If it's an extra-wide surface, you can throw down a table runner to hide the seams.

Gray marble adhesive film, $6.80, Walmart; Märit table runner, $6.99, Ikea

3. Pick Up Some Chic Disposable Place Settings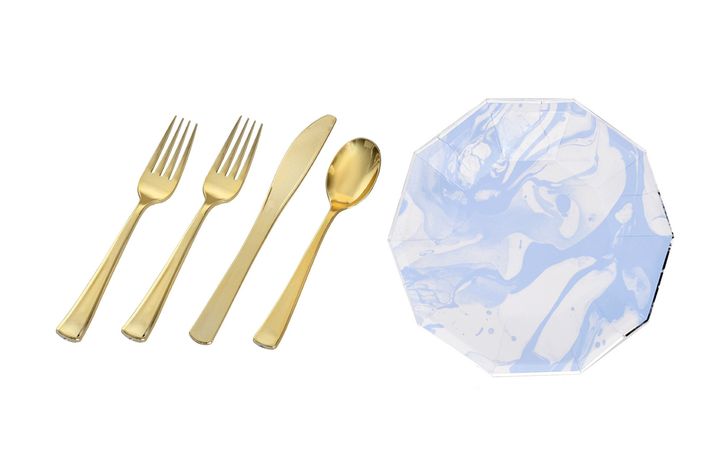 Doing the dishes sucks. Make it easy for yourself at the end of the night with nice paper plates and elegant plastic flatware.
Marbled paper plates, $8, Leif; gold plastic cutlery set, $24.95, Amazon
4. If You Want Real Plates, Find Interesting Ones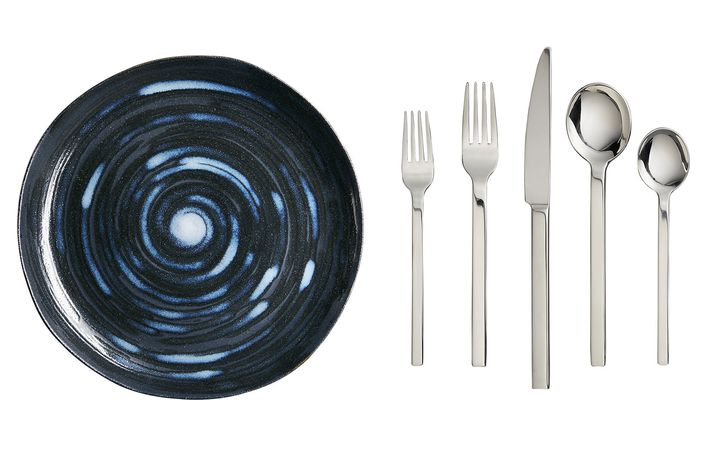 White plates offer a clean slate to show off your food, but if you want something less sterile, try these dark-blue CB2 ones. They're simple enough that they won't compete with the dish, but also have that extra detail that will really come through in a photo. And if you have real plates, you should also have real cutlery to match.
Midnight dinner plate, $8.95, CB2; 20-piece flatware set, $49.95, CB2
5. Use Proper Glasses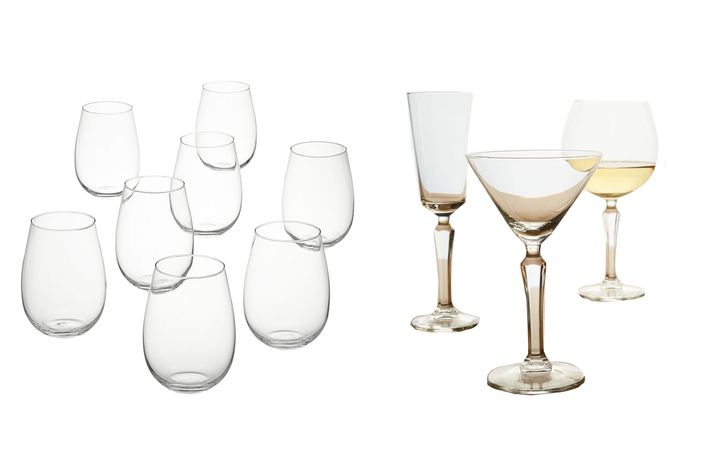 Disposable plates and cutlery are a great time-saver, but real breakable glassware says that you're responsible enough to handle fragile items filled with alcohol. West Elm's set has a nice stem detail and costs a bit more. If your guests are untrustworthy klutzes, skip that and get a cheap bulk pack of the stemless variety.

Vintage-style stemware, $48 for set of six, West Elm; set of eight stemless wine glasses, $17.95, CB2
6. Mood Lighting Hides Everything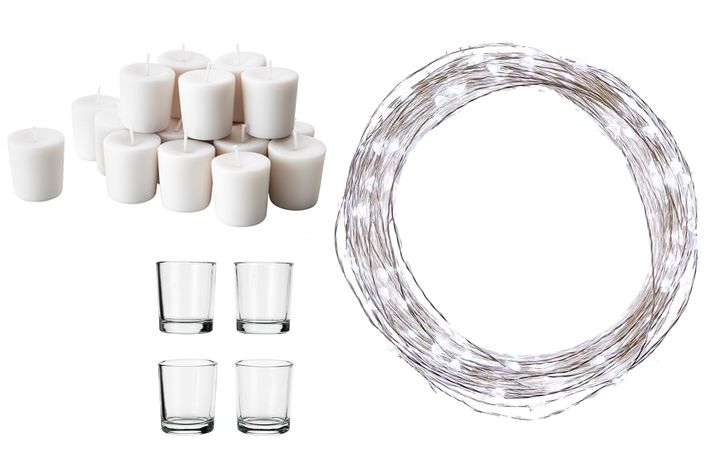 Candlelight isn't quite ideal for Instagram, so have your dinner start at the magic hour when everything already looks a bit fuzzy but still pretty enough for pics. Then, as the sun sets, you can light inexpensive, scentless candles. If you have more money to spend, try stringing lights on the walls.
Unscented votive candles, $4.99 for 20-pack, Ikea; votive candle holder, $0.99 for a four-pack, Ikea; extra-long galaxy lights, $84, Urban Outfitters
7. Make a Really Good-looking Cheese Plate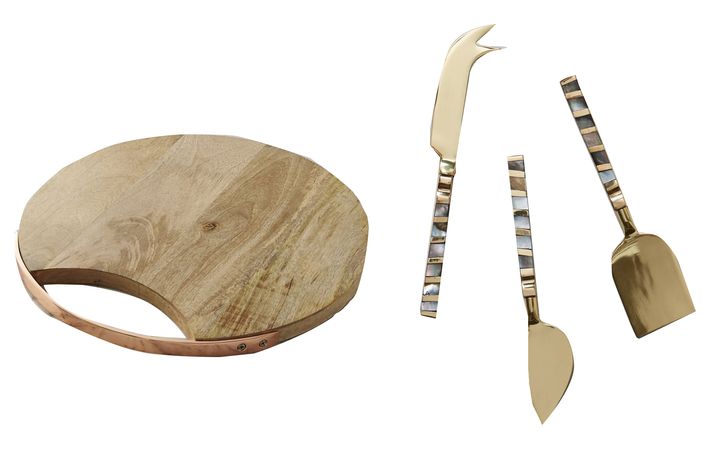 Find a clear surface, plop down a proper cheese plate, and arrange your spread nicely with some decorative knives. Even if the rest of your dinner party takes place on your couch, a pretty cheese plate will make it feel art-directed.
Beck serving board, $29.95, Crate & Barrel; mother-of-pearl cheese knives, $34, Anthropologie 
8. Serve One Spectacular Dish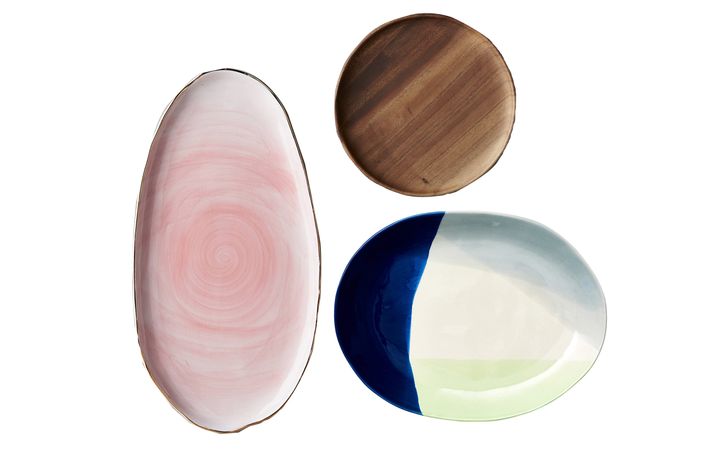 Whether it's takeout or you actually spent time cooking, you should show it off in the center of the table with a beautiful serving platter.
Tondo platter, $14.95, Crate & Barrel; dipped glaze oval platter, $39, One Kings Lane; Suite One Studio Mimira platter, $24, Anthropologie
9. Gold Spray Paint Is Your Friend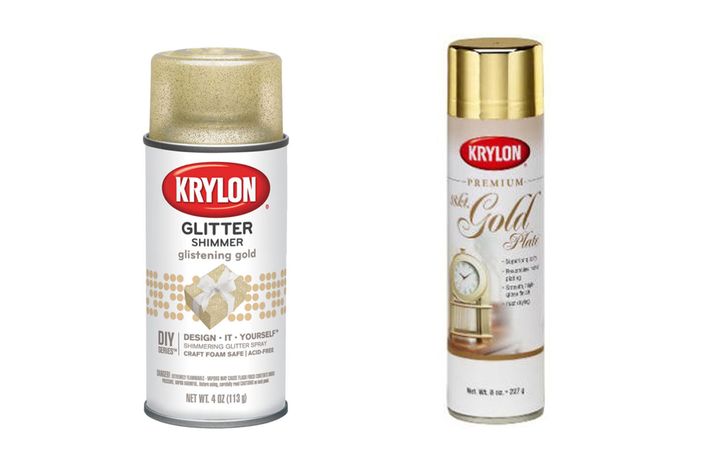 So you're really broke but you also happen to be pretty crafty — this is where spray paint comes in. Throw a coat of gold on crappy thrift-store glassware or even old cans and you instantly have a chic container for flowers or greenery. If you need to actually drink out of the glasses and don't want to poison your guests, simply spray the bottom half. Just one warning ∏ do this in a well-ventilated space or you'll be huffing paint fumes.
Krylon 1000 premium metallic spray paint, $7.27, Amazon; Krylon glitter-shimmer spray, $5.09, Michaels
10. Outsource As Needed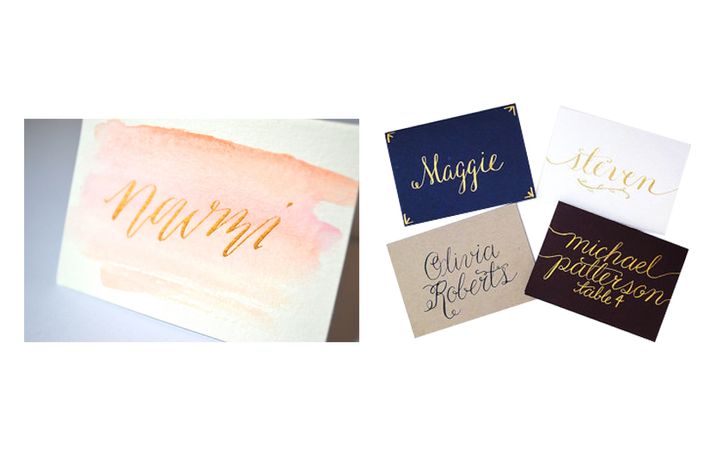 Don't get sucked into the black hole of Etsy when you're party-planning — but do use it judiciously. The best use of Etsy is to hire someone to make nice place cards or even a menu for your evening in beautiful calligraphy. It's an affordable way to add a grown-up touch to your event.
Handwritten escort cards, $1.25, Etsy