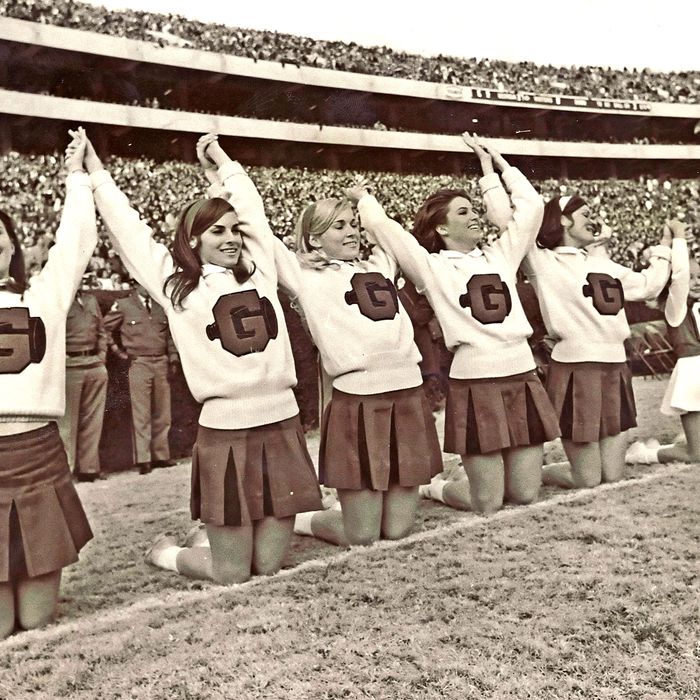 These uniforms could soon be under copyright protection.
Photo: Collegiate Images/Getty Images
Ruth Bader Ginsburg & Co. will soon be poring over the intricacies of cheerleaders' uniforms, which might sound like a frivolous concern for the Supreme Court. But depending on how an upcoming case plays out, a lot could change in terms of what fashion-design elements can and cannot be copyrighted. According to Bloomberg View, the lawsuit — filed by cheerleading-uniform company Varsity Brands, Inc., against its rival Star Athletica LLC — alleges that the latter copied the former's designs.
While logos are protected under copyright laws, design elements, like the chevrons and stripes on cheerleaders' uniforms, aren't. For example, a Pucci signature-print dress or a belt with Gucci's interlocking G logo currently qualify as trademark-worthy, while a polka-dotted shirt does not. Everything will hinge on the Court's decision about whether said elements are integral to the function of the uniforms, or if they can be considered separate entities. If they end up deciding that such motifs can be subject to copyright, then fashion designers might have more leeway to sue over knockoffs that contain similar-looking patterns.
Of course, not everyone wants that to happen. Three 3-D-printing companies — Formlabs, Matter and Form, and Shapeways — banded together to file an amicus, or "friend of the court," brief in support of Star Athletica, given that 3-D printing often incorporates elements of both utilitarian and artistic merit. The Court won't begin looking at the case until at least fall, so it will be some time before any sort of sweeping change comes our way. Don't get your pom-poms out just yet.