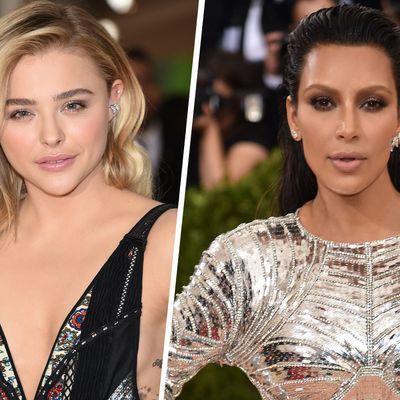 Chloë and Kim.
Photo: Getty Images
Chloë (ë) Grace Moretz, a 19-year-old actress whom you know from uh, you know, took to Twitter a couple of months ago to criticize Kim Kardashian for posting a nude selfie. The broadside came in two parts:
Kim Kardashian then memorably clapped back with "Who?"
Unfortunately, it seems Cĥlöë learned nothing from this exchange. In an interview with Glamour, out today, she explained her decision to tweet Kim Kardashian this way:
I had just gotten off a plane from South Korea, I was incredibly jet-lagged, and I couldn't take one more thing. I saw that photo, and I had to say something. That picture wasn't linked to body confidence. It wasn't a #BodyConfidence or #LoveWhoYouAre. It was done in a slightly voyeuristic light, which I felt was a little inappropriate for young women to see  … I would hate for young women to feel they need to post certain photos in order to gain likes, retweets, favorites, and male attention … I wasn't slut-shaming. It's not about body shaming.
Ah, yes. Jet lag … wrong hashtag … makes sense. The three-named actress then went on to call Kim's response "snarky."
"My mom took the most offense to it because it was girl-on-girl hate and Kim didn't come back with an educated response on body confidence," she said. "It was aggressive, and also it was incorrect. I don't have 45 million followers or a TV show that follows my life. But people know who I am. I pride myself on having opinions, and I don't express them in snarky ways toward people."
Glamour followed up by asking Chloë why she herself posts bikini photos. "I do it because it's a body-confidence thing," she explained.
Okay.