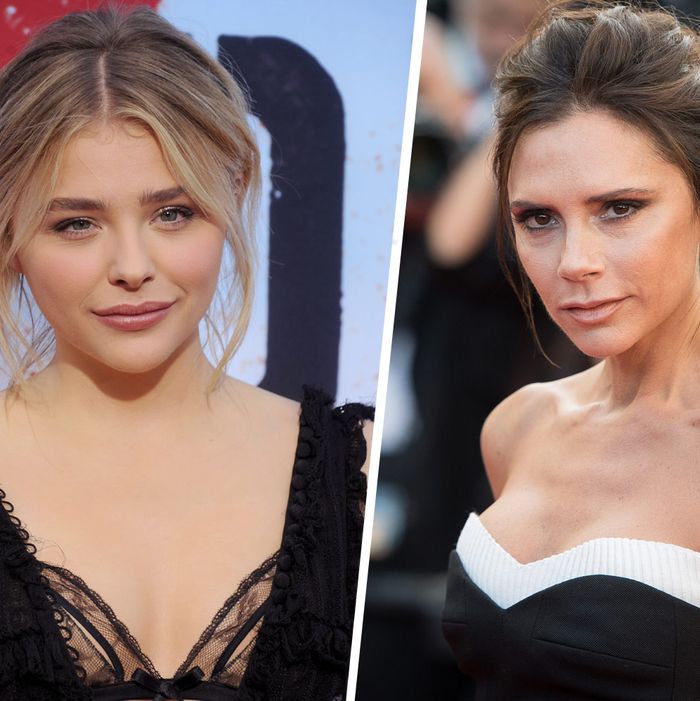 Chloë Grace Moretz, Victoria Beckham
Photo: Getty Images
Haven't you heard? Chloë Grace Moretz — famous teen and sworn Kardashian enemy — is dating a much younger man. The 19-year-old and her 17-year-old boyfriend, Brooklyn Beckham, made their red-carpet debut on Monday night for the premiere of Neighbors 2: Sorority Rising.
Beckham is, of course, the eldest son of Posh Spice and the Handsome Football Man (Victoria and David Beckham). Most relationships between teens and the parents of the person they're dating are tense, comprised mainly of awkward interactions in which the parents do their best to ignore the gratuitous amount of heavy petting happening under their roof.
But what happens when you're a rich, mean teen and your boyfriend's mother is Posh fucking Spice? How exactly do Chloë and Victoria get on? Andy Cohen asked her as much during a 2014 Watch What Happens Live interview, and Moretz responded, "She's an amazing person. I really admire her work ethic and I love her line."
That response leaves so much to be desired. What could they possibly talk about? There's only so much to be said about Victoria Beckham by Victoria Beckham. Oh, to be a fly on that wall during a dinner at the Beckham household …
Victoria: So, Chloë, how's the new movie coming along?
Chloë: [Rolls eyes, looks up from phone] Brooklyn, who is this skinny old?
Brooklyn: Me mum named me after a neighborhood!
Victoria: [Narrows eyes, pops dried shrimp into her mouth]
Chloë: Snapchat, snapchat, snapchat!
David: [Walks into kitchen entirely naked except for tight briefs] My David Beckham Bodywear contract says I have to be wearing nothing but underwear for 23 hours a day.

Now that that's settled, what could it possibly be like when Ashlee Simpson and Diana Ross get together?