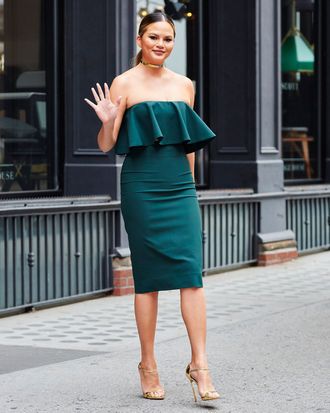 Chrissy Teigen
Photo: J. Webber/Splash News
Chrissy Teigen appeared on Good Morning America this morning, and during her interview, she addressed her much-chattered-about, controversial dinner date with husband John Legend.
The dinner date was controversial because it occurred nine days after her daughter, Luna, was born, which some people felt was too quick to be taking an evening off from the baby. "I knew mommy-shaming was a thing, but I didn't think it would come from going to dinner" she said. "We needed a break," she went on. "We needed to go enjoy each other's company and be out."
"We were gone for an hour, we had a good meal together. Happy mommy, happy daddy, happy baby."
Teigen is learning very quickly the truth of being a mom, especially one in the spotlight: You cannot win. She was shamed on Mother's Day for Instagramming her bare midriff in jean shorts — too insensitive to moms who struggle to lose baby weight, some said. The dinner incident is notable because, as Teigen's husband pointed out, no one complained that he left his daughter: "Funny there's no dad-shaming. When both of us go out to dinner, shame both of us so Chrissy doesn't have to take it all. We'll split it," he tweeted after the outrage kicked in.
Welcome to the club, mom!