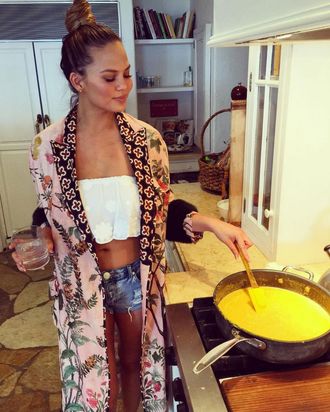 Model, cookbook author, and erstwhile cheese-wheel owner Chrissy Teigen knows that, as a cool girl, backlash is inevitable. But it seems she's faced more than her share, especially since she and husband John Legend announced they were becoming parents.
Teigen has gotten crap for everything from choosing which embryo to insert to going out to dinner without baby Luna "just" nine days after she arrived. Yesterday — her first Mother's Day, mind you — some Instagram commenters found her outfit choice to be insensitive to other new moms. About three and a half weeks after giving birth, she wore a crop top, denim cutoffs, and a printed robe. Extremely rude.
Salty comments about her stomach included gems like this: "Chrissy you are gorgeous and are very lucky to have snapped back so quickly but I gotta say it feels a little insensitive when for mere mortals this is a huge battle to regain. You look amazing, you are one of the few, be sensitive to those that see you and aren't so lucky." And: "Other new moms feel bad enough about their bodies then see this and feel like they should be in crop tops, too."
The woman is a model; we already know her genes are exceptional. Others who were in awe without throwing shade recognized this fact. "She's magic. That's the only explanation. It's witchcraft."
A modest proposal for social-media companies: Make comments optional.