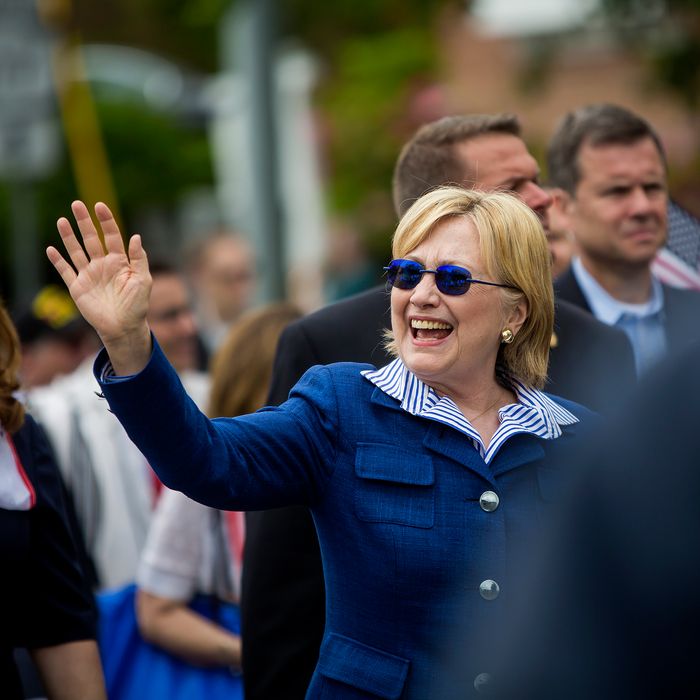 We get it: she messed up with the email thing.
Photo: Eric Thayer/2016 Getty Images
Hillary Clinton's campaign chairman would like everyone to get over the email thing, please. In a memo sent out to hundreds of top-tier Clinton supporters over the weekend, John Podesta wrote that Clinton knows the use of a private email server while she was secretary of state was a mistake. "The Secretary has once again acknowledged this was a mistake," he said. "And she has taken responsibility for that mistake – including in many interviews she's done since the report's release."
He's referring to the inspector general's report, which was released last Thursday and which chastised Clinton — yet again — for using a personal email account to conduct official business. The report found that Clinton failed to formally seek approval for setting up her private email server, and it noted that in doing so she failed to comply with the government's rules regarding federal record-keeping.
Podesta concedes these points. "Had Secretary Clinton known of any concerns about her email setup at the time, she would have taken steps to address them," he wrote. But there are bigger issues at hand:
There is a lot at stake in this election. This week Donald Trump officially clinched enough delegates to become the Republican nominee. That means an unqualified loose cannon is within reach of the most powerful job in the world.

While we understand the questions about Secretary Clinton's email practices, we are confident that voters will look at the full picture of everything she has done throughout her career. We have faith in the American people. They know we have to be focused on solutions that will make a real difference in people's lives.
Trump, of course, has seized on Clinton's email abuse with glee, saying it might be enough to drive her out of the race. (That Trump makes about as many gaffes in a single week as Clinton did in setting up her private server is, apparently, beside the point.) But Clinton's allies are encouraging her to ignore Trump's digs and focus on the issues, believing Trump's hypocrisy will come to the forefront without Clinton's help.
"I think what's more relevant is how Donald Trump's behaved throughout his life, and there's plenty of scandal there," Missouri senator Claire McCaskill told The Hill. "We don't want to give a reality TV star the nuclear codes."