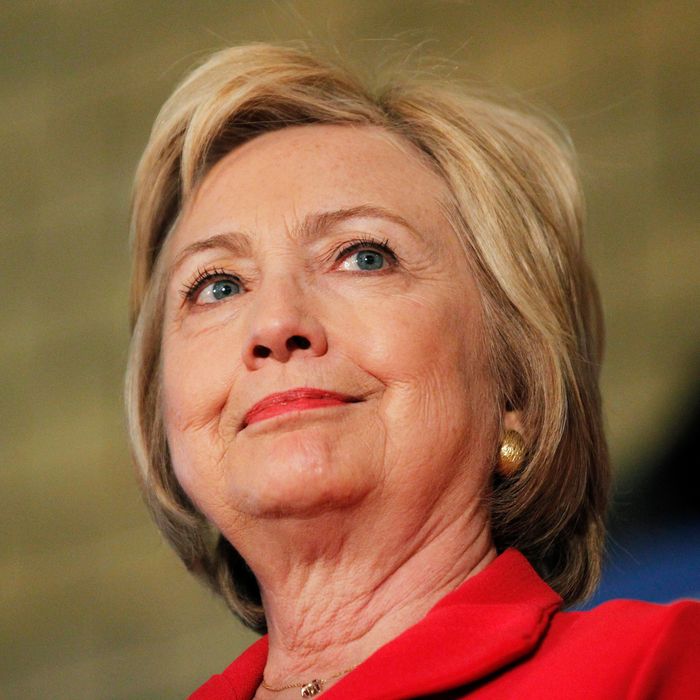 Her schedule is just really full right now, guys.
Photo: John Sommers II/2016 Getty Images
Hillary Clinton is happy to talk to Bernie Sanders — just not on the debate stage. The Clinton campaign announced today that it has declined Fox News' invitation to a debate in California before the state's June 7 primary. In a statement, the campaign said Clinton has more important things to do than engage in yet another shouting match with Sanders:
We have declined Fox News' invitation to participate in a debate in California," said campaign communications director Jennifer Palmieri. "As we have said previously, we plan to compete hard in the remaining primary states, particularly California, while turning our attention to the threat a Donald Trump presidency poses.

We believe that Hillary Clinton's time is best spent campaigning and meeting directly with voters across California and preparing for a general election campaign that will ensure the White House remains in Democratic hands.
Last week Clinton came out and said there's "no way she won't be" the Democratic nominee, in which case there's really no reason for her to debate someone who's already lost. But Sanders called her choice to opt out "unfortunate" and suggested it shows a lack of "respect" for California voters. "I also would suggest that Secretary Clinton may want to be not quite so presumptuous about thinking that she is a certain winner," he went on. "In the last several weeks, the people of Indiana, West Virginia and Oregon have suggested otherwise."
Which would sound threatening and all if there was any way the delegate math could possibly work out in Sanders's favor. (As is, he's just hoping to arrive at the Democratic convention with enough clout to impact the party's platform.)
For now Clinton will continue to focus her energy on Trump, launching attack ads based on his business record and his comments about the housing market in key states in the coming weeks. Clinton technically agreed to a fourth Democratic debate back in February, but she's just really busy right now — she's sure everyone understands.