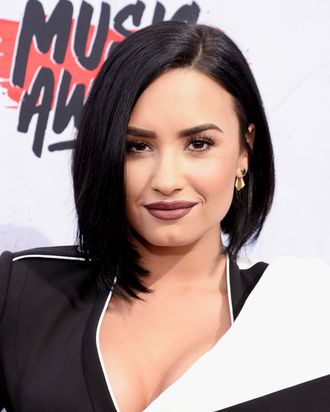 Demi Lovato.
Photo: Frazer Harrison/Getty Images
Demi Lovato, 23, buried two dogs last year. Her tiny, beloved Buddy was attacked by a coyote, and her larger dog, Spawn, died of unknown causes. But earlier this month, she got a new pet: a hairless cat named Hairy-ette.
Unforuntately, she was allergic to it. In an interview with Entertainment Tonight yesterday, she revealed, "I actually couldn't keep the cat, I had to give it back the next day because I'm allergic. I thought I wouldn't be because it didn't have any hair!"
Demi's face swelled up at the sight of Hairy-ette, as you can see in her Snapchat videos, compiled here:
Luckily, she still has a dog named Batman, who is very cute.