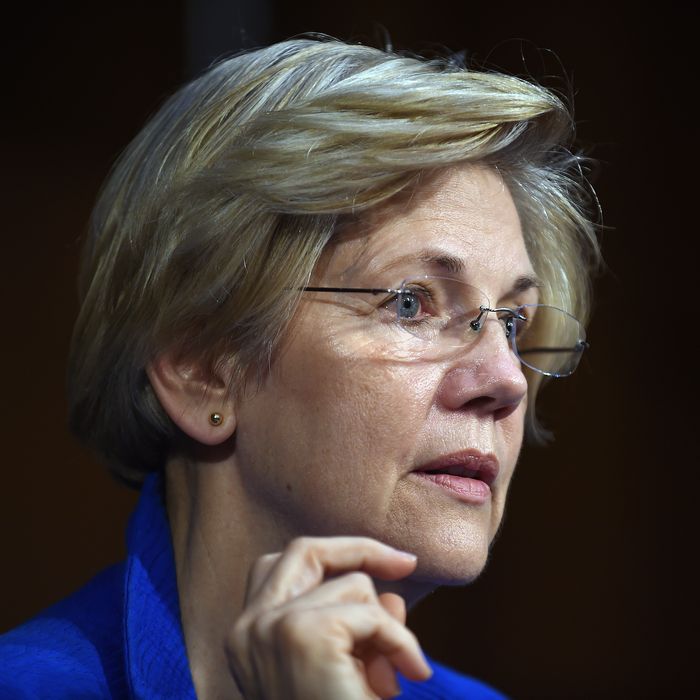 Leave it to Warren.
Photo: Astrid Riecken/2015 Getty Images
Bernie Sanders and Hillary Clinton haven't been getting along lately. True, they were never exactly friends, but after a tumultuous Nevada convention in which Sanders supporters hurled insults (and chairs) at party leaders, the Sanders campaign said it would double down on attacks against Clinton, even if doing so hurts her in the general election.
Democrats worry that, even if Sanders loses, his supporters won't rush to back Clinton — someone whose "corruption" Sanders has railed against. The party needs someone to step in and fix their mess, and according to The Hill, it has high hopes for Elizabeth Warren.
"We've got to land this plane and I want her in the control tower," one lawmaker — who spoke on the condition of anonymity — said after a recent meeting with Warren. "She's trying. I think she's an honest broker." Another Democratic senator told Warren, "She's in a unique position to fix this."
Lucky for Democrats, Warren appears to be onboard. Senator Jeanne Shaheen, a Clinton supporter who met with Warren on Wednesday, said the Massachusetts senator "can and will be very helpful." "She is very interested … in doing everything she can to help get the party to unite for November," Shaheen said.