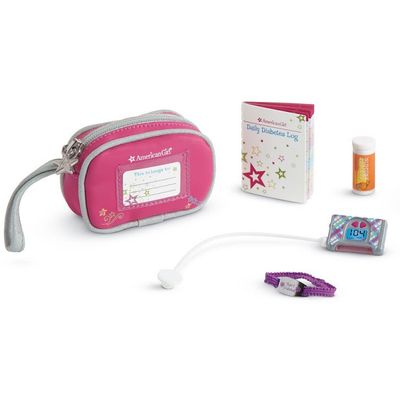 While adults who grew up with American Girl dolls are still waiting for the inevitable release of the Gruncheon doll, "an ornery hunchback who eats whatever accessories you give her," today's young women are getting a more refined and responsible kind of doll to play with. In order for girls to educate their uneducated peers about what it's like to live with Type 1 diabetes, American Girl has introduced an add-on diabetes kit, and according to the Times, it's so popular that it's only been intermittently available.
The kit, which sells for $24, has 10 doll-size make-believe items, including a blood sugar monitor, a lancing device, an insulin pump that can be clipped to a doll's waistband with an adhesive to attach the infusion set, as well as an insulin injection pen needle (for dolls not using the pump). There are also a vial of pretend glucose tablets, a medical bracelet, an ID card, logbook and stickers, and everything fits in a bright fuchsia carrying case the size of a small change purse.
The kit has helped young Anja Busse, a 13-year-old from Wisconsin who has Type 1 diabetes, in educating people about the genetic disease. "There are a lot of things people just don't understand," she told the Times. "They would try to give me advice and say I should be on a diet, or that they had a cure for this. One person yelled at me not to eat a cupcake. They confuse it with Type 2 diabetes, and all kinds of rumors that aren't even true."
The company has been receiving tons of positive reviews for the release of the diabetes kit, which they would also receive if they decided to put Molly — the one with the glasses and tartan — back into rotation.