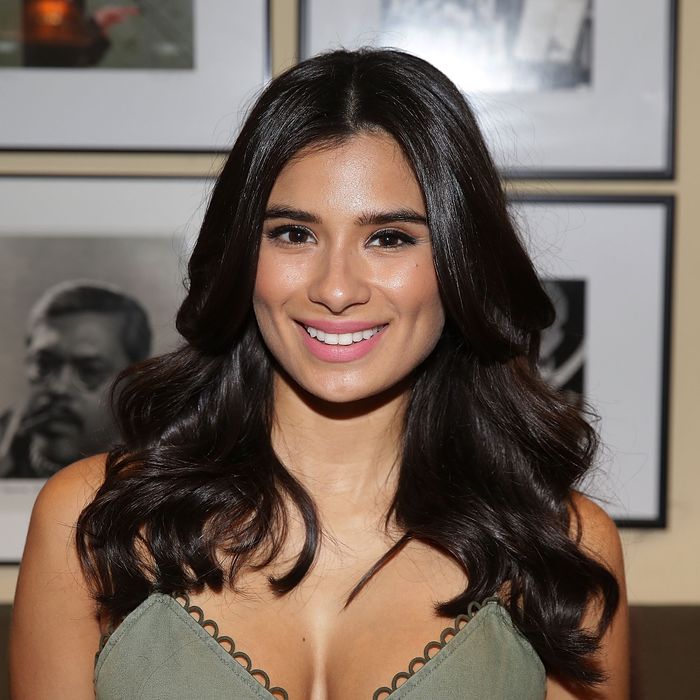 Actress and activist Diane Guerrero.
Photo: Aaron Davidson/Getty Images
Actress Diane Guerrero, of Orange Is the New Black and Jane the Virgin, lived through a deportation nightmare as a teenager. And now — with Trump's hateful rhetoric pulling immigration to the center of national debate — she's written a book telling her family's story.
"A lot of [Latin Americans] are missing the opportunity to do important things because we think that maybe we don't have a voice or we don't belong," Guerrero told the Cut last week. "I'm just trying to weigh in and say: Our stories matter."
With her new book, In the Country We Love: My Family Divided, Guerrero hopes to put a human face to this country's immigration crisis. She was raised in Boston, where her parents moved after fleeing crime and poverty in Palmira, Colombia. Guerrero was admitted to an elite performing-arts school and dreamed of becoming an actress or singer. But the specter of deportation loomed large over her childhood: Her mother was kicked out of the country twice, while her father lost much of his money paying a crooked attorney. Despite years of effort, the Guerreros couldn't find a path to citizenship. One day, when Guerrero was 14, she arrived home from school to find her parents gone — they had been taken to a detention center and would soon be deported to Colombia. She was left to fend for herself, shuttled between family friends, completely overlooked by child-welfare services.
With a possible Trump presidency on the horizon, Guerrero feels a real need to share what happened to her. "Building a wall and deporting 11 million people is not really the solution," she says. "What Donald Trump is saying isn't really anything new, or innovative, or anything that is really unifying or helping our country in any way. I hope that it just motivates us to be active and to go vote and to condemn policies that separate families and to condemn policies that separate and divide our country."
In chronicling the years that followed her parents' deportation — cut off from her family (her older brother, not a U.S. citizen by birth, was also deported), burdened by student loans, and beset by feelings of worthlessness that she managed with drinking and cutting — Guerrero paints an affecting picture of how deportation can wreak havoc on an individual psyche in addition to tearing families and communities apart. "We're taught to be ashamed," says Guerrero, who largely kept her family's story a secret until finally opening up in an L.A. Times op-ed last year, which went viral. "We're taught to look down on our mistakes and our failures. But I think there are second chances. People can change and systems can change and the way we do things can change."
Guerrero has come a long way, thanks to a good therapist and to her burgeoning acting career. In the Country We Love is both a story of falling through the cracks, and a story of being saved by doing something you love. Guerrero says she feels incredibly lucky not just to have built a successful acting career against all odds, but to be part of two trailblazing programs that are changing the way we talk and think about the experience of Latin Americans in this country. "It definitely was a motivator," she said of Orange's and Jane's influence on her decision to come forward with her family's story. "I feel so proud that I'm part of two shows that are so vocal about what's really happening in the world and I just wanted to be a part of that."
Jane had a moving immigration plotline this season, and Guerrero hopes OITNB will also put its distinctive spin on the issue. "I hope they [deal with immigration] and I don't doubt that they will," she says of the forthcoming season. "I feel like the show deals with issues that are of the now. I think this season, season four, you're going to see a lot of what is reflected in our society today at this moment. And I can't tell you how excited I am for the public to see it."