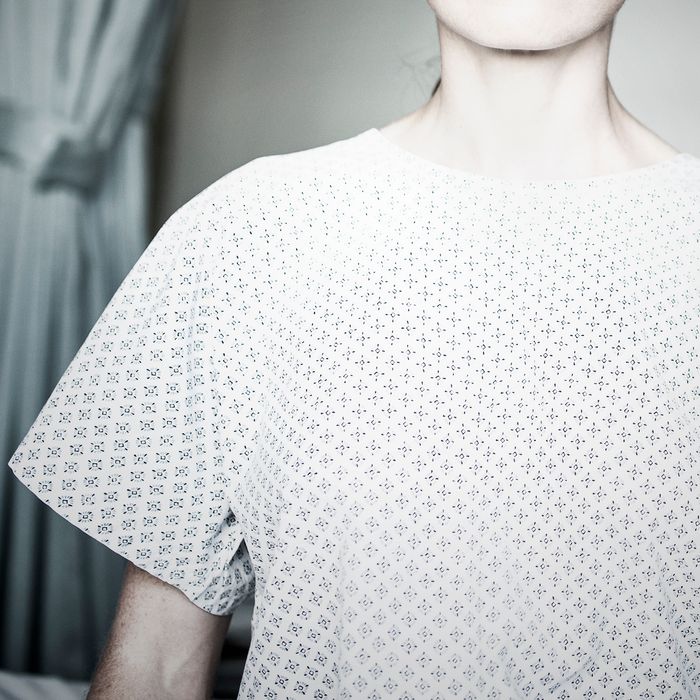 New York's Sex Diaries series asks anonymous city dwellers to record a week in their sex lives — with comic, tragic, often sexy, and always revealing results. This week, a divorced CMO with two kids, whose new boyfriend is short but hilarious. 40, straight, Downtown Brooklyn.
DAY ONE
9 a.m. As I wash my face, I like what I see. I haven't been able to say that for ten years now. After two kids and a divorce, I've been a haggard mess.
9:45 a.m. The subway into the city is a fucking nightmare. We live like animals here. And yet we never leave. Living in New York is Stockholm syndrome.
10:30 a.m. I work for a fashion label as their CMO. It's a high-stress, high-paying, high-fashion job. I'm good at it, so I like it. I also like that the office is next door to Jason's office. Jason is the guy I met online about eight months ago. He is a comedy writer and, obviously, he makes me laugh. My ex-husband had everything but humor. Well, humor and a functional dick. I blamed my ex's impotency issues on the stress of our expired marriage, but in hindsight maybe he was fucking someone else. Maybe his intern (a female Columbia student); maybe his real-estate broker (a male Brazilian sex bomb). At this point, I don't know and I don't care. BACK TO JASON — he is so funny and enjoyable to be around.
1:30 p.m. I have a Botox appointment with the famous Dr. Colbert. Don't judge. Everyone gets Botox. EVERYONE. Deal with it!
2:30 p.m. I actually make an appointment for Jason — pure rugged man — to get armpit Botox, because he's always getting sweat stains and it embarrasses him in TV pitch meetings.
7 p.m. It's Monday night and my ex has my kids, so Jason is on his way over. I'm making a simple pasta. He's bringing the wine. Typical night for us. Lovely times a million.
7:30 p.m. We kiss hello. I love kissing him. I know he smokes one cigarette a day (probably more, but I'll choose to trust him, and who cares?), and the faint taste of cigarette on his breath turns me on. Plus his tongue is magical. Jason is much shorter than anyone I'd normally date (five-eight, maybe?), but I'm so attracted to him. FUNNY really is the new SEXY.
10 p.m. He is rubbing my clit, in an incredible motion, as we watch CNN and spoon. I am the only woman in the world getting wet to Donald Trump tonight. I pull him on top and stick his penis inside. Jason, not Trump. His dick is medium-size, but it fits my parts perfectly. When he fucks me I have to think about PowerPoint presentations and upcoming parent-teacher conferences so that I don't come instantly.
10:30 p.m. I can only hold off so long. "I want you to come!" I scream. He says, "Are you ready?" We come together.
DAY TWO
7:30 a.m. On Tuesdays my husband gets the kids to school. The kids and I FaceTime in the morning. It breaks my heart, but I must accept it. Jason makes us breakfast while I catch up with them. The kids know about him, as does my ex, but no need to make things weird.
8 a.m. We have breakfast. The elephant in the room is that Jason wants a child of his own — and soon. Not only am I 40, but I am 40 and just feeling human again after ten years of being a full-time working mom in a loveless marriage. I hated having a nanny and never felt comfortable with it, and finally all that guilt is behind me. Aside from creating life with an incredible man, and the fact that he might leave me if not, nothing about doing it all over again entices me.
8:30 a.m. I blow Jason on my knees. On my kitchen floor. A thank-you for the scrambled eggs. I tell him to hold my head down — "Gag me with your cock." He complies. "Harder," I insist. I gag a little. It's hot. He comes in my mouth. I spit it in the kitchen sink. We get dressed for work.
8 p.m. Had a long day at work, played with my kids, then fed and bathed them. It's bedtime for everyone, including me.
DAY THREE
NOON Someone delivered a bunch of Russ & Daughters treats to my office, so I make a package to bring to Jason and his writing team. He doesn't seem super-psyched to see me, and I feel stupid for being so Jewish-mother about it all.
12:30 p.m. I sit at a midtown lunch place and have a glass of wine at the bar while responding to emails. It is really scary to like someone as much as I do right now. Why don't relationships ever get easier? It's like it's either stagnant and sexless, or spine-tingling and terrifying. Where is the middle ground? Seriously, someone please tell me.
5 p.m. Jason hasn't texted all day, which I think is rude considering that was a really sweet gesture on my part, and also, we usually text a LOT during the day. I have a school event with my kids tonight, so I'm happy to be distracted enough to not give a shit for a few hours.
8 p.m. Did Russ & Daughters kill my relationship?
9 p.m. And then … a text. Jason knows 9 p.m. is my sweet spot, because the kids are always asleep by then and my apartment is finally peaceful. "Just a 9pm text-kiss to say hi, thanks for the shmear, and sorry I couldn't molest you more. The boss quit today …. it's been crazy AF!" Ahhhhhhh. That fuckin' explains it.
10 p.m. I take out my vibrator from my stationery drawer and masturbate to the image of my neighbor's German au pair licking my ass while fingering me.
DAY FOUR
8:30 a.m. Kids are off to school. I have a doctors appointment with … a boob-job doc!!! Yup. I'm that divorcée. At least it's not vaginal reconstruction. Although …
9 a.m. Boob-Job Doc is actually HOT. He must have sex with so many of his patients. He said he's divorced too. I am embarrassed showing him my deflated jugs. He tells me I definitely need to do something about them. I mean, that's his job to say that. But also, ugh, I knew it. My tits are hideous.
10 a.m. I have a work meeting where all I think about is whose tits I want to buy. Blake Lively is the obvious one. I decide to ask Jason whose boobies he wants me to have. A fun little game …
3 p.m. Jason says a thousand times that he loves my tits as they are, BUT if there were a gun to his head: "Chelsea Handler or Dolly Parton." I can't work with that.
5:30 p.m. I meet Jason for a glass of wine before we both head home — I try not to have him over when my kids are there. We sip wine and hold hands. I am always so horny for him. I love how his hands feel on me. I suggest we fuck in the bar's bathroom … he is obviously game. But it's not an individual bathroom, it has a bunch of stalls, so we decide against it. Instead we make out in a dark hall for a while, and with his hard cock rubbing against my dress, I come. I've always loved a dry hump.
DAY FIVE
7 a.m. I wake up and have my period. It reminds me of the Jason-baby dilemma. Maybe I should just let him come inside me with no condom (we use condoms now) — leave it in the hands of fate. Jason, by the way, is kinda into period sex. And he's coming over tonight.
7 p.m. The kids are with their dad. I'm showered; dinner is on (spaghetti with meat sauce); Jason and a bottle of Chianti are on the way.
8 p.m. We have a long, heartfelt talk about the baby stuff. It's a deal-breaker for him. I ask him to give me a few more months to get my head straight about it. I want to be together at least a year before we pull the goalie. I'll be 41 and probably still fertile. He is comfortable with this.
9 p.m. We fuck in the shower. I put my finger in his butt — easier with all the soap. He puts his in mine. It feels insanely good.
DAY SIX
8 a.m. I always have diarrhea on day two of my period. Anyone else? This has happened to me since high school. I am not a take-a-shit-in-front-of-my-boyfriend person. I am not Cameron Diaz. I tell Jason I have a stomachache and to run down to Starbucks and not come up until I text that it's safe. He respects my wishes with a warm laugh. PHEW.
Noon I have stuff with my kids all day. Jason plans to join us at a 3 p.m. birthday party.
3 p.m. Among friends, I am always a little insecure about Jason's lack of in-your-face hotness. The height thing, I guess. I don't like to admit it, because it's gross on my part, but here I am admitting it. That said, everyone at the party likes him. He is wonderfully easy with people. Again, the humor!
5 p.m. We all go for pizza. My kids love him too. However, I send Jason home after dinner to get the kids ready for bed.
9 p.m. It's a Saturday night and we're all going to bed. Jason FaceTimes me from his bed. He had a great day with us. I feel happy as I fall asleep.
DAY SEVEN
9 a.m. My ex is insisting the kids go with him to some family thing on his side. I hate this kind of drama. But I get them ready and he picks them up downstairs. Whatever's best for the kids.
Noon I spend the day cooking and cleaning, two things I actually enjoy. Especially with a screwdriver.
3 p.m. I meet up with my best friend, whose boyfriend can't get it up — something I'm very experienced with. Men need to share their penis problems more. That goes for men and infertility, too. They don't talk about this shit, so when it happens, they feel alone and like freaks. The best advice I can give my friend is to make NO BIG DEAL about it.
6:30 p.m. My kids are home and we're eating a home-cooked dinner in our clean apartment. Jason texts that he's reading a book about aardvarks and is suddenly extremely horny for me. He adds a P.S. … that he thinks he might be the first man in history to sext the word aardvark. I laugh and go back to the table feeling great.
Want to submit a sex diary? Email sexdiaries@nymag.com and tell us a little about yourself.