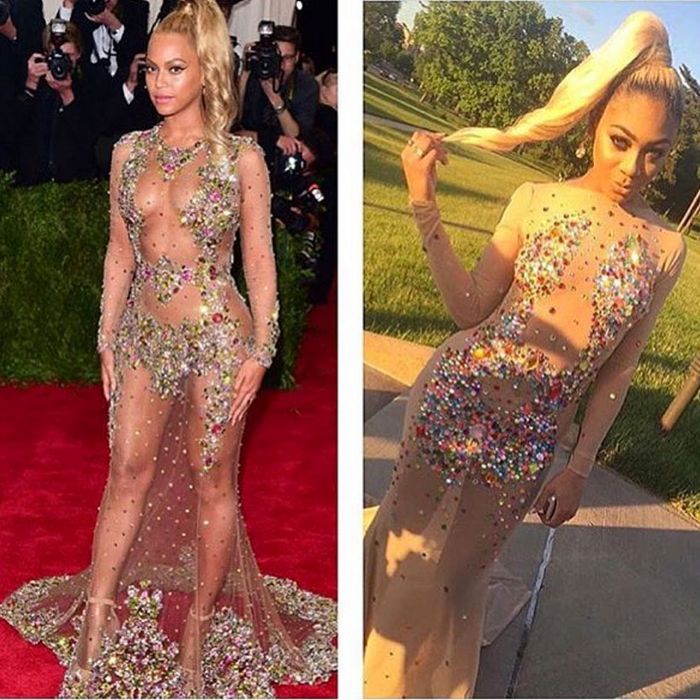 Beyonce and India Ross.
Photo: Courtesy of Instagram/iamindiaross
The days when prom was merely about sequins and swiped v-cards are gone, and the extravagant promposal and high-profile date reign supreme. But some creative teens are shunning the hefty price of prom dresses by making their own ensembles — out of duct tape, math homework, or just really gorgeous, normal fabric.
St. Louis high school senior India Ross custom-made her own version of Beyoncé's Met Gala 2015 gown, taking the Givenchy look from New York to St. Louis and slaying right up to her genie-high ponytail. She may be the latest, but DIY prom has been making headlines for years. Here's to the high school heroes making their dates in rented tuxes look like, well, high school boys in rented tuxes. Scroll down to see our favorites.
Let's start with this Coming to America–inspired gown.
It's impressive when you can stand next to a Ferrari and still steal the show.
Kyemah McEntyre's African-inspired gown went viral last year.
This girl won best dressed. Naturally.
More DIY leg slits.
India Ross's Givenchy-inspired ensemble wasn't even her first DIY celebrity look— she went as Kylie Jenner for homecoming.
Duct Tape holds an annual contest to see who can build the best prom outfit out of its product, as couples or single entries. Wish all dates were this dedicated to the prom look.
Still duct tape. You know, the stuff that's currently holding your remote together.
Erinne Paisley stitched together her math homework and scrawled on top, "I've received my education, not every woman has that right." The dress sold for $700 to benefit the Malala Fund, which raises money for women's education.