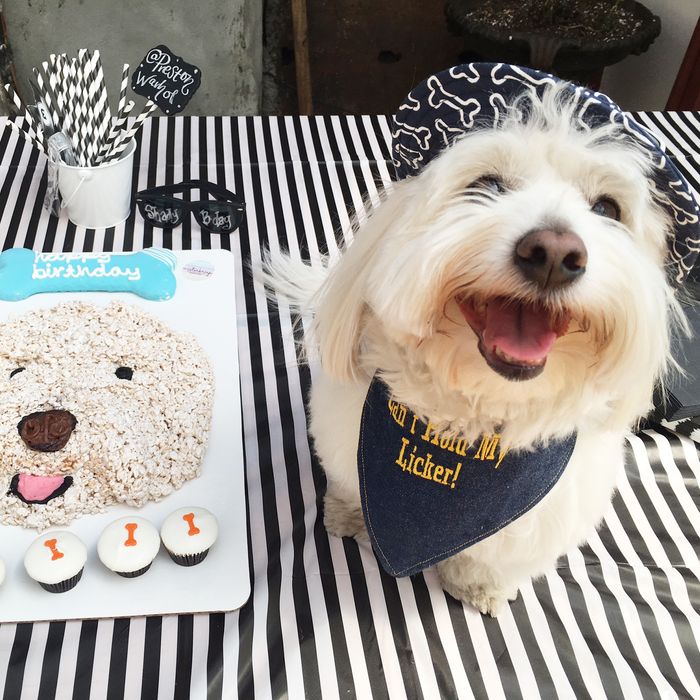 In mid-April, 30 people gathered at DBA, a bar in the East Village, to wish Preston Warhol a happy 6th birthday. It was an afternoon "Sunday Funday," as Jes Feuer, Preston's mom, remembers it. The official theme, "Shady Birthday," mandated one thing: "Sunglasses required, presents aren't."
Throughout the afternoon, Preston, a smiley Coton de Tulear — yes, that's a type of dog — underwent a Beyoncé-league number of outfit changes, including different sunglasses and a custom bandana emblazoned with the words "Caution: Can't Hold My Licker!"
There was a cake shaped like Preston's face, crafted for the occasion by Misterkrisp, a desserts company specializing in molding ambitious things out of Rice Krispies Treats. Feuer wore a Topshop bomber jacket custom-embroidered with Preston's name, and her partner, Brett, donned a shirt custom-embroidered with Preston's likeness, birthed into this world by an Etsy company called SewUnusuals.
Preston welcomed the fanfare. "He's a very social dog," Feuer says. "When we first got him, I thought, 'He seems like the kind of dog who'd like a birthday party.'"
"When you say it out loud," she adds, "it sounds crazy."
Whether you agree with the above statement probably depends on how much you love dogs. And organizing parties. Either way, there's no denying that the pet-party industry is a Thing with a capital T. According to the most recent set of data collected in the American Pet Products Association's (APPA) National Pet Owners Survey, 7 percent of dog owners hold holiday or birthday parties for their dogs. Twenty-eight percent buy their dogs birthday gifts.
Feuer, who works in PR for a men's fashion brand, has been planning and hosting elaborate birthday bashes for her "fur baby" for the past six years. "I'm not a Pinterest-y girl — I have a day job — but I love a good theme," she says. For Preston's Golden Birthday, everything was gold. For his  "21st"  — in dog years — there was nonalcoholic doggie "beer."
After a half-dozen years of "pupcakes," goodie bags filled with dog treats, and custom Snapchat filters, what has Feuer learned? "I know it's a bit ridiculous, but that's okay, because people look forward to it. It's a good excuse to do something a little silly." Then, succinctly: "It's just a great, fun thing to do."
That sentiment — having pure, unadulterated fun in a completely unironic way — seems to be shared by everyone I surveyed for this story. The other commonality? Themes. So. Many. Themes.
Think about it: If your friends have agreed to spend their Saturday celebrating your pet's birthday, they've already suspended some degree of judgment. And they'll be far more forgiving of your dog party than any party you throw for yourself. So now is your chance. Whip out that "Donna Martin Graduates" T-shirt and "I Slept With Dylan First!" cross-stitch wall hanging and back up the truck on themes.
As the founder of Puppy Parties NYC, Hayley Ramunno knows a thing or two about executing on a motif. For a Batman blowout for Bruce Wayne the Chihuahua earlier this year, she played the "Batman" theme song as dogs and owners arrived, and created handmade gifts with the iconic logo. A Teenage Mutant Ninja Turtles party meant ninja masks and turtle shells for the canine guests and a photo booth with similar props for humans.
Tonight, in fact, on a swanky rooftop in Chelsea, Puppy Parties NYC will oversee a Disney-themed 1st-birthday party for Minnie, a mini–Australian Labradoodle. Special touches will include red, black, and polka-dot decorations; Minnie and Mickey Mouse ear hats for the dogs; and a custom Minnie Mouse–shaped cake with the words "Happy Barkday Minnie," all in deference to the theme park — it's not only Minnie's namesake, it's also the place where her owner, Nikki Cole, got engaged.
I was once told by a 20-something colleague, "It's literally impossible for your dog to not have, like, thousands of followers on Instagram." Though mine hasn't achieved quite that status yet (insert shameless plug for poor, struggling @sadoscar!), Minnie most certainly has — she's got 5,500-plus followers — and Cole has parlayed tonight's shindig into a party-with-a-purpose by leveraging that reach.
Instead of gifts, guests were asked to make donations to Animal Haven, a NYC no-kill shelter. In lieu of a registry for Minnie, there's also an Amazon Wish List with items that will benefit the nonprofit organization, like crates, treats, and toys.
Sponsors, obviously attracted to the good cause and a rooftop full of social-media-famous celebridogs — not to mention humans eager to share professional photos from the step-and-repeat — have come out to support the efforts. Among those donating to the trove of raffle prizes and gift-bag favors are Disney, which has offered up leashes and collars, and the pet-costume juggernaut Rubie's.
Is there a point at which a theme becomes a bit … too much? That's the question Chicagoan Amelia Buzzell has asked herself a number of times as she plans a 1st birthday party for Ruth Bader Ginsburg, her Vizsla. "I'm trying to do a lot of gut checks," she says. "And consider: Is this a cute idea, or is this the most obnoxious thing that's ever happened?"
She's fine with canine-themed cocktails, like Greyhounds and Salty Dogs. A playlist will feature music from the rock bands Three Dog Night and Dr. Dog, among other similarly named groups, as well as songs like "Hound Dog" and "Hounds of Love."
When the three-dozen-or-so guests arrive on Saturday, they'll be greeted with a bathroom "selfie station," complete with a paper crown, paper collar, and the word "notorious" taped to the mirror so that they can easily re-create the original Notorious RBG meme. And they'll have the option of participating in a homespun version of pin the tail on the donkey that will involve an enlarged photo of the Supreme Court Justice with whom Ruth the dog shares a name, plus some ruffly lace collars.
"I love the mashup of a dignified, accomplished person with a rascal-y dog," says Buzzell. "We've really got to immortalize that in party-game form."
When I emailed Buzzell to ask whether Ruth Bader Ginsburg has an Instagram handle, she responded the next afternoon, "Your question made me wonder if she should have a handle, so as of five minutes ago, she does: @NotoriousRBVizsla. Do with this info what you will."
Other dog owners, like Sherry Amatenstein of Long Island City, prefer a more casual approach. "Do what your pet will enjoy," she advises. "Does he really need hundreds of dollars worth of party favors — which he will eat?" The annual celebration of when she and Shea, her rescue terrier-Yorkie-Schnauzer mix, "found each other" at the North Shore Animal League involves pizza, Prosecco, and doggie cupcakes. Their fifth "anniversary" is planned for Sunday. "Shea has taught me to chill and enjoy the human treats and hugs that come my way rather than stress over the details."
Or, more bluntly: "Treat the party like a college house party, because that's how your dog is going to treat it," says Meredith K. Gray, who threw Zoe, her Labradoodle, a 5th birthday party in Nashville before moving to New Zealand. The dog spent the afternoon "being joyously ill behaved," she says, "demanding tummy rubs, snagging cupcakes off people's plates, and humping an easygoing toddler."
But that didn't crimp Gray's vibe. "I was pleasantly surprised at the number of people who embraced the dog party with enthusiasm, and without snark."
Even Philadelphia journalist Amy McKeever, who once attended a fête for a French bulldog she did not care for, managed to come out the other side of it a little merrier. "I don't like Biden," she admits about the pup, "but the party was surprisingly fun. My friend is very accepting of my intolerance for his dog, which I really appreciate."
Which is the real beauty of a dog party. There are plenty of awful social situations in which you don't like the host, could care less about the guest of honor, or have absolutely nothing to say to anyone else in the room. But even if a dog party presents a couple of those conditions, you're still in a room with dogs running around acting like maniacs, possibly in costume. That's a conversation starter of the highest order.
Take it from Racked editor Laura Gurfein, who has hosted four birthday parties for Nugget, her Beagle mix. "Most were an excuse to bring together multiple groups of friends to eat and drink," she says. "The first year I did it, I was weeks into my graduate program at NYU and my classmates and I were all still getting to know each other. What better way to do that than to hit up Lit Lounge for the after-party after getting thoroughly buzzed on a Thursday night?" Nugget, of course, was not invited to the bar.