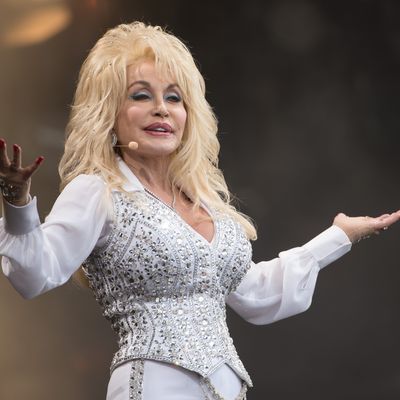 Bridte-to-be (again), Dolly Parton. Photo: Ian Gavan/Getty Images
Dolly Parton has had one flashy career and has carried a legacy along with her. What she's also carried with her is a marriage lasting nearly five decades. On May 30, she and husband Carl Dean will celebrate 50 years together. At the end of the month, the two are getting hitched again to celebrate their 50th anniversary, reports People.
Dolly married Carl when she was 18 in a quick ceremony in Ringgold, Georgia — not nearly up to par of the showstopping theatrics Parton today would likely prefer. Her mother was their only witness.
As for Carl, he's an elusive creature at best; you won't often see him at concerts or awards shows. But he's around, folks, and he even agreed to Dolly's plan to sell their wedding pics to benefit her literacy charity, Imagination Library.
And what a pretty picture she'll make. She's going to do it up big this time around:
"I'll have a beautiful wedding dress, 'cause I didn't have a big, long wedding dress when we got married and we've got a suit for him, so we're going to dress up and take a bunch of pictures."
Oh, I can't wait to see the tulle on that thing.