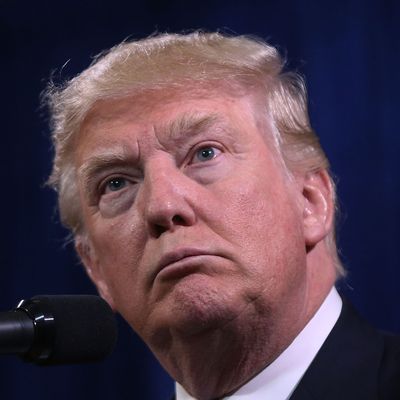 Trump
Photo: Spencer Platt/Getty Images
Along with the vile rhetoric Donald Trump's been spewing about women on the campaign trail, sexist views have been a mainstay throughout his life. The most recent example comes in a 2004 Dateline interview about pregnancy and maternity leave, which NBC News unearthed today.
The segment focuses on Carolyn Kepcher, the former executive vice president of Trump Golf Properties.

Kepcher waited until she was six months pregnant to tell Trump that she was expecting, saying:
"If I tell him I'm pregnant, he's gonna think 'oh, this is gonna be a long nine months.' If I tell him at six months, it will be over in three months. Maybe in my mind he might think this would perhaps be a setback or 'maybe I'm going to have to bring somebody in to replace her throughout her pregnancy or when she takes maternity leave"
And, indeed, Trump voiced some questionable opinions on working women who get pregnant:
"Pregnancy is a wonderful thing for the woman, it's a wonderful thing for the husband, it's certainly an inconvenience for a business. And whether people want to say that or not, the fact is it is an inconvenience for a person that is running a business."
Kepcher also only took three weeks off after having her baby, and she says that she was "comfortable" with her choice. When Trump was asked if she felt pressured to return to work quickly, he denied it, saying that she loves her job.
But when Dateline asked Trump if Kepcher took less time off because she was worried he "would have replaced her otherwise," Trump admitted:
"No. Although it's an interesting premise. Maybe she should feel that way a little bit."
A reminder that the United States is the only country in the world, besides Papua New Guinea, without a mandated parental-leave policy — something that would likely not change for the better under Trump.