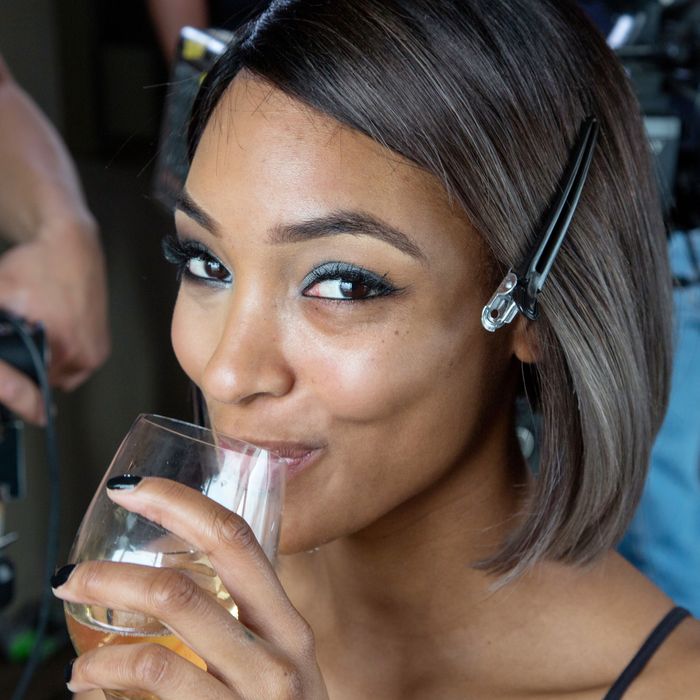 Jourdan Dunn
Photo: Julia Chesky
The red carpet was bathed in silver at last night's Met Gala, and Jourdan Dunn was no exception. The model and Balmain-army recruit wore the metallic color head-to-toe — literally. "We wanted to do something fun and different. My hairstylist Renda suggested this idea and I thought it was brilliant," she told the Cut when explaining her silver wig.
But before makeup artist Hila Karmand approached Dunn's face, important matters had to be addressed, like a relaxing facial at fashion's favorite spa, Georgia Louise, and then a steak salad to kick-start the afternoon. Afterward, Karmand got to work.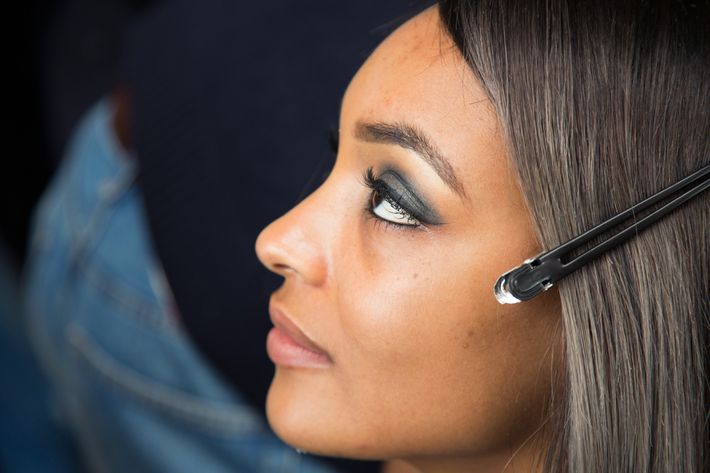 She prepped Dunn's skin with Maybelline New York's Master Prime in "Blur + Illuminate followed by Maybelline's Fit Me Dewy + Smooth Foundation in Coconut. A concealer was speckled along any slight imperfections, but those were — as one can imagine — few and far between.
The cheeks were a one-stop-shop deal, thanks to Maybelline's Face Studio Master Contour Face Contouring Pro Palette. The blush, contour, and highlight powders in the palette were used to sculpt and illuminate Dunn's face.
Dunn's futuristic smokey eyes were forged with an armory of products. First Karmand swept Maybelline's  24HR Color Tattoo cream gel shadow in audacious asphalt all over Dunn's lids, followed by Maybelline's 24HR Color Tattoo cream gel shadow in silver strick on the inner corner of the eye. A steady hand with a black liner defined Dunn's eyes, and then a final wash of silver eye shadow colored Dunn's upper lid. Her brows were filled in using Maybelline's Brow Drama Pro Palette — a bendable powder — in deep brown, and then set with Maybelline's mascaralike brow tint.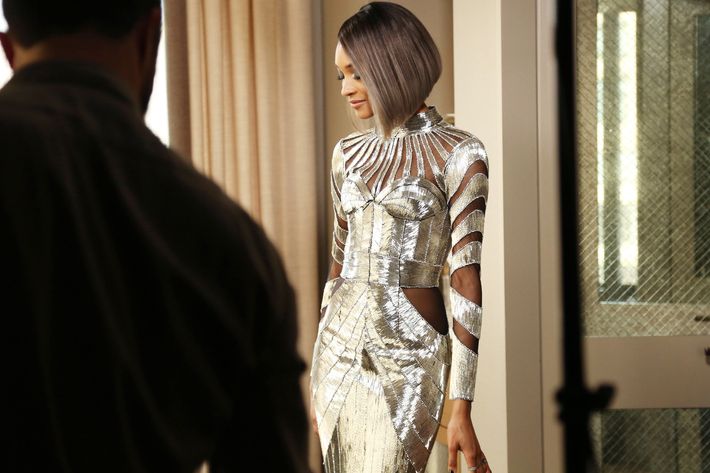 As a final touch, Karmand painted Dunn's lips a perfect nude with Maybelline's Color Sensational Lipcolor in totally toffee, topped with a non-sticky nude gloss. And if you're wondering how Dunn took everything off at the end of the night? Easy. "SK-II cleansing products," Dunn explained.