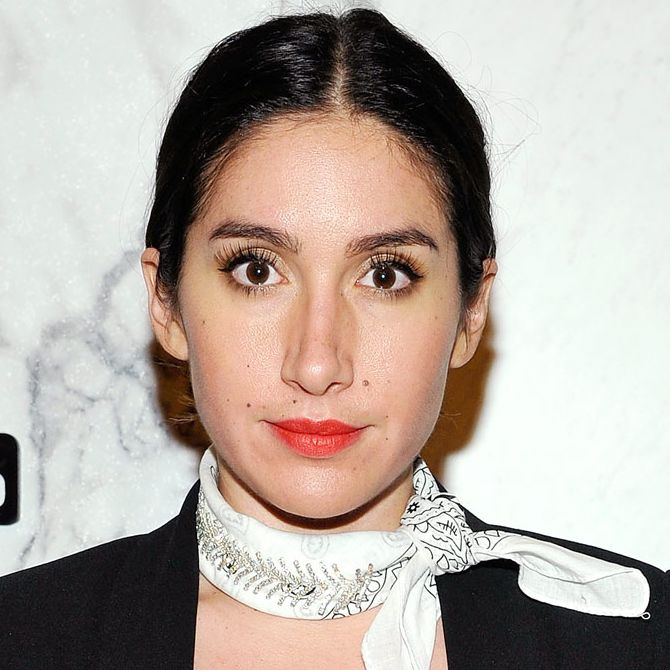 Emily Weiss and Jen Atkin.
Photo: BFA, Getty Images
Emily Weiss and Jen Atkin head two nascent beauty empires — Glossier and Ouai, respectively — that were born and nurtured through social media. And, as often happens, the two moguls became friends. Ahead of a town-hall-style beauty conversation they co-hosted on Into the Gloss (and streamed on Facebook Live), the two sat down with the Cut to discuss how they met, the beauty products they could never part with, and how their brands are carving out a new space in the beauty landscape for Gen Y.
What's the origin story of how you two met?
Emily Weiss: We just tried to figure this out. I think we met when I shot Jen's Top Shelf like a year ago.
Jen Atkin: More than that.
E.W.: It might have been less.
J.A.: No, no, no. I moved out of that house in September and I just landed from somewhere crazy.
E.W.: I think it was about a year ago.
J.A.: I'm gonna say a year and a half.
E.W.: But yeah, I went to her house and I contacted her because we wanted to do her Top Shelf for Into the Gloss.
J.A.: It's the only picture that I really like of myself.
E.W.: She was sitting in her closet. We talked a lot about beauty.
J.A.: And then I feel like we just kept talking and talking and talking and talking.
E.W.: Yeah, we made at least five other plans from that interview including her convincing me to get a full head of hair extensions, which I did, about two weeks later.
So you instantly hit it off.
J.A.: Totally. I was like, "Who is this woman, what is happening? It's like 10 p.m. … let's do this shoot."
E.W.: You had just landed from Dubai.
J.A.: I feel like I inquired about Emily a lot and obviously knew what she had already created, so I was excited to meet her. There was so much I admired in her and she did not disappoint. And a lot of times people disappoint. But she's gracious and funny and humble and cool and all of these things that I just adore.
You're two young women with your own businesses. Do you bounce ideas off each other?
J.A.: Yeah. I am where I am because of the women in my life. Emily weirdly met me at the beginning stages of me building my hair-care line. She has definitely helped me skip the line. She's given me some really amazing advice. There's been a number of times, like, I needed a sticker person, so I'd text Emily and say, "Who does your stickers?"
E.W.: Jen was telling me she was starting to work on this line and we were about to drop Glossier. She introduced me to so many people in L.A. I come from sort of the New York fashion world, and they're very different worlds, L.A. and New York. If you don't know the people in L.A. and you're from New York you're kind of nobody, and I think the same thing with New York. And so Jen has definitely helped spread the Glossier gospel on the West Coast.
Do your husbands use your products? 
J.A.: Yes. He's been there since day one and he's very opinionated when it comes to scents, but he's very honest, which I love. He's the one person in my life that really tells it like it is, sometimes a little too much.
E.W.: What is his favorite Ouai product?
J.A.: He uses the shampoo-conditioner. He loves Clean. It's funny because he gets really mad when he doesn't have it. At the beginning stages it's like, I literally only have these samples, and he's like, "Well, I'm out of it. I need more of the treatment mask." And I go, "I don't have it I don't know what you want from me." So, he's definitely a fan.
E.W.: Diego doesn't use any Glossier stuff, but I definitely took his opinion into consideration when we were beginning to develop our phase-one set. I used to have this one product that I used from a brand that will remain nameless that smells terrible. Every time I got into bed he would say, "Ugh trash face," because it does smell like garbage. So we decided not to put any scent in our products. I feel like when you get into bed at the end of the day, and when you snuggle up to somebody, you just want to smell that person, you know?
When you guys are building your brands, do you approach it like, "I want to create a trend in this space," or "I want to fix a problem in this space"? 
J.A.: I would say all of the above. I don't feel like I really set my mind to setting a trend, same with doing hairstyles. I think the one thing that has kind of set both Emily and me apart from the rest of the beauty world is that we come from a very authentic voice. In the hair-care space, there was so much that was missing. Everything was overcomplicated and everything smelled like an old woman or a little kid. The messaging was  — and this is where we have a lot of synergy — unrealistic for women, like posters of Kate Moss with wigs on her head. It was never hair that you were actually going to achieve. I wanted Ouai to feel very quiet and classic. I wanted it to live on a Barneys shelf and there was nothing in hair care that really felt like that.
E.W.: We both looked at each other when you asked that question in a weird way because it's so hard to answer this notion of like, "What did you set out for?" I'm obsessed with reading our feedback from our customers. I just read one from a woman who gave us like a ten out of ten. She bought our products and said, "I'm in my late 40s and I'm not your target market but I love your products, they feel very fresh, they feel like something I didn't even know I needed and it's very refreshing." On the question of "target market," Glossier and Ouai are very popular with millennials because millennials are very technology-enabled. They're interested in buying beauty from new channels; they don't necessarily need to go touch and feel something in a store. They want to engage with brands differently online.
J.A.: And also they're part of the process.
E.W.: Yeah, exactly. They're part of the feedback loop, right? And so with Glossier it really came out of all of this feedback that we were getting from Into the Gloss from all of the interviews that we were doing. I want to encourage women to take ownership of their routines. There's enough information out there through the internet, through your friends on Instagram, that you can find what you need. You don't need to go and talk to a stranger to tell you about your own face.
J.A.: Or have someone make you feel bad.
E.W.: Or have someone make you feel bad. There are plenty of products and a lot of them are superfluous, and with Glossier we really wanted to create this tightly edited, pre-curated collection of modern essentials that are the building blocks to your greater beauty routine. We don't believe that you necessarily will have all Glossier products, that's unrealistic. But we hope that we can serve as sort of the backbone for you and represent this kind of real-life aspiration, which is to be the best version of yourself. Most major beauty brands are built on this notion of either red-carpet glamour or runway backstage makeup, and the reality is that most of us are getting up and going to work or going to school at 8:30 in the morning. We're not going to a runway show and we're not interested in becoming our own makeup artist and creating crazy looks every morning.
J.A.: One of the first notes I ever wrote while developing Ouai was, "Let's get real." Everything was either a two-hour tutorial on how to get Hollywood waves or complicated updos, and I thought, "You know what? No one is doing this." With the YouTube generation coming up, I thought, this is a community of women that are just begging to be told, "What can I do for me?" How do we relate this to the everyday girl? It's simplifying things and making it feel like it's something you can do on yourself in the morning in five minutes.
E.W.: Frankly, I aspired to help create a brand that democratizes beauty. Period.
Besides your own products, what's really exciting you in the beauty world?
J.A.: I have to bow down to Boy Brow because it was kind of life-changing for me because I don't have to fill in the brow, do the whole waxing thing. So Boy Brow first. In hair care, I'm obsessed with a lot of Christophe Robin's products. He has this one particular product and I'm horrible I don't remember the exact name of it — it's like a body butter you use in your hair and on your skin. I love a lot of Rita Hazan products, I think they're great for keeping color.
I'm using a lot of Kylie Lip Kit. I love K beauty, honestly, their straightening iron is my favorite of all time; it works so well. Balmain has a great strong-hold hair spray for when you need to get fly-aways and frizz. Spray it on a toothbrush, it works wonders. I think it might be illegal in the United States, but it's one of my favorite hair sprays.
Anastasia has a really great liquid lip color that stays on for, like, two years, it's amazing. I use Troy Surratt eyelash curler. There is a really great clay mask by Charlotte Tillbury. Doctor Ourian, all of his skin-care stuff is amazing. It's called Epione Center and he has this cream called "Flawless." Your skin drinks it up after long flights. I love Ardell's lashes. I wear a full strip or I wear an outer edge every day.
Whoa, really? That's dedication.
J.A.: Hello, my clients are on TV, like, every day! We've got to be prepared. And Frank Body … I love Frank's body cream. And then Ouai texturing spray. I had to say it — I'm obsessed. That's my very small beauty routine.
E.W.: I've got nothing.
J.A.: You're like, "Vaseline …"
E.W.: No, to be honest, I'm covered in samples for most days. So I'm usually trying a bunch of future Glossier products. I'm super into this one perfume from Le Labo called Musc 25. It's actually the L.A. scent. They do city-specific limited-edition scents and it is the most beautiful scent. It sort of smells like a musky baby. It's like a baby on a motorcycle at a jazz bar.
I really like Jen's dry shampoo. I like using it actually on clean hair, so I don't even use it necessarily on the second or the third day. I tend to wash my hair pretty much every day, but I like using it as a styling product because my hair's very silky and sort of smooth. So if you just spray the shit out of it with dry shampoo once it's dry it makes it more gritty and beefed up. Someone on our Glossier team, Claire, taught me that. So I like that.
What else do I use on the regular? I really like Biologique Recherche's P50 lotion for keeping your skin exfoliated and glowy. So many things I'm using as part of my makeup that I can't talk about yet because they're future Glossier things.
Oh, you know who I'm obsessed with? Cim Mahony. He's this amazing hair guy. He opened the most stunning hair salon. It's an atelier — to call it a salon is like an understatement. He's so talented, he gave me such a good haircut, and he introduced me to this product line called Less Is More. It's an organic hair-care line. He gave me a conditioner and a shampoo, the shampoo is oil-based, so you can use it every day.
I use Glossier priming moisturizer as my everyday moisturizer day and night. The other thing I use every day, we're working on our priming moisturizer rich. We actually just approved the formula.
What was your craziest or most interesting behind-the-scenes Top Shelf experience?
E.W.: Jen Atkin. Just kidding. Actually, it's related to Jen. Can I tell the story of when Emily met Kim and Khloe?
J.A.: Yeah.
E.W.: The best was when I met Jen and I'm interviewing her, and she said, "Do you want to shoot Khloe's Top Shelf tomorrow?" And I was like "What?" And she was like, "Yeah, I'm gonna go over at like three and we're gonna go to Calabasas, do you wanna go?" And I was like, "Yes, I absolutely want to." I was supposed to get on a flight, I cancelled my flight, and the next day I was literally driving in my rental car to drive to Calabasas to shoot Khloe and Kim.
J.A.: I was listening to part of it but then I went to another room and just said, "Guys, so my friend Emily's coming over."
E.W.: First of all, I walked in and then I looked to my left and there's a full glam room sort of where would normally be a mud room. Where you take off your coat and put your dirty sneakers, but it was a full glam. So that was the most bananas. I was completely unprepared. You have to mentally prepare for something like that.
J.A.: I do it every morning: mentally prepare. When you work around girls who look flawless, who get glammed-up every day, the pressure's on. L.A. is like that though. We got Instagram hoes to keep up with.
This interview has been edited and condensed.