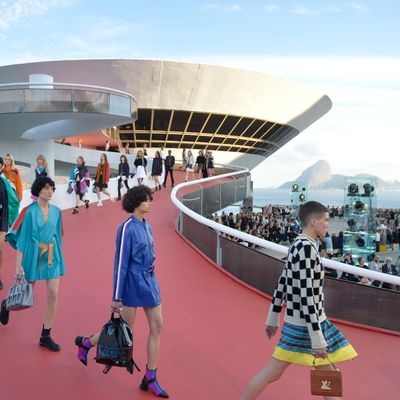 Futuristic designs on a futuristic spaceship.
The Louis Vuitton cruise show in Rio de Janeiro today showcased designer Nicolas Ghesquière's affinity for all things sci-fi and tech, starting with a UFO-shaped venue. Set on a cliff overlooking Brazil's Guanabara Bay, the futuristic Niterói Contemporary Art Museum was the perfect setting for the collection's spacesuit-like dresses and sleek jackets — all fit for a modern Star Trek.
The picturesque setting was "about being transported into a relationship where nature, geography and architecture come together," Ghesquière said of choosing the saucer-shaped building, which was designed by architect Oscar Niemeyer. Prior to the show, guests received personalized luggage tags and city guides.
Under a clear blue sky, the show began with a soundtrack blending techno music with dreamy French lyrics. Models descended from the white building, walking a red catwalk that spiraled down to the concrete runway. Guests sat on crate boxes.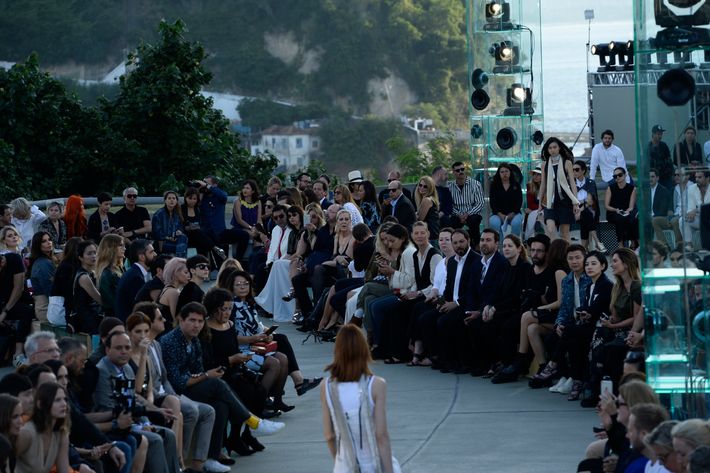 House favorites in attendance included campaign face Jaden Smith (who wore a skeleton-like piece from the designer's fall 2016 collection), Alicia Vikander, and Catherine Deneuve. Also: Doona Bae, Alessandra Ambrosio, Zendaya, and Grace Coddington.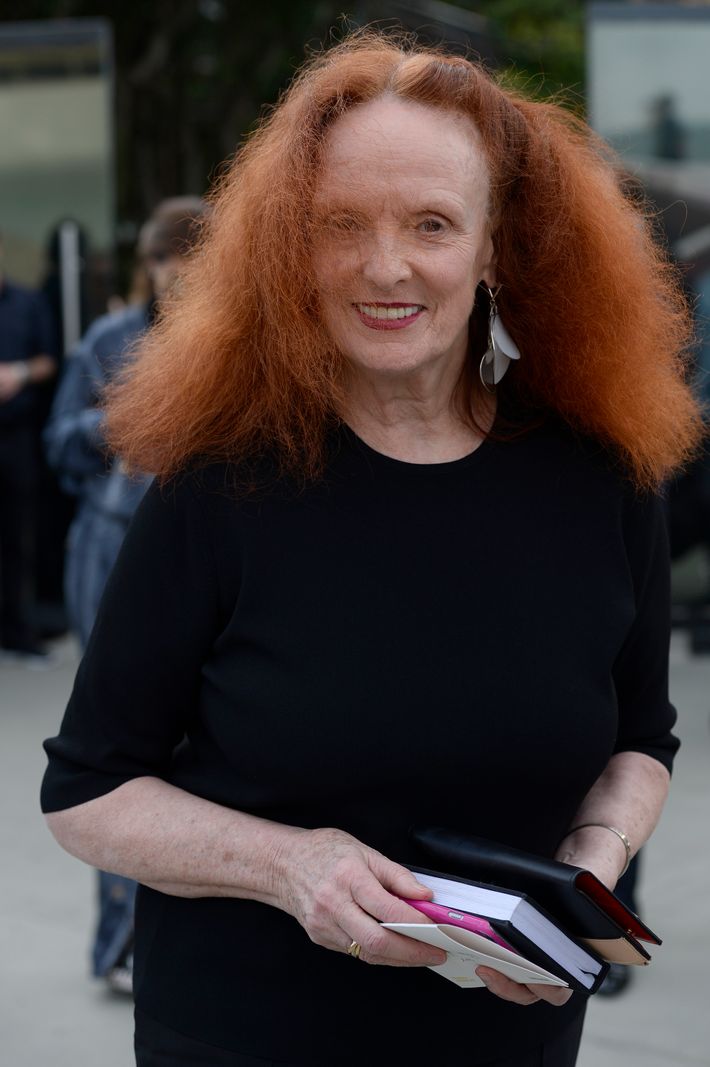 The show opened with space-like dresses in bright red, blue, and yellow — some with cutouts at the stomach or sides. Bold fabrics were stitched together like a kaleidoscope.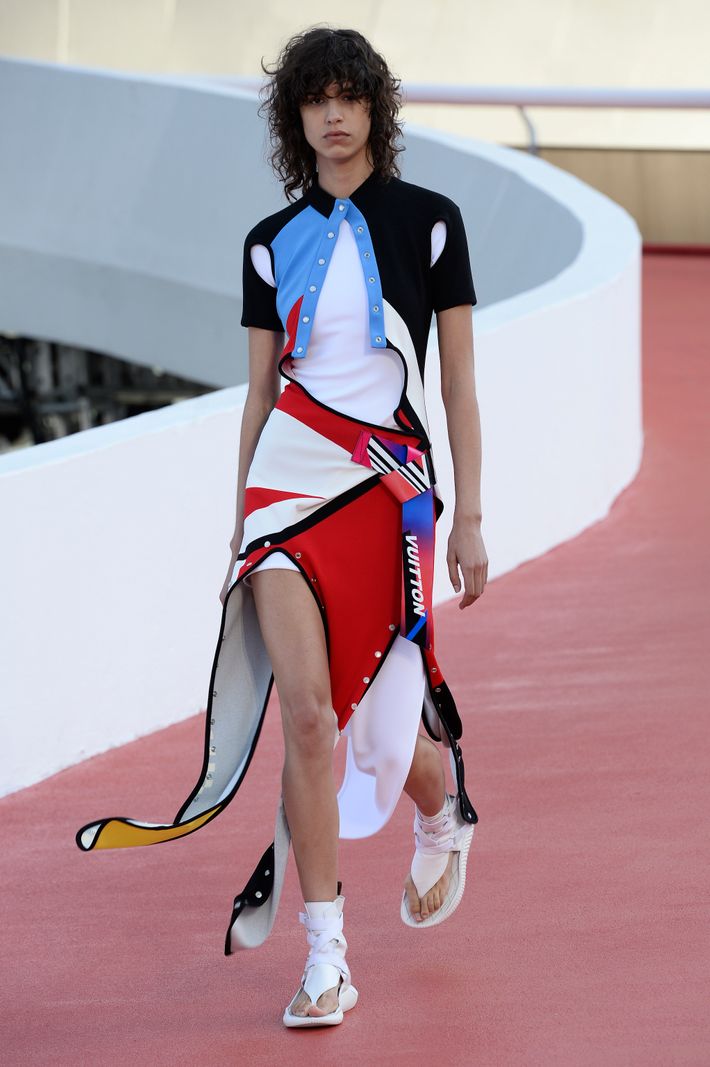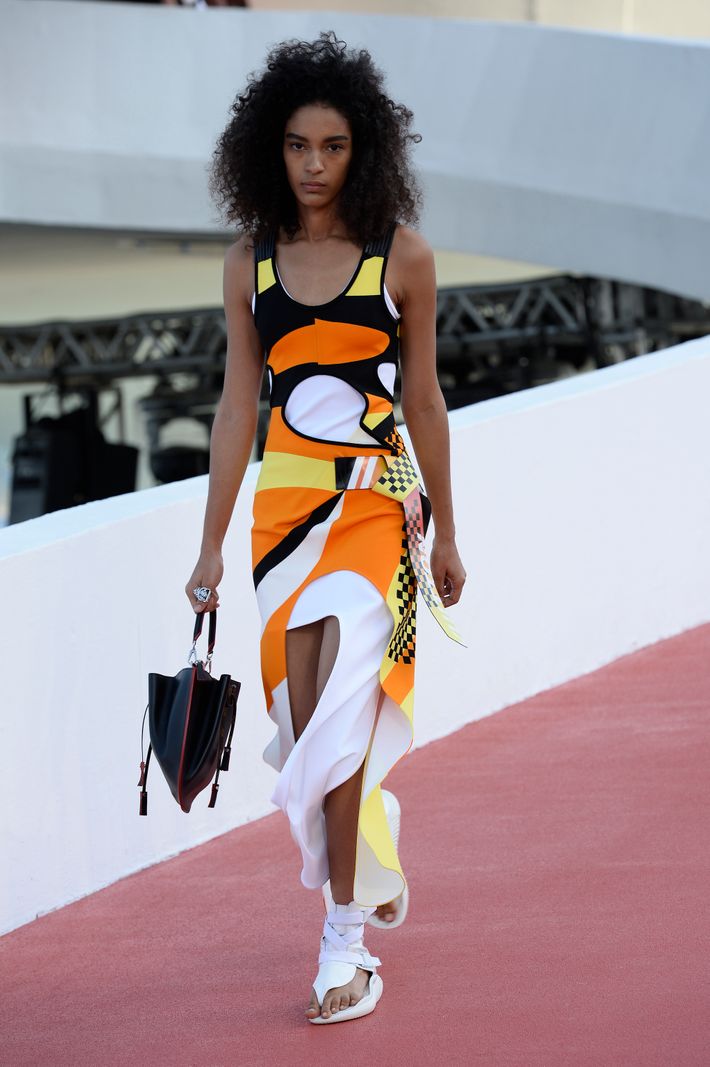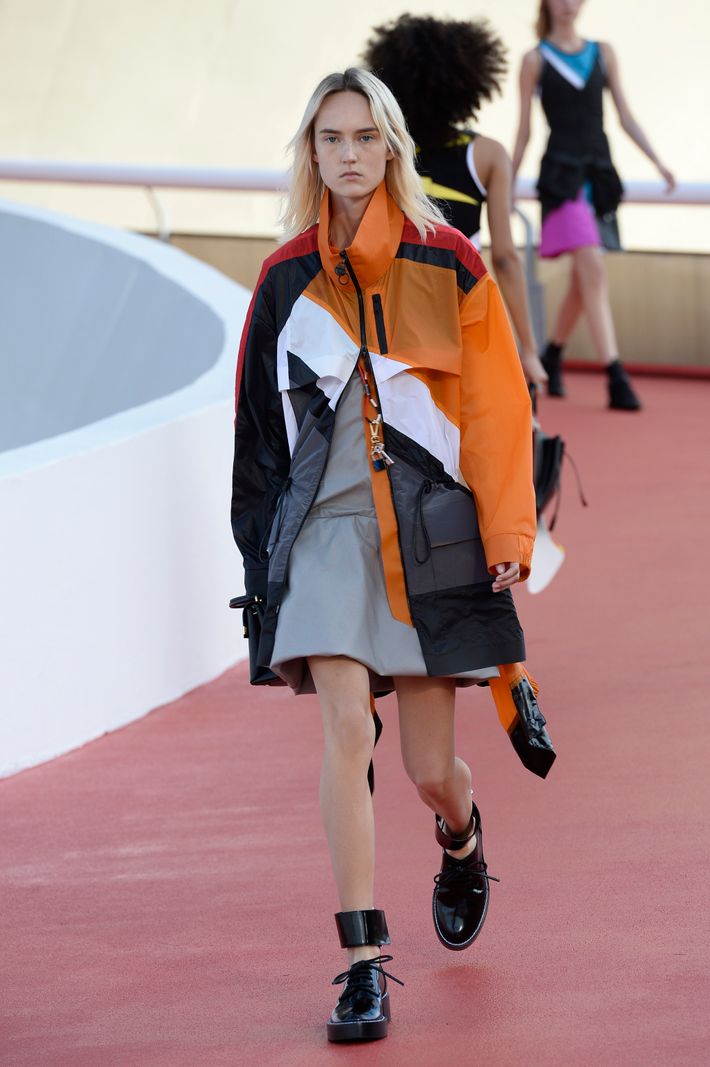 Contrary to last year's resort show, which was also held at a sci-fi spaceship (the Bob Hope house in Palm Springs), this collection was less boho and even more modern — a breezier, brighter take on the designer's futuristic designs for fall. There were sleek leather dresses fringed at the chest in sequined ruffles, military-like short-sleeved jackets, and checkerboard sweaters.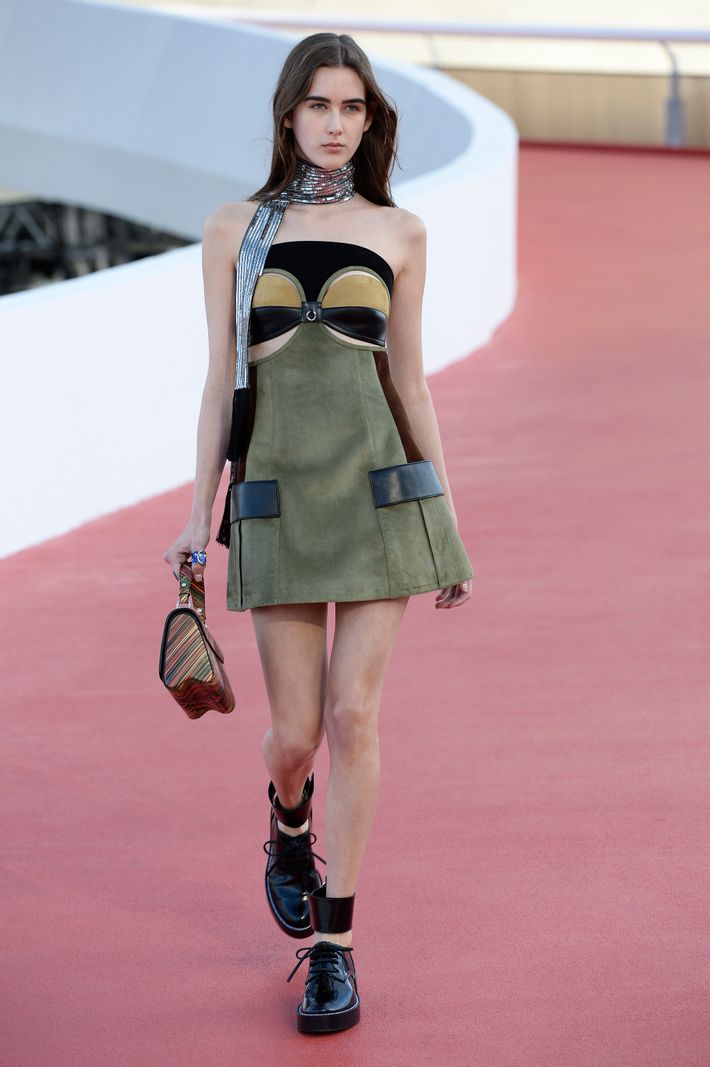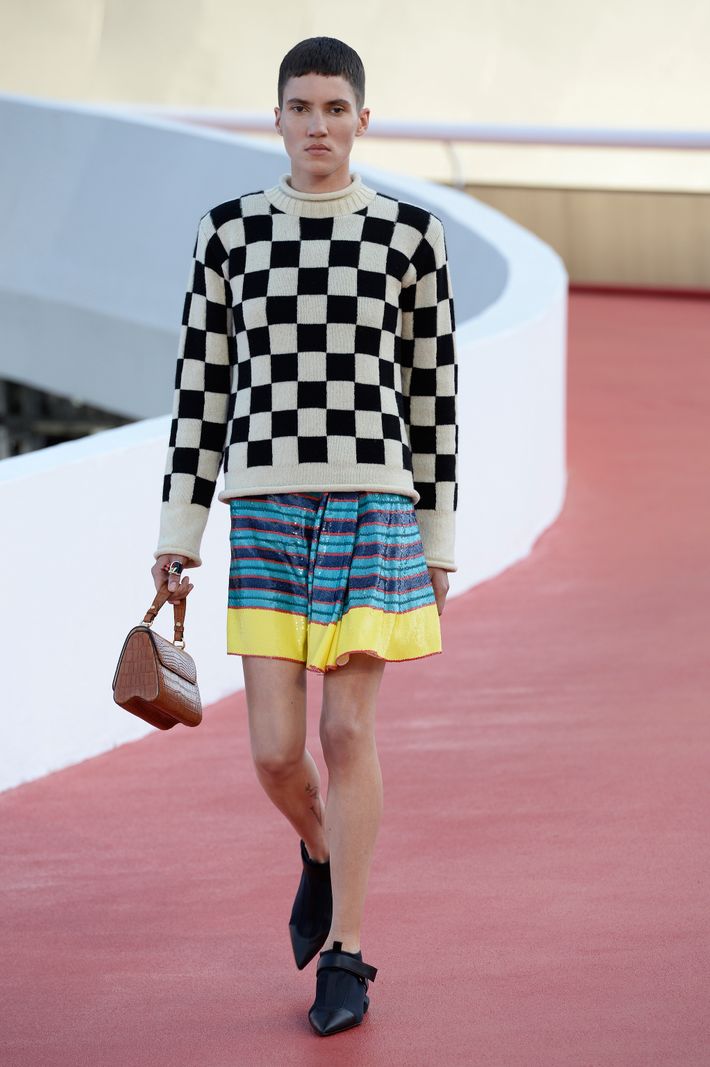 Among neon-printed bags, this gem of a boombox is a cool new piece of luggage: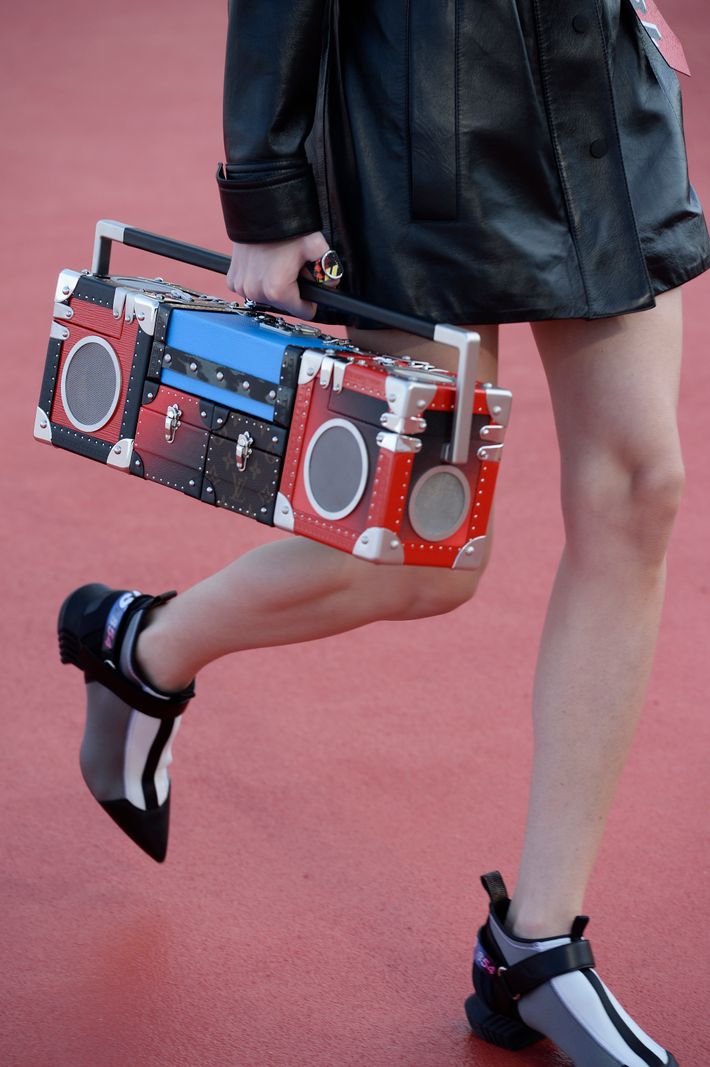 Models wore sleek black shoes or gladiator-like white and black sandals resembling combat boots.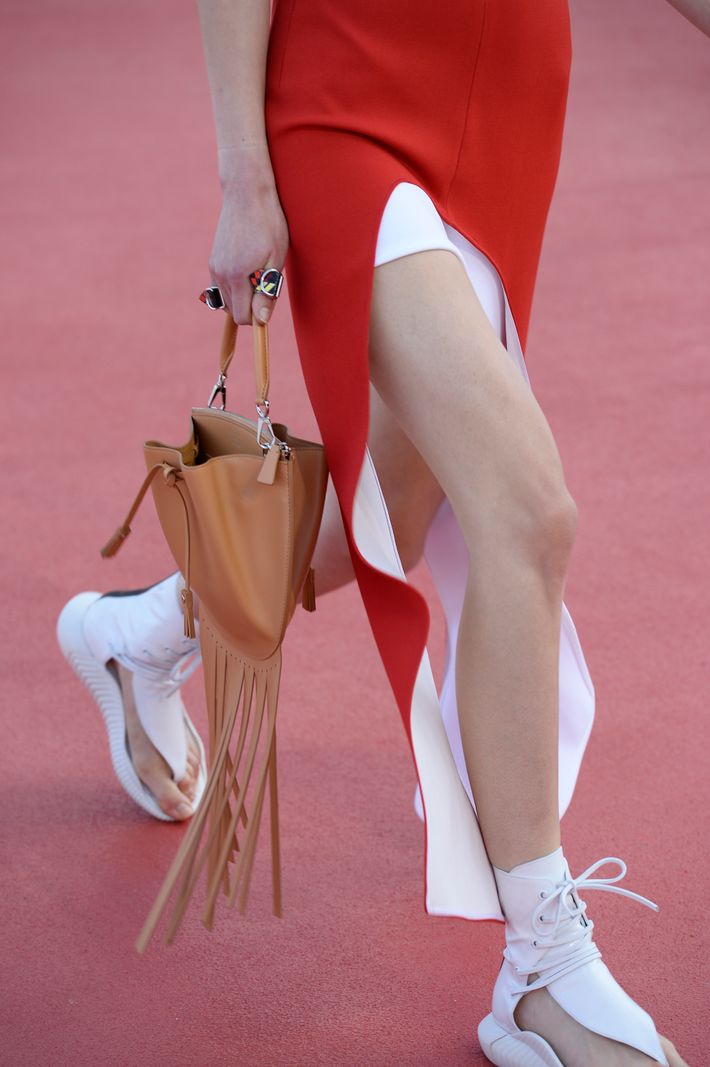 The beauty look was soft and natural: minimal makeup and straight, non-fussed hair that bounced in the breeze.
Ghesquière closed the show wearing a black leather jacket and white t-shirt, smiling and waving to the crowd before running up the steep red catwalk.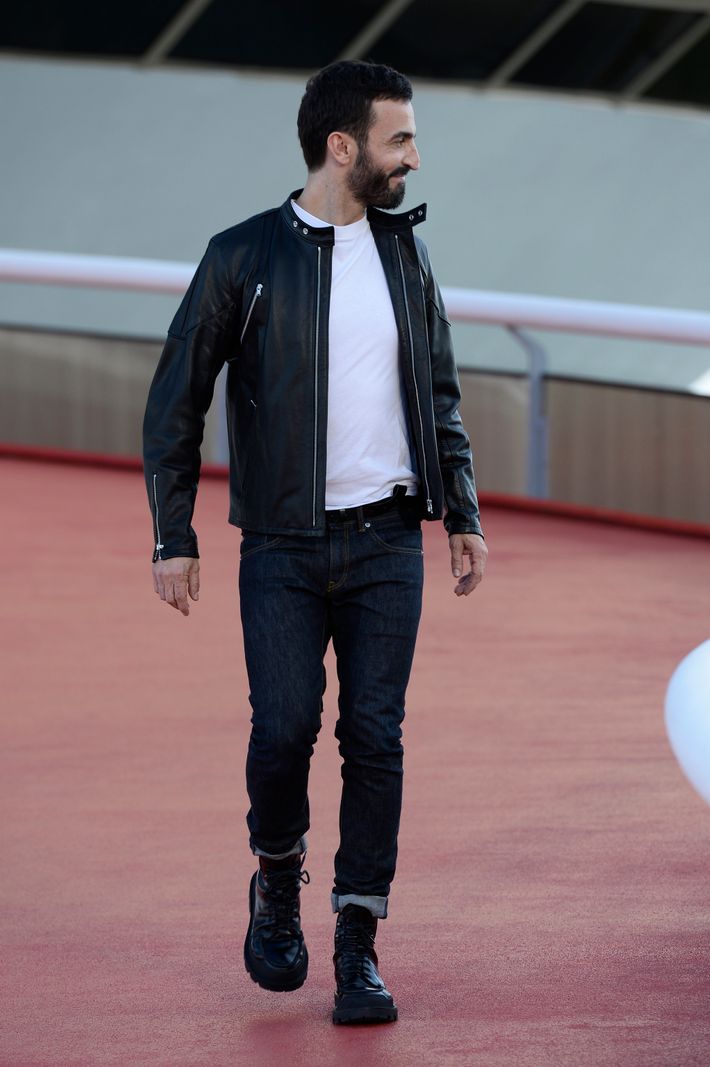 The show took place two months before the 2016 Olympic games amid controversy over the Zika outbreak. Brazil is still considered a hot zone for the virus, though Rio is far from its epicenter in northeastern Brazil; luckily for today's guests and athletes later this summer, mosquito season ended in March.
This was the first fashion show held at the Niterói Contemporary Art Museum, coinciding with its 20th anniversary. Louis Vuitton will sponsor four exhibitions at the museum over the next year.