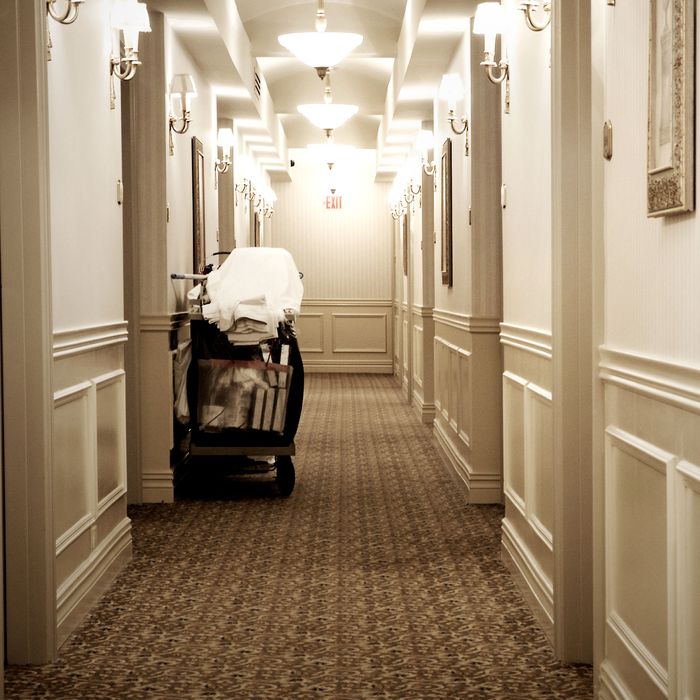 New York's Sex Diaries series asks anonymous city dwellers to record a week in their sex lives—with comic, tragic, often sexy, and always revealing results. This week, a 24-year-old female engaging in a secret S&M affair with her boss. 24, straight, UES.
DAY ONE
8:20 a.m. A car service waits for me outside. It is taking me to the airport. From the airport I will fly to somewhere in the middle of the country. He will be waiting …
10:30 a.m. He is my boss, also my lover, also my master, and also my sub. Master, because I am completely under his spell; sub, because he likes to be dominated and emasculated. I have a first-class ticket to Bumblefuck USA. I normally wouldn't check a bag, but this time I did. That's because it's filled with sex toys and dirty G-strings. He likes to sniff and sometimes wear my dirty G-strings. When Orange Is the New Black had that plotline, I was cracking up.
2:00 p.m. I check into my hotel suite. He has his own suite at another hotel. We are careful about these things. He is unattached, but the president of the company I work for. He is 45-ish (I'm not sure). It is a pharmaceuticals company. Things could get dicey fast if we ever got caught.
4:00 p.m. I join the team at a meeting. My role is executive assistant—not to him but someone else. He is in the meeting, though. We barely exchange glances.
6:00 p.m. The team eats in the hotel restaurant and I stay quiet. If only they knew …
8:00 p.m. I walk over to his hotel with my bag of leather and lace. We have a system. We have a knock.
8:10 p.m. Now I know the drill, but a few months ago, I was green. Six months ago, I made small talk. Now I know that when I walk in, I better have an insult ready. "You made a fool out of yourself at dinner," I say. "You dumb, worthless piece of shit."
8:15 p.m. His body melts. This is his true pleasure. Annoyingly, his phone keeps ringing …
8:30 p.m. Aggravated, he picks up his phone. His sister needs his attention about a family matter. His mood gets thrown off. I pack up and go home. Ho-hum.
10:00 p.m. I watch Joy on my iPad and fall asleep.
DAY TWO
9:00 a.m. I arrive at our onsite meeting wearing animal-print J.Crew trousers. He is not around today, which I already knew. He has other meetings to attend to.
3:00 p.m. I get the text from him. He is saved in my phone as "Dry Cleaners." He simply writes: "No." That is our system: Either he writes "Yes" and adds a time or simply "No." I don't mind that it's a no. It's a lot of work pleasing him. I enjoy it very much, but it's a lot of work.
8:00 p.m. After another boring restaurant dinner, I'm back in my room thinking about him. He is "normal" with other women he dates. No whips, leashes, dirty G-strings, no whipping him with tampons, no abusive language. I know I'm his only outlet for this stuff. I am young and not looking for anything serious, so I like what we have. The few people who know about it refuse to believe that I truly like it, but I do, so just hush.
DAY THREE
7 a.m. I am running on the treadmill at the hotel gym. I know he'd want my underwear post-workout. He likes when I tell him he's a dirty, worthless piece of shit and he's the equivalent of rancid panties. Sometimes he likes to wear the panties. I text him a picture of me at the gym (without my face). He texts back. "Yes." That means the coast is clear. I stop running immediately, go upstairs, remove my panties, put the panties in a big cloth laundry bag (all I can find), run across the street to his hotel, and leave it with the concierge to deliver immediately.
9:15 a.m. He texts a smiley face.
10:00 a.m. My boss is leaving this afternoon. I convince her that I'd like to stay the night to see an old friend. Really it's because he'll still be here tonight.
9:00 p.m. I am in his hotel room. He's opened a bottle of wine. We are in his bed playing with the toys I packed us. I put on a strap-on—per his request—and make him suck my dick. I shove it down his throat until he gags. I tell him he ruined the business trip and he's getting fired. He is very, very hard. He isn't always hard, but tonight he is. I know he wants to take advantage of the erection so I tell him to stop being such a pussy-loser and to stick his little cock (which is actually a decently big-sized cock … but the insult of "little cock" turns him on) inside me.
10:00 p.m. We fuck in a pretty standard way from this point on. He gets on top of me and pumps for about a minute, pulls out, and cums all over my neck.
DAY FOUR
I fly home and work from my apartment. It is an uneventful day. I don't communicate with him. I don't see friends. That is the one element of my situation with him that I find frustrating. It is all so weird and private that I find myself becoming more and more isolated.
DAY FIVE
9:00 a.m. We have a company-wide meeting and my boss is a stress case over it. I know He will be speaking at the meeting. I can't wait to watch him. He once had me tell him he was ugly and illiterate—while whipping him—before a meeting, but it doesn't look like that's happening today. That was back when he would tell me exactly what to do to arouse him. Now I'm more instinctive.
10:30 a.m. I watch him conduct the meeting. Zero eye contact. I feel heat between my legs.
7:00 p.m. I actually have a blind date tonight—a guy my mom's friend set me up with. I don't have to clear it with Him, but if we end up communicating this weekend, I will certainly let him know that I was out with someone much stronger, younger, taller, and with a bigger, harder dick. Whether any of that is true or not is beside the point.
11:00 p.m. The date was good. I was pleasantly surprised. One weird thing happened: He kissed me good-night and I realized I don't know how to kiss "normally" anymore. I had to fight back the urge to say something mean. I had to pretend I was an actress playing the part of a gentle kisser. It was very odd. I'm not sure if this guy was into me, but I wouldn't mind going out with him again. And nooooo, I did not mention my affair with Him.
DAY SIX
11:00 a.m. On Saturdays, I always visit my grandmother in Queens. She makes us sandwiches and we talk. She knows I am having a secret affair with someone but obviously not all the details. She makes the whole thing fun to talk about and not so … dark. Today I tell her about the Normal Guy I went out with too. She's happy hearing about him. I lie and tell her he's already asked me out again. In reality I haven't heard from him.
5:00 p.m. I pick up a bottle of wine on my way home from Grandma's. The normal dude texts me. He's going to a BBQ in my neighborhood, conveniently. It is the most "normal dude" text ever. I tell him that I'll possibly meet him. Not sure I'm in the mood …
The absolute truth is I'd rather wait home for Him to text me. I usually hear from him a few times per weekend. Sometimes we have long text sessions that are as sick as you can imagine. I often masturbate while getting him off, telling him he's disgusting, a gross pig, a dickless idiot, whatever I can come up with. Sometimes I go to his apartment on weekends, but we usually meet up at various hotels during the week. I once Uber'ed it to Philadelphia, where he was staying for work, to see him for the night.
8:00 p.m. I blow off Normal Guy at the Normal BBQ.
DAY SEVEN
7:10 a.m. I sleep with my phone on, always, waiting for Him to text. He texts this morning—Dry Cleaners!—while working out at the gym. It starts with "?????"
7:12 a.m. "I'm glad you're working out, you looked like fucking shit this week. Don't text me until you've run 2 miles."
7:40 a.m. "Tell me you love me," he texts, presumably after the running. Sometimes he wants real affection and not the hard-core emasculation stuff. I follow his lead. "I love you," I text. Next, he wants a picture of my pussy, then my asshole. Then we banter a little about his upcoming week, to see if there's any room for me. It looks like Tuesday night he's staying at a Westchester hotel …
3:00 p.m. I spend the rest of the day doing ordinary stuff like getting a pedicure and reading the newspaper on my couch. I'm just a girl … in love with a boy … who likes me to pee on his face. Just kidding. We haven't done that. Yet.
Want to submit a sex diary? Email sexdiaries@nymag.com and tell us a little about yourself.