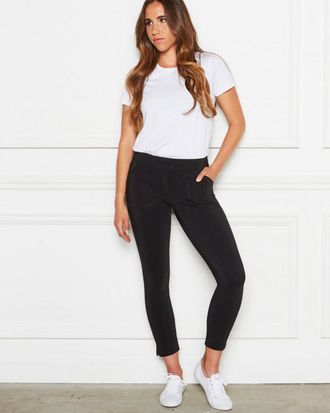 Every Friday at the Cut, we're highlighting one great purchase, for which it's absolutely worth eating ramen noodles for the rest of eternity. If you're looking for cheap thrills instead, check back every Monday for a fun pick-me-up that will still leave you enough cash for dinner.
Whether or not you wear them for their intended purpose, yoga pants are a godsend. If you've always resisted the urge to wear them to work after a morning workout session, digital brand Aella is telling you to resist no more.
The brand uses proprietary Matte Skin fabric of the type typically found in activewear to create polished work trousers. Each pant is wrinkle-resistant, fade-resistant, and UV-blocking, so you can skip ironing and tumble them dry to your heart's content. While Aella offers pants in a number of styles and fits, their biggest seller, the ankle skinny, is our favorite because it's so versatile: Put them on for your morning workout and don't take them off until after drinks at night.
Aella Ankle Skinny, $198 at Aella