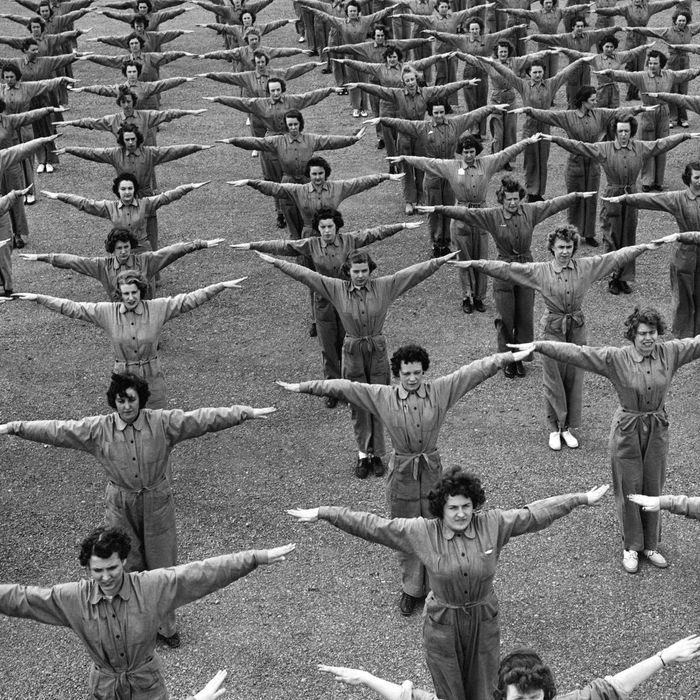 Photo: Underwood Archives/Getty Images
Sometimes the obvious bears repeating: Women aren't just smaller men with breasts. Women tend to need more sleep, for example, and process pain differently, and may break down some drugs differently. (In 2013, the FDA issued its first sex-specific dosing guidelines, for sleeping pills.)
But still, broadly speaking, medical research has taken its sweet time in adopting this particular lesson. Despite policies designed to encourage gender parity in research, only a third of clinical research subjects are women. (In pre-clinical studies, which use animals or cells instead of people, the disparity is even more pronounced: A review of cell studies published in the journal Surgery, for example, found that of studies that mentioned the sex, 71 percent used only male cells.)
Perhaps unsurprisingly, as Bethany Brookshire reported in Science News today, the worlds of sports medicine and exercise science are no exception — when scientists study athletes, those athletes tend to be men. "Women are making up for a historical bias against them in sports," she wrote. "Not surprisingly, there's also historically been a bias in sports science." In 2014, she reported, British exercise physiologist Joe Costello published a study quantifying that bias over the past few years:
Digging through three influential journals in the field — Medicine and Science in Sports and Exercise, the British Journal of Sports Medicine and the American Journal of Sports Medicine — Costello and his colleagues analyzed 1,382 articles published from 2011 to 2013, which added up to more than six million participants. The percentage of female participants per article was around 36 percent, and women represented 39 percent of the total participants, the scientists reported in April 2014 in the European Journal of Sport Science.

"In my opinion, it's not enough," he says. The numbers are relatively close to the gender breakdowns in competitive sport, he notes, but participation in noncompetitive exercise and casual running is a lot closer to a 50:50 breakdown, and the studies don't reflect

 

that.
Brookshire, curious about whether things have gotten any better since Costello's study, did some research of her own, looking at studies published in January–May of 2015 in Medicine and Science in Sports and Exercise and the American Journal of Sports Medicine. Once she eliminated all the irrelevant papers, like case reports and animal research, she ended up with 188 studies, which encompassed nearly 255,000 people. "Of the 188 studies, 138, or 73 percent involved at least some women," she wrote. "But overall, women made up only 42 percent of participants. While 27 percent of the studies included only men, only 4 percent were studies of only women." And even the studies with both men and women often skewed heavily male – in studies on injury, for example, 80 percent included some women, but only 40 percent of all participants were female.
But the biggest disparity Brookshire found was in studies on athletic performance. When she discounted an outlier — a single study on 90,000 marathon runners — the research pool included 29 studies of around 4,000 people, only 3 percent of which were women. Meanwhile, real life looks pretty different: According to Running USA's most recent "State of the Sport" report, which charts the demographics of competitive running, women made up 43 percent of marathon finishers in 2014 — but they were 58 percent in 5k races, 59 percent in 10ks, and 61 percent in half-marathons. And those women, like many female athletes, often have to rely on information — on injuries, on recovery, on training and pacing and strength — that wasn't created with their bodies in mind.