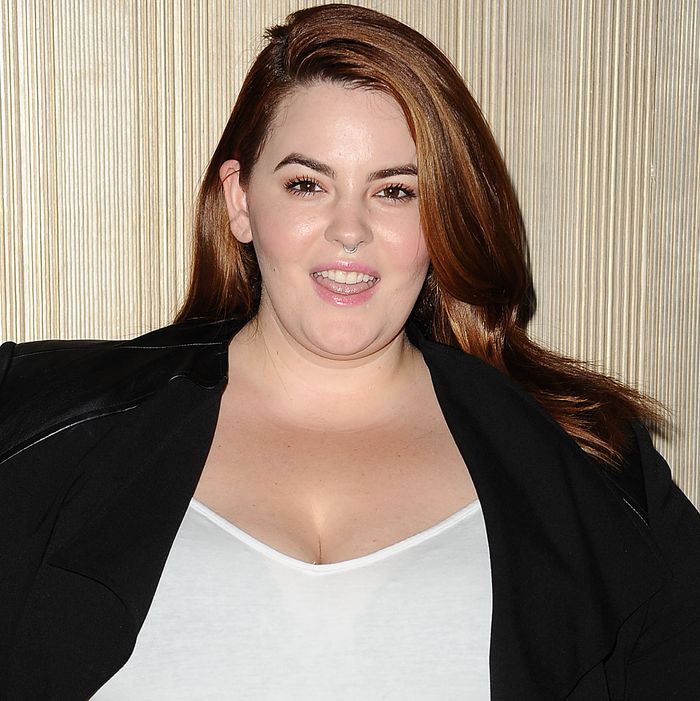 Hey, girl.
Photo: Jason LaVeris/2015 Jason LaVeris
Facebook made a major misstep this week by banning an advertisement featuring world-famous plus-size model Tess Holliday, claiming that the ad went against their "health and fitness policy."
Coincidentally, the ad was for an event held by Cherchez La Femme, a live monthly talk show that focuses on "current affairs and popular culture from a feminist perspective." The particular event that the photo of Holliday was used for will be a discussion about body positivity and fat acceptance called Feminism and Fat.
Facebook claimed the photo did not comply with their "health and fitness policy," which states, "Ads may not contain 'before and after' images or images of unexpected or unlikely results. Ads may not depict a state of health or body weight as being perfect or extremely undesirable (ex: you cannot use an image showing a person measuring his/her waist or an image focused solely on a person's abs)."
Except the ad in question isn't a before or after picture; it's just a photo of Holliday thriving in a bikini as part of Simply Be's #SimplyBekini campaign. The outspoken model, who's repped by London's Milk Model Management, has over 1.2 million Instagram followers, and tags each of her photos #effyourbeautystandards.
After event organizers and supporters spoke out, Facebook finally relented, stating, "Our team processes millions of advertising images each week, and in some instances we incorrectly prohibit ads. This image does not violate our ad policies. We apologize for the error and have let the advertiser know we are approving their ad."
This is just the latest kerfuffle for the social media giant. Facebook is notorious for banning pictures it deems offensive, such as a woman and her newborn baby or medieval art, and has recently come under fire with regards to how employees choose the "Trending Topics."
CLF co-producer Jessamy Gleeson said, "I was utterly furious. I couldn't comprehend it, quite frankly. We thought it was really horrible and isolating and alienating … Women with fat bodies can, of course, be as desirable as anybody else." If anyone is proof positive of that, it's Tess Holliday.