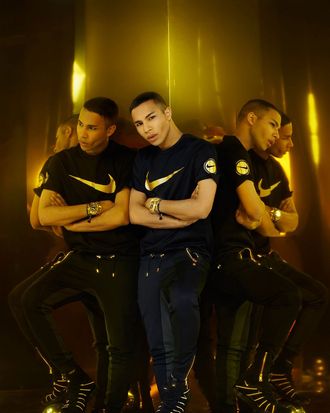 Nike x Oliver Rousteing.
Photo: Courtesy of Nike
Oliver Rousteing is known for making clothes so elaborately embellished that they might make you bleed, but his collaboration with Nike looks markedly comfortable. The collection includes a variety of gold-embellished functional sweat separates.
"It's on the glamorous side but wearable," Rousteing says, "so even people not into sport can find things they love."
Well, if the release of this collab is anything like that of the Balmain x H&M collection, in which people broke out into a tug-of-war over faux fur, shopping for it will be a sport in itself.