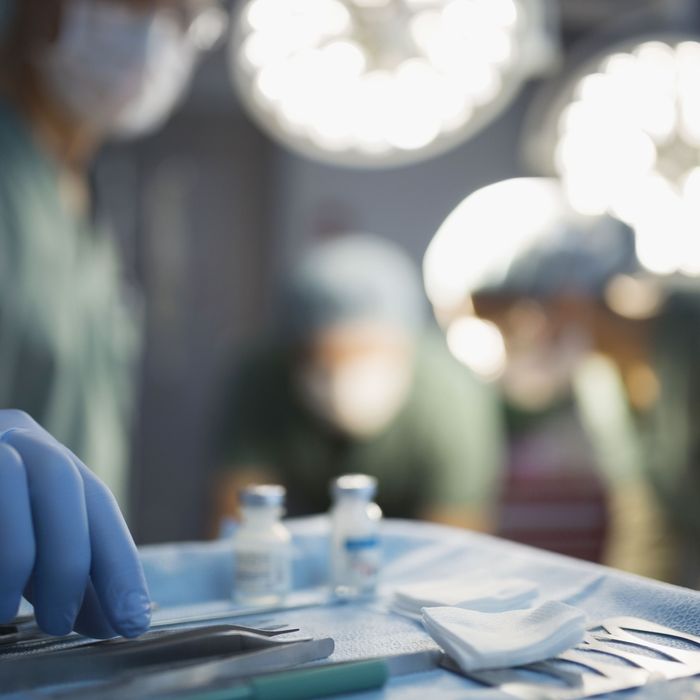 Photo: Hero Images/Getty Images
Doctors at Boston's Massachusetts General Hospital announced that they recently performed the first penis transplant in the United States. The experimental procedure is intended to help veterans who've sustained pelvic injuries in combat in addition to cancer patients and accident victims.
The New York Times interviewed the recipient, Thomas Manning, from the hospital on Friday. The 64-year-old had to have most of his penis removed in 2012 after doctors discovered an aggressive cancer. The organ came from a deceased donor whose family gave permission via the New England Organ Bank. Manning said he chose to share his story because he wants to reduce the stigma associated with genital cancers and injuries.
Curtis L. Cetrulo, MD, the head of the surgical team, said suicide rates among veterans with severe pelvic injuries are very high. "They're 18- to 20-year-old guys, and they feel they have no hope of intimacy or a sexual life," he said. "They can't even go to the bathroom standing up."
Doctors hope Manning will regain urinary function in a few weeks and sexual function within a few months as nerves grow into the transplant. Typically, transplant recipients need to take immune-suppressing anti-rejection drugs for the rest of their lives, but the MGH doctors are looking at ways to reduce or eliminate the need for drugs, since the veterans who would benefit from this surgery are usually young and might develop other health problems if they have to take the drugs for decades.
The MGH team is awaiting a donor for a second patient whose penis was burned in a car accident. They plan to perfect the surgery with civilians who've had cancer or injuries and then offer it to wounded veterans. For now, the procedure will not be an option for transgender patients.
Doctors at the Johns Hopkins University School of Medicine will perform their own trial of 60 penis transplants on wounded vets to determine if the surgery should become a standard treatment. They are waiting for a match for a veteran injured in Afghanistan.
While Manning was still in the hospital after his amputation, he asked his doctors about a transplant but they weren't considering the idea yet. Donation and transplantation of reproductive organs is a new frontier of medicine. Doctors in China had performed the procedure in 2006, but the organ had to be removed due to psychological trauma. The world's first successful penis transplant was done in South Africa in late 2014; the patient impregnated his girlfriend about six months later, and has since become a father.
Surgeons at the Cleveland Clinic performed the country's first uterus transplant in late February, though it failed a little less than two weeks later after the recipient developed an infection.
Manning began hemorrhaging the day after the surgery and was rushed back to the operating room, but he's been doing fine since then. Here's hoping all goes well for him.