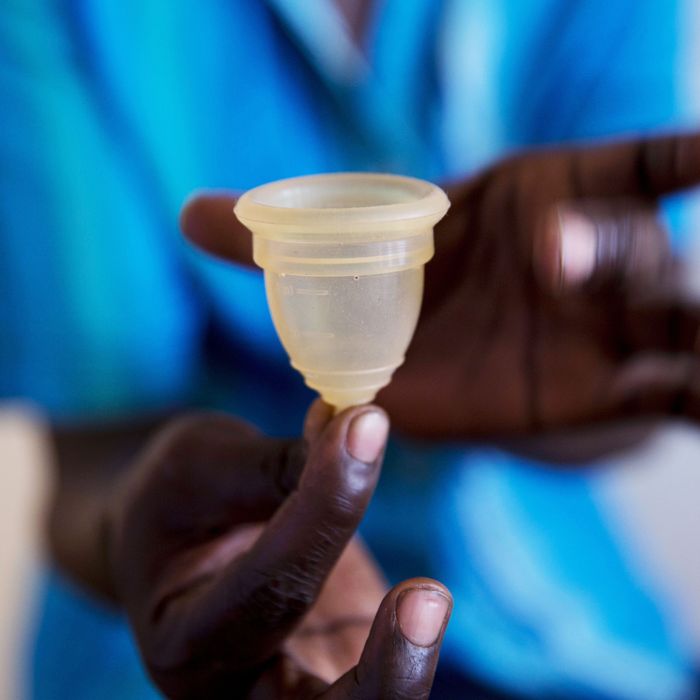 Photo: Jonathan Torgovnik/Getty Images
Extremely sad but very true: There are girls around the world who stay home from school when they get their periods because their families can't afford pads and tampons and their schools lack proper (or clean) bathroom facilities. Now, a South African school is giving girls reusable menstrual cups to help reduce absenteeism.
The Serithi Campaign passed out 88 Mina Cups earlier this month to girls at the Tshegofatsong school in Pretoria. Menstrual cups can be worn for 6 to 12 hours, so girls could ostensibly get through a school day without having to wash it. And it's a better option than reusable pads, which need time to dry after cleaning (imagine hanging that in your school's bathroom). The Mina Cup is made of medical-grade silicone and lasts for up to five years.
Here in New York, menstrual-hygiene-access legislation has been introduced to provide free tampons and pads in public schools, shelters, and prisons since advocates argue that these items are like toilet paper — they're necessary to take care of normal bodily functions, and should be included in budgets, just like TP is.
But in terms of assisting low-income women and girls in the long term, cups are much more cost-effective than either disposable or reusable pads. It's true that cups could be a hard sell when some women won't even use tampons for personal or cultural reasons, but we seriously need to get over the assumption that cups are a weird, fringe product. No, they are genius little menstrual chalices and should be respected as such.