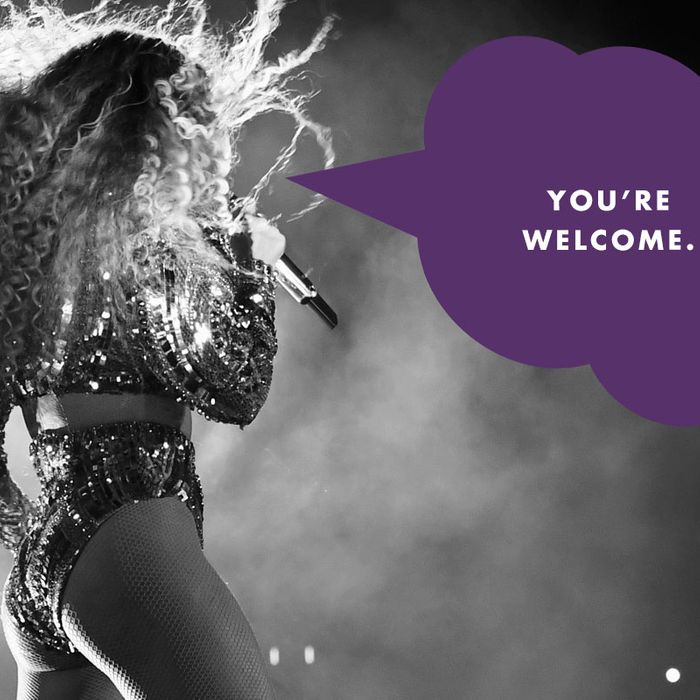 I've joked before that the difference between Beyoncé ten years ago and Beyoncé today is akin to the difference between regular-size-human-being Barry Bonds and head-the-size-of-a-city-trash-can Barry Bonds. I'd go so far as to say that she's made such improvement as an artist that she'd be suspected of doping if she were an athlete.
But a better analogy, perhaps, would compare Beyoncé to Stephen Curry. Like Beyoncé, most assumed Steph had reached and would stay at a certain peak. For Beyoncé, this is pre-Beyoncé Beyonce. And for Steph, this would be pre-2014–2015-season Steph, when he was dead in the middle of "perennial all-star" Steph and hadn't yet reached "Yo, this motherfucker is not from this planet" Steph. (Let me put it this way: As recent as the summer of 2014, Steph was maybe the fourth or fifth most valuable player on the FIBA Basketball World Cup team, behind Kyrie Irving, James Harden, Anthony Davis, and DeMarcus Cousins. And now he's Basketball Jesus.)
Also, they both have dads who could definitely be played by Michael Beach if a movie was ever made about them. And moms who could be related to Salli Richardson. They both have talented but decidedly less famous siblings. They both have daughters who are already better people at 3 than most will be at 43. And they're both married to people who've been sainted by fuckboys. (Although, in Ayesha's case, it's not really her fault.)
Anyway, even before the leap she's made over the past couple years, Beyoncé has always been great at one thing: anthems. No one in music — not Justin Timberlake, not Rihanna, not Jay Z, not Kanye, not Taylor Swift — has been a part of more anthems in the last couple decades than she has.
Naturally, this raises the question: What exactly constitutes an anthem?
Well, my arbitrary and completely made-up-right-now definition is that a song is an anthem if it can answer each of the following questions:
1. Would it be included on both a CrossFit playlist and a party pre-game playlist?
2. Is it aimed at a certain demographic of people, and does it intend to make this demographic hype/happy when the song is heard?
3. If you are not a part of said demographic and the song happens to come on while you're at the club, do you say, "Shit, here they go" to yourself as you walk to the bar and attempt to avoid the dance floor stampede?
4. Would it be a perfect theme song for a '90s sitcom on Fox?
5. If a black person created it, do white people like it just a little bit too much?
Considering the criteria, each of the following songs could be considered anthems:
"No, No, No"
"Bills, Bills, Bills"
"Say My Name"
"Independent Women Part 1"
"Survivor"
"Bootylicious"
"Irreplaceable"
"Ring the Alarm"
"Single Ladies (Put a Ring on It)"
"Diva"
"Run the World (Girls)"
"Bow Down /I Been On"
"Flawless"
"Formation"
"Freedom"
That's 15 anthems. That's a gaggle of anthems. A shitload of anthems. And that's not even including the dozen or so songs like "7/11" that could arguably be shoehorned on the list.
Yet the first 14 of these songs all share a characteristic. They're all what would be considered "girl power" anthems. Each of these songs are speaking directly and specifically to women. Sometimes it's to empower. Sometimes it's to remind other women of their inherent flawlessness. Sometimes it's just saying "no" a bunch of times and calling it a song. Sometimes it's a song-length way of saying, "He should have went to Jared."
Either way, there's not much ambiguity here. If I happen to hear any of these songs at the club, I know it's a good time to re-up my Honey Jack and ginger ale. Or perhaps go to the bathroom. Or maybe even check and see if the number I got earlier is a real one and not Pizza Hut's.
In the context of Lemonade, the short film, "Freedom" is also an anthem of female empowerment — black female empowerment, specifically. It's no accident that the song comes directly after the "Forward" montage of Lezley McSpadden, Sybrina Fulton, and other black women and girls holding framed pictures of murdered black men, which came directly after "Sandcastles," Beyoncé's Calvin Klein commercial moment with her husband. These are Lemonade's two most melancholy moments, and "Freedom" effectively lifts us out of it.
Without the visual context though, "Freedom" … well, let me just take you through the thoughts I had when listening to it in the car the first time.
1. Yo, this fucking bangs!
2. No, for real, this shit fucking bangs!
3. Blaze didn't just put his foot into this production. He sat down and put his whole entire ass in this bitch. My goodness!
4. How pissed would I be right now if I were a rapper knowing that Blaze gave Beyoncé the best hip-hop beat of the last five years? I'd be ready to fight that dude.
5. FREEDOM! FREEDOM! I CANT MOVE! FREEDOM CUT ME LOOSE! FREEDOM! FREEDOM! WHERE ARE YOU! CAUSE I NEED FREEDOM TOO!
6. HOLY SHIT MOTHERFUCKER DAMN! YOU'RE RIGHT BEYONCÉ!!! WHERE THE FUCK IS MY FREEDOM??? I NEED FREEDOM TOO!!!
7. FREEDOM! FREEDOM! I CANT MOVE! FREEDOM CUT ME LOOSE! FREEDOM! FREEDOM! WHERE ARE YOU! CAUSE I NEED FREEDOM TOO!
8. Okay, here comes Kendrick ready to overwhelm the fuck out of us. LET'S GO!
9. Okay, I wasn't overwhelmed by Kendrick. Just whelmed. Sufficiently whelmed. But definitely just whelmed. Anyway…
10. FREEDOM! FREEDOM! I CANT MOVE! FREEDOM CUT ME LOOSE! FREEDOM! FREEDOM! WHERE ARE YOU! CAUSE I NEED FREEDOM TOO!
If you happened to be walking the streets of Pittsburgh at any point in the last month, and you happened to see a guy in a 2011 Dodge Charger with the windows down screaming "FREEDOM! FREEDOM!" at the top of his lungs, there's a 196 percent chance it was me.
Thing is, I know I'm not alone. No, I haven't seen any other guys in Chargers screaming "FREEDOM" at people walking their dogs. But I share this appreciation for "Freedom" with other men I know who don't typically go gaga for Beyonce anthems. Both Panama Jackson and Jozen Cummings have expressed similar sentiments to me. I still wasn't convinced, though, so I performed the completely unscientific experiment of playing it while the two harshest music critics I know — my 15-year-old nephew and my 17-year-old brother-in-law — were in the car with me. And instead of saying "Damon, why is your music always so waaaaack?" as they're wont to do, they both started nodding their heads.
Also, if you actually look at the lyrics, they reinforce the idea that the song transcends gender. For the types of guys who also loved songs like "Formation" and "Partition" but hesitated from mouthing the lyrics in mixed company because of the way our "socialized masculinity and constrictive definitions of what it means to be a straight male" account is set up today, there are no such moments here. You can let your "Freedom" flag fly free too!
This post originally appeared on Very Smart Brothas.