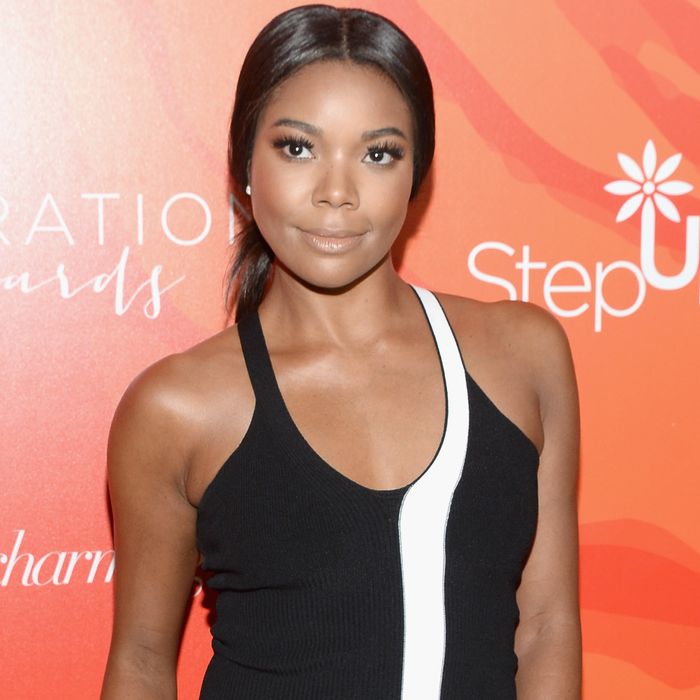 Bring it on.
Photo: Matt Winkelmeyer/2016 Getty Images
Gabrielle Union's speech at Friday's Step Up Inspiration Awards 2016 made it clear why she was being feted by the empowering non-profit, alongside fellow honoree Lea Michele.
The actress, who's appeared in everything from Bring It On to the award-winning TV show Being Mary Jane, talked frankly about struggling with self-esteem issues and blaming herself for everything bad that has happened to her — including a sexual assault when she was 19. Despite appearing fierce and fabulous on screen and in the media, the Being Mary Jane star grew up believing she was quite the opposite. (Union also has a small part in the upcoming Sundance stunner The Birth of a Nation, which will hit theaters just in time for Oscar season.)
"Along with being the chip in the cookie at a very young age came the advice from my parents which was, 'You are going to have to be bigger, badder, better just to be considered equal,'" the actress said during the ceremony held at the Beverly Hilton Hotel. "This is very accurate advice, but what it does to the self-esteem of a small child is to say that you are always going to not be good enough. So, I started internalizing that, and the narrative that was playing in my head my whole life from the time I was a very young person was, 'You're a joke, and you are a loser. Anything bad that happens to you is because you are a joke and a loser.' Anytime some guy did not return my love, it was because I am a joke and a loser. When I got raped at 19 at my after-school job, it wasn't just some awful coincidence. It was because I was a joke and a loser. When I got divorced, I'm a joke and a loser, of course. My show gets canceled — I am a joke and a loser."
The actress detailed the extreme measures she took in order to fit in, like burning her scalp with hair relaxers and trying hard not to seem "too black." "I wanted to make sure my hair was so straight, so I would leave relaxers on my hair for so long that I would get lesions because I wanted to fit in. And I had to make sure I always got those 'You're so articulate' compliments," she said.
Union went on to explain that it wasn't until a recent impromptu intervention from her friends that she decided to face those self-destructive voices in her head, well, head on. "My friends said to me, 'You've got to replace that voice in your head that's telling you [that] you are a joke and a loser. You've got to stop being crippled by a fear of possible humiliation.' And so that day I decided to stop telling myself I was a joke and a loser but that I was dope and fly and amazing.
"I am a wife, but that does not define me," she continued. "I am an actress, and that sure as hell does not define me. I am a parent, [and] while awesome, that is not my whole life. None of those things, even though I get a lot of praise for that, makes me worthy. I am worthy by birthright. I am Gabrielle Union."
Ladies, take note.