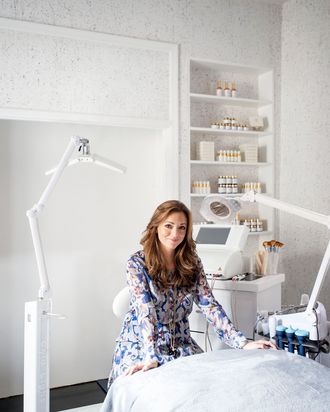 Georgia Louise runs a tight skincare ship.
Photo: ©Matthew Williams
When Alexander Wang, Mario Testino, and Lauren Santo Domingo come to facialist Georgia Louise's Upper East atelier, they know they're not going to be coddled. Sure, they'll be pampered with a 90-minute facial, but Louise runs a tight skin-care ship — and it's earned her a two-year waiting list and clients that include Jennifer Aniston and Christy Turlington.
Louise believes that good skin is the work of a lifetime (and won't see clients that don't follow her skin-care protocol). She thinks facials should include multiple high-tech devices (on a recent visit, I got galvanic therapy, microscrubbing, red-light therapy, and microcurrent, all in one facial). And she's convinced that a truly great skin-care routine consists of lots of layering. Read on to learn about how Linda Evangelista got her started in the fashion industry, why she's against fillers, and how she rationalizes a 12-step beauty routine.
How did you start your career in skin care?
My mother got me hooked on skin care! When I turned 11 years old, she gave me my first lesson by introducing me to a milk cleanser, toner, and oil. I couldn't wait to finish school and sign up for beauty college in the U.K. From there, I worked with leading brands, spas, and world-renowned dermatologists and alternative Western practitioners. I set up my own skin-care clinic in Knightsbridge, London, in 2007 and moved to New York City in 2011 to live with my American husband. My Upper East Side atelier opened in October 2015.

My skin-care philosophy is threefold:
1. Re-energize the skin cells
2. Tighten muscles
3. Detox the skin by stimulating the lymphatic system

I believe in using technology, natural skin care, and holistic alternative methods, and I am 100-percent committed to improving skin on a cellular level. I teach my clients that good skin care is a lifetime commitment.

How did you start working with the fashion industry?
My first introduction to the fashion industry was meeting Linda Evangelista. Five years ago, I was the only the Brit in New York who could fix microcurrent machines. I was called to help her with her machine through a friend. I arrived at her apartment with a toolbox in hand and got to work fast repairing! (No pressure!) Once it was fixed, I asked if I could show her how to use it better on her skin.
Halfway into the impromptu treatment, with just my hands, a bottle of water, and cream, she peered up at me whilst I was bent over her sofa and said, "Wow, you have the most amazing hands for a engineer." I laughed and said I was actually a beauty therapist and have been a skin-care specialist for 15 years. The rest was history and now she has become one of my dearest friends and fan of my treatments.
After that, it became a chain reaction. Linda referred me to Gucci Westman, who then really helped to put my name on the fashion map. I am really thankful and feel blessed with my client list that I have worked so hard for. I treat some of the most influential fashion icons, which have become amazing clients, like Lauren Santo Domingo, Mario Testino, who continue to refer wonderful clients.

You've said before in interviews that a good face massage can replace fillers. Why are you against fillers? How can face massage be a replacement?
I believe in taking really good care of skin naturally to age well. In my experience, fillers, after long-term use or over-treating, look unnatural. Yes, your skin is line-free but all the other aging telltale signs are still present, so it doesn't make you look any younger. Skin tone, the color of the skin as we age gets thicker, which creates droopy-looking skin. Fillers can affect lines, but the quality of the skin can tell you more. Massage and face yoga really help to tighten and soften lines. My clients love my lift and sculpt Butterfly Rose Quartz Stone to help soften and de-puff the face.
You also talk a lot about layering, which is something that's become more accepted now, thanks to people knowing about things like the Korean ten-step beauty routine. In your opinion, why does a "more is more" approach work?
There is no miracle product that takes care of all our skin-care needs in one go. We need a multitude of products to treat skin-care conditions and unexpected flare-ups and to maintain our skin. A good skin-care regimen should include a cleanser, floral water, toner, two treatment serums, eye cream, moisturizer, SPF, and finishing serum, plus exfoliator and a mask — that's 12 products!
Plus, why would you only give yourself five percent of an active ingredient when you can give your skin 100 percent? Multi-wonder serums that claim to treat all skin-care conditions have weaker percentages of actives because they are packed with so many other ingredients. You are better off using serums that have one main focus and active, and layer them on top of each other. The skin will drink what it needs. Ninety-eight percent of my clients are dehydrated and not using enough skin-care products, so more is more. Another good point is that by taking your time to layer up you allow the skin to acclimatize to each product and achieve deeper results.
Wait — 12 products? That's a lot of products.
Yes, but after a week of following a routine like this, you get into the hang of applying it fast and it can all be done in under five minutes! I recommend that all my clients do this, and I promise you they ask me for other serums they can layer with.
How do you layer this many products on top of each other?
First, you need to make sure you are being advised by a trained facialist and have a written protocol in front of you so you know how many pumps or drops to apply. Measurements are really important in this instance.
After cleansing, apply all the water-based serums first, then your lipids (slightly heavier fluid serums), then your creams, SPF, and finishing serums. The thinnest goes first and the heaviest on top. That way they all blend in nicely and everything gets absorbed into the right layer of skin. A finishing serum seals the deal — think of applying a top coat to your nails. It stops it from chipping and keeps the nail polish lasting for longer.
They shouldn't pill off if you are using the right amount, prescribed by a professional facialist. However, in a rush I have been prone to being slap-happy so my top recommendation is to spritz over with a floral water and blot with a tissue to clean up any messy edges that may occur.
Okay, let's say you can only settle for an okay — rather than great — routine. What would it be comprised of?
Five products: A cleanser (Georgia Louise Balm), Vitamin C serum (Medik8 serum), face cream (Georgia Louise Beauty Cream), SPF (Environ SPF), and a finishing serum (Georgia Louise Vital Finishing Serum).

What I really like in your facials is that they do a little bit of everything, from microneedling to microcurrent to red light to galvanic. How did you develop that process?
Unless you are newborn, like my 4-week-old son, Luca, nobody has perfect skin and we all complain of a multitude of skin-care concerns. I wanted to create a facial that could treat all of the concerns in one long treatment so using up to three to four machines comes standard in my treatments. I spend a lot of time researching and testing machines. My clients love all my gadgets and the beauty of my facials is there is no downtime; you walk out looking red-carpet ready.
Heading into a big event like the Met Gala, how are your clients preparing?
My clients have been prepped well in advance. They come at least three times before the event for their maintenance facials and we switch up their skin-care regimen at home. Some of my tips include switching to an oil cleanser to really deep-clean the skin without drying out, or alternating the pH, as well as going to bed with a hydrating overnight mask at least three times a week.
For someone in their 20s looking to anti-age, what would be your advice?
Start booking seasonal facials, wear an SPF everyday, and invest in your first anti-aging eye cream, as this is where the first signs of aging start.
I recommend Elemis's Absolute Eye Serum, which is a light and dynamic serum that helps with fine lines whilst also helping decongest and counteract any dullness and puffiness. Another favorite is the Elemis Pro-Collagen Marine Cream which is a brilliant everyday moisturizer. It's not rich and heavy like some creams designed to be target fine lines and wrinkles, it is a gel cream that absorbs instantly and keeps the skin smooth and hydrated all day long.
What is one skin-care best practice that you think makes the biggest impact?
Learning how to properly wash your skin. This is the foundation to beautiful skin and if you get it wrong, it's game over. People tend to over-dry the skin by using harsh cleansers with exfoliants. If you have dry skin, skip the cleanser in the morning and use a floral water or toner to allow your natural oils to soften and moisturize your skin. Washing can trick the skin into thinking it's dry so it starts secreting oil, which causes unwanted flare-ups and breakouts.