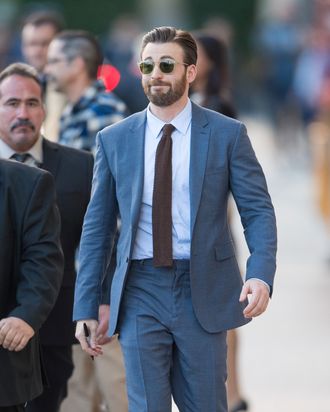 It's you, Chris Evans.
Photo: RB/Bauer-Griffin/Getty Images
This week will go down in the history books as the week that we learned a lot more about Chris Evans than we ever thought we needed to know. He's dating Jenny Slate, he's really into scaring people, he's got a "say hi to your mother for me" twinge in his Boston-suburbs accent. And now we know what Evans keeps underneath his bathroom sink: a bunch of cheap crap from the drugstore.
InStyle asked Evans, who is no relation of mine, what beauty products he "can't live without." Evans remarked that he likes to keep things "simple, classic, and clean." He continued: "I just like things to be easy in my everyday life. I don't even like shaving." Gotta respect that. What, pray tell, does keeping things simple, classic, and clean mean for Captain America?
Evans's beauty routine costs him, a rich and famous movie actor, $111. Besides the Tancho High Grade Tique Stick (??), Evans is exactly who I thought he would be: a man who needs to pop into Duane Reade real quick before the game starts.