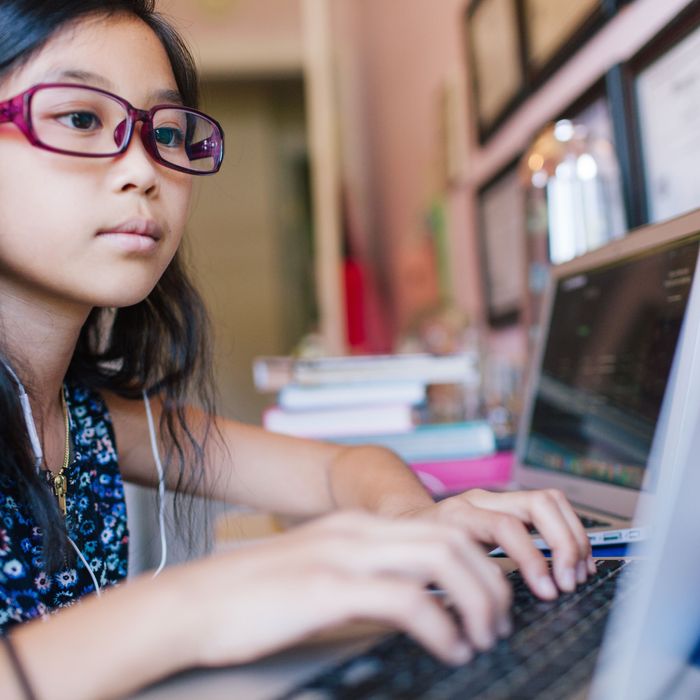 Photo: Tuan Tran/Getty Images
Here's some truly good news related to the shortage of women in tech: Eighth-grade girls are now more literate in technology and engineering than boys.
In a national technology and engineering test taken by 21,500 students in more than 800 schools, 45 percent of girls scored proficient, compared to 42 percent of boys. White and black girls outperformed boys more significantly, while Hispanic and Asian-American girls scored similarly to their male counterparts. Among the exam's three testing categories (technology, designing solutions, and communication), girls also outperformed in communication and collaboration skills.
Performance gaps were more significant in racial and socioeconomic categories among students with proficient scores: 56 percent of white and Asian students, compared to 18 percent of black students and 28 percent of Latino students. Fifty-nine percent of affluent students scored proficient, compared to 25 percent of students on free and reduced-price lunch plans.
Exam results were released on Tuesday by the National Assessment of Educational Progress (known as the Nation's Report Card), which conducted the inaugural exam in 2014. The scores will help educators and lawmakers trace students' skills in these areas over time.
"We did not expect this pattern, and the pattern does seem to be pretty clear from the data overall," Peggy Carr, acting commissioner of the National Center for Education Statistics, told reporters. "It looks like girls have the ability and critical thinking skills to succeed in fields of technology and engineering, and that is worth noting."
Of course girls do! But it's particularly worth noting given the dearth of women in STEM fields (only 13 percent of engineers are women, for example). The tests are yet another indication that women aren't entering jobs in STEM not because they don't want them or can't succeed at them. Perhaps it's more that they don't want to be routinely sexually harassed?